Following a proven copywriting process not only makes writing easier; it'll also make your copy more persuasive.

A proven copywriting process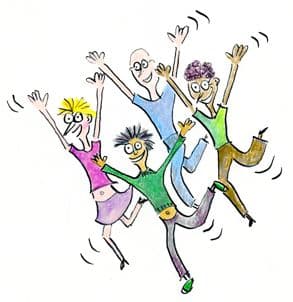 Oh my.
Writing copy is hard, isn't it?
We've all been there.
You're staring at a blank sheet. You try to conjure up your headline. But the words won't come.
Trying to summon your muse?
Think again.
Good writing isn't about inspiration.
But about preparation.
When you know how to prepare and plan your copy, writing becomes a breeze. You'll never stare at a blank sheet again.
Shall I explain?
What is copywriting?
Copywriting aims to persuade a reader to take a specific action—to buy your product, inquire about your service, join your email list, download a free report, or follow you on social media. Your copy can appear in emails, on web pages, or in sales brochures.
Writing articles or blog posts is different from copywriting. In a blog post or article, your purpose is to educate a reader and encourage him to implement your advice. This is how you build your authority as a blogger, and how readers come to trust you.
Learn more about the process for writing blog posts and articles here >>
How to gather input for your copy
Writing copy becomes much easier when you gather your persuasive arguments first.
And more importantly …
Your copy will tap into the needs and desires of your target audience so your writing becomes more persuasive and you can sell more.
Below follow the 5 questions to answer before you start writing.
Question 1: Who is your ideal customer?
The most important questions to answer about your customer include:
What are they struggling with and what challenges are they facing?
What are their fears?
What are their aims, goals, and dreams?
Understanding your customers helps you tap into their needs and desires. That's how you make your copy more persuasive.
Moreover, when you write to address a single ideal reader, your copy becomes more human. You stop addressing a faceless crowd, and engage each reader more strongly.
Question 2: What action do you expect customers to take?
A good sales page has a crystal-clear call to action such as:
Book a discovery call
Request my quote
Start my course
Enroll now
Add to cart
Defining your call-to-action helps sift information that needs to be included on your sales page.
What does your ideal customer need to know before they can take that action?
Question 3: Why would customers care?
You're selling your product or service, so that's what you need to write about, right?
Not quite right.
Famous copywriters like John Caples, Eugene Schwartz, and Joe Sugarman have all said it: To sell your products, you need to focus on the benefits to your readers.
So, before you start writing your web copy, write down all features and translate them into benefits. A feature is an aspect of your product or service. The benefit explains why your customers would care about that feature.
For instance, a feature of the camera on the iPhone 13 Pro is:
[The] software and ISP automatically refine contrast, lighting and skin tones for each person.
And what's the benefit?
(…) everyone always looks amazing.
And a feature of my copywriting course is:
Get detailed guidance on the 5 final steps to a YES!
And what's the benefit?
(…) overcome buyer inertia to get more sales.
Benefits make an emotional connection with readers, and that's why people buy. Detailed descriptions of features add substance and credibility to your writing, and they help justify a purchase.
Customers don't buy a product, they buy the transformation that product delivers. How will your product or service make their lives better?
Question 4: Why would customers believe in you?
To make your writing persuasive, it's not enough to simply explain what the product is (the features) and what's in it for customers (the benefits).
You also need to prove your claims.
Weave 3 types of proof into your copy:
Testimonials from customers; these are especially powerful if they explain how your product or service solved their problems.
Specific features and technical details—don't be afraid to share the details of what your product does because these details make your copy more credible. For instance, eye-tracking research suggest that web visitors get fixated on numbers in your copy—but only when written as digits. So, think about which numbers and other details you can share.
Test results, customer service ratings, and third-party research can all contribute to creating a credible picture of what your product is and how it performs.
To make your copy more persuasive, provide proof for your statements.
Question 5: Why might customers hesitate?
Whether big or small, objections can stop people from buying.
So, to persuade people to buy, crush their objections in your copy. For instance:
If they think your price is too high, make sure you demonstrate the value of your offer.
Especially if selling a course or coaching program, make sure readers feel confident that they have the skills or can acquire the skills to implement your advice.
If people worry it may take too much time, for instance, to install an app, show them how easy it is to do.
To find out why potential customers may hesitate to buy from you, ask existing or potential clients whether they hesitated to buy and why. Also, ask what questions they have. An unanswered question can stop them from buying.
Copy is not written. If anyone tells you 'you write copy', sneer at them. Copy is not written. Copy is assembled. You do not write copy, you assemble it. You are working with a series of building blocks, you are putting the building blocks together, and then you are putting them in certain structures, you are building a little city of desire for your person to come and live in.
How to assemble your sales page
Once you've gathered the input, writing a sales page becomes a matter of assembly.
You have all the building material. You only have to put them together, and then apply a little paint.
So, how do you assemble copy?
A good page follows the inverted pyramid. This means that the most important information comes first:
The value proposition quickly makes clear what your page is about and why it matters to your readers. The value proposition usually consists of a headline, possibly a subheading, and three to five bullet points or a couple of introductory sentences. This is what customers see before deciding whether to click away or stay.
An opening paragraph often describes how a product or service helps transform a person's life.
A list of bullet points explains features and benefits of a product in detail.
Credibility enhancers such as testimonials, customer service ratings, supporting data, and endorsements are used throughout the page.
Objections are dealt with when they come up in a reader's mind. Bigger objections are dealt with early on the page, smaller objections later on the page.
Assembling a sales page means ordering your persuasive arguments in a logical order—the most important information comes first.
How long does the copywriting process take?
I used to think copywriting was hard and painful.
But I learned that following a step-by-step process makes copywriting a lot more fun.
How long the process takes depends on how much knowledge you already have of a product and its customers, how long a sales page will be—a more complicated and more expensive product usually requires a longer page, and how experienced you are as a writer. A short product description may take only a couple of hours or even less; a long sales page may take a few weeks to write, especially if you include time to do research.
The first step is to assemble all persuasive arguments and create lists of what needs to be included.
Legendary copywriter David Ogilvy did 3 weeks of research to assemble information for his famous Rolls-Royce ad. You can go much quicker if you have an intimate knowledge of a product and its customers already. As this is the most important phase of copywriting, try not to rush it. The better the input, the more persuasive your copy becomes.
The second step is to assemble a rough draft. For a long sales page, this may take two or three days. For a shorter page, it goes faster. It also depends on experience.
The last step is to edit and proofread your copy. It's useful to look at copy with fresh eyes, so I like to spread the editing work over two or even three days. Again, it depends on experience and the length of the page, how long this step will take. You can also outsource some of this work to an editor or proofreader.
An (almost) pain-free copywriting process
I often hear people say that they hate writing copy because it makes them feel pushy.
But good copy isn't pushy.
A good sales page is a conversation with a potential client. You explain what you offer and what's in it for them. You can do this in an honest, non-pushy way.
Once you've explained your offer, nudge readers to make up their mind whether their product is right for them.
So, to sell your product or service, you don't need to sell your soul.
Instead, understand who your customer is. Know how to tap into their desires and dreams. And take away any objections.
Simply believe in what you offer, and communicate your offer with clarity and passion.
Good copy is human, engaging, and persuasive.
Note: This blog post was originally published on 19 April 2016. An updated and expanded version was published on 28 October 2021.