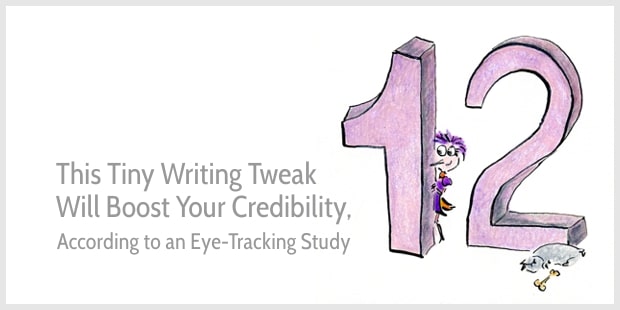 Occasionally, I receive emails from readers upset about my word choice.
They object to the phrase to suck. They don't like my reference to sex in idea sex. Or they hate the phrase shitty first drafts.
Even the word stinky got banned when I wrote a guest post several years ago.
Word choice is personal, and it's hard to please everyone. So, I tend to follow my gut feeling. I don't swear in my writing, and I mostly avoid harsh language.
Today's topic is slightly different.
It can also lead to heated debates.
But while word choice is personal, a strong reason exists to ignore the style guides when it comes to writing out numbers.
Shall I explain?
What style guides suggest about numbers in writing
Style guides present different advice on writing numbers as digits or words.
The MLA style, for instance, suggests spelling out numbers when you can write them in two words or less. So, thirty-five, eleven hundred, and one third. But: 301 and 1,107. But the APA style suggests only spelling out numbers below 10, so nine and three, but 11, 100, and 1/3.
For online writing, I suggest going a step further than APA and using digits for all numbers apart from one or two. For huge numbers, use a mixed approach, such as 24 billion or 7.2 million.
Why?
As an eye-tracking study by usability expert Jakob Nielsen suggests, online readers fixate on numbers:
Because numbers represent facts, which is something users typically relish. Sometimes people are looking for specific facts, such as a product's weight or size, so product pages are certainly one place where you should write numbers as numerals. But even when a number doesn't represent a product attribute, it's a more compact (and thus attractive) representation of hard information than flowery verbiage.
People associate numbers with facts, and that's why they can add substance and credibility to your writing. Moreover, numbers attract attention because they're differently shaped from letters. This is why they stand out in social media streams, in inboxes, and on web pages.
As an online writer, writing most numbers as digits is an easy way to draw attention and boost your credibility.
So, how can you add more numbers?
1. Numbers in subject lines and headlines
You can add numbers to headlines in various ways. Want some examples?
The most shared post on Copyblogger in the last 12 months is a list post:
And the most popular post on Backlinko uses a big number:
And the most popular on Moz.com uses a year:
And the second most popular post on the Art of Manliness refers to an old year to arouse curiosity:
All of the blog posts above received thousands of social shares. (Note: thousands is not a specific number, hence I spell it out).
Of course, this is just a snapshot. Yet, several studies suggest that headlines with numbers outperform headlines without numbers:
Of course, adding a number won't magically make shares for an average post soar. Write a valuable post first, and then see whether you can add a number to attract attention and boost social sharing.
2. Numbers on your sales page
The most common place to use numbers on sales pages is at the end of the page where you sum up your offer, and nudge people to buy.
Here's example bullet points at the end of the sales page for the Write It Don't Fight It course, explaining what you'll get:
The Joyful Writer ebook: a 58-page PDF with down-to-earth guidance on how to unclog your mind, so you can work with your inner critic and write with more joy
The Write It, Don't Fight It workbook: a 50-page PDF with 26 recommended activities to apply your learning, experiment and challenge yourself to write faster, more regularly, and with more joy
The discussion video What Sports Pros Can Teach Us About Motivation, Habits and Peak Performance (22 minutes)
Be careful. Don't focus just on numbers to add substance and specificity. Add a benefit, too, for optimal persuasiveness.
Next, where possible, get numbers included in testimonials. Here's an example from Newfangled, explaining the results of their content marketing advice:
(…) they are adding over 3,000 words of unique, high-quality, indexable content to the website every month, resulting in a 40% increase in web traffic, a 40% increase in organic search traffic, and an astonishing 2,500% increase in email traffic.
Persuasive, eh?
The rule in persuasive writing is we appeal to emotions first, then use facts to justify a purchase. So, at the start of a sales page, you paint a picture of what your offer will mean to customers—how will it change their lives?
Even here, you can use numbers. For instance, Case Study Buddy, uses numbers to explain why case studies will make a big difference to your marketing:
62% of US agency execs cited case studies as the most effective content for lead generation.
77% of B2B buyers cited customer success stories as the most influential content they consumed.
65% of B2B marketers ranked case studies among their top 3 most effective content types.
Be careful. Your objective is not to use numbers at all costs—only use numbers at the start of the page if they help you explain why your service or product will help make your customer's life better.
One more example?
If your sales page includes a snippet about you and your company, you can add a number, too. Karyn Greenstreet instantly boosts her credibility as mastermind facilitator and trainer like this:
Hi, I'm Karyn Greenstreet. I've been running mastermind groups since 1994, and teaching people to start and run successful mastermind groups for over 15 years.
In headlines, you mainly use numbers to attract attention and get more clicks to your content. But in sales copy, you use numbers to boost your credibility and make your offer more persuasive.
Have you thought about what numbers you could use?
Bonus tip: When to visualize numbers
Do your readers grasp what your numbers mean?
Some numbers are so mind-boggling that we can't really understand their impact. In this case, try visualization. For instance, in a blog post about creating a lesson plan for an online course, I start with a statistic:
The global market for online courses is estimated around $107 billion. A mind-boggling figure, right?
As this number feels difficult to grasp, I continue by visualizing the number:
Imagine stuffing one-dollar bills into a 53-foot truck. Depending on how crumpled your bills are, you'd need around 1,000 trucks stuffed up to the roof to transport those 107-billion dollar bills.

Would you like one of those trucks to deliver a heap of money to you?
A more common way to visualize such a number is to calculate how many people it could provide for. But I chose the truck visualization because I could get back to it at the end of the post:
Can you hear that truck honking?

The driver leans out of the window, a smile on his face. He's waving at you, ready to deliver a heap of dollar bills.
Tiny numbers can be as baffling as big numbers. Here's a brilliant explanation by Grace Hopper of how long a nanosecond is:
Boost your credibility with numbers
Are you a style guide devotee? Feel free to stick to spelling out your numbers.
But if you're not afraid of breaking the rules, write your numbers as digits to attract attention to your headlines and to add substance to your sales copy.
You're the writer. It's your choice. 🙂