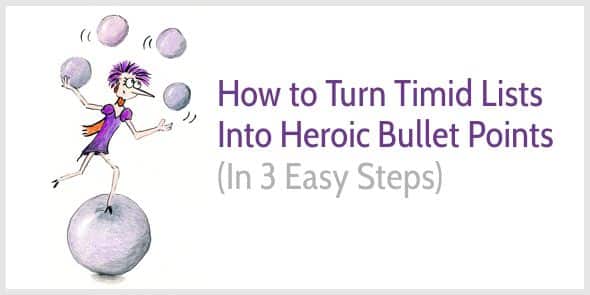 Do you ever read sales copy and feel a tad overwhelmed?
Some copy rambles on and on, without engaging readers; and when readers' eyes glaze over or wander off, copy fails to persuade. It happens all the time.
Bullet points are the perfect antidote to monotone, sleep-inducing paragraphs.
Bullet points:
grab attention and break up monotone paragraphs
create white space—like a silence in a conversation
communicate key information at a glance
Bullet points have a bad name in PowerPoint presentations
When your audience reads bullet points while you speak, the bullet points distract from your talk. So, for PowerPoints slides, pictures are more engaging than bullet points with text.
But in sales content, bullet points can be persuasive.
As research by the Nielsen Norman group suggests:
People look at lists with bullets more often than lists without bullets (70% vs. 55%, respectively).
And Lance Jones at Copyhackers found that improving bullet points on a sales page increased opt-ins with 25%.
So, bullet points can grab attention and seriously boost your persuasiveness, but only when you write them well …
Want to learn the 3-step process for turning wimpy lists into target-hitting bullet points?
When bullet points miss target
Let's imagine a cooking school selling a course on cooking for dinner parties. Here's what you might learn in the course:
How to organize your kitchen
Professional chopping skills
Stress-free planning
Recipes to cook for different dietary requirements
The list above is messy and wishy-washy. It fails to engage and sell. Your first step is to add benefits to each bullet point.
Step 1: Why a customer should care
When you combine both features and benefits in your bullet points you instantly boost your persuasiveness.
Zappos, for instance, explains the benefits of various features:
Soft leather lining for a plush in-shoe feel
Lightly cushioned leather footbed for underfoot comfort and support
Leather and rubber outsole for long-lasting durability
We can do the same for the cooking school:
How to organize your kitchen so you can cook faster
Professional chopping skills so you won't cut your fingers
Learn how to plan meals in advance so you can enjoy a stress-free party
How to consider dietary requests so every guest is happy
Remember, people don't buy your product or service, they buy a better life or a better version of themselves. How does your product make them feel better?
Step 2: Be consistent and concise
Bulleted lists are easier to read when each item follows the same pattern. For instance, we could start each item for the cooking school course with "how to:"
How to organize your kitchen so you can prepare meals faster
How to chop vegetables like a pro so you avoid cutting your fingers
How to plan stress-free dinner parties so you can enjoy yourself as much as your guests
How to consider dietary requests so every guest is happy
The how-to's are repetitive and increase clutter, so eliminate them:
Plan stress-free dinner parties so you can enjoy yourself as much as your guests
Organize your kitchen so you can prepare meals faster
Chop vegetables like a pro so you avoid cutting your fingers
Consider dietary requests so every guest is happy
Note how the bullet points above follow the same pattern; each starts with a verb in the imperative form (plan, organize, chop, consider).
Also, research shows that when you present people with a list of words, they'll remember the first and last items most. Assuming the same applies to bulleted lists, it's wise to put your most important points first and last.
Step 3: A dollop of curiosity
As human beings, we all have a desire to learn more. We're curious.
DragonDoor's copy, for instance, taps into our curiosity to nudge us to buy:
Absorb the fundamentals of kettlebell lifting, then explore the deeper secrets of elite strength skill
(Uhm, what could these secrets be?)
Gain hands-on guidance, correct unknown flaws in your own technique—to transform your athletic performance
(Oh my, might I have flaws in my technique?)
Discover the little-known breath technique which dramatically boosts your stamina and endurance
(A little-known technique? I want to know more! )
The curiosity technique on its own isn't persuasive. First, you need benefits to connect with people's emotions, then add features for substance, lastly use curiosity as a final nudge.
Here's to add a dose of curiosity to the cooking school copy:
Plan stress-free dinner parties so you can enjoy yourself as much as your guests
Understand how pros organize their home kitchens for faster cooking with less mess
Chop vegetables like a pro so you avoid cutting your fingers
Discover three little-known recipes to impress even the most discerning guests
Are you getting more interested in joining this cooking course?
Bonus tip #1: Where to use bullet points
Short sales pages (for relatively simple or low-priced products) often include only one list of bullet points summarizing features and benefits.
But on longer sales pages, use bullet points to (a) summarize key benefits at the start of the page, (b) consider highlighting features and benefits in a list in the middle of the page, and (c) sum up the offer at the end of the page.
Amazon, for instance, uses a short list of bullet points to sum up key features and benefits of a Kindle at the start of a long sales page:
Our thinnest and lightest Kindle ever—read even more comfortably for hours
All-new ergonomic design with dedicated buttons to effortlessly turn the page
Longest Kindle battery life—the included leather charging cover can boost battery to months. Choose from a black, merlot, or walnut removable cover.
High-resolution 300 ppi display with crisp, laser quality text. Reads like real paper without glare, even in direct sunlight.
AppSumo uses bullet points to sum up their offer at the end of a sales page or email. For instance, the copy for lifetime access to Code-Free Startup IPO Plan sums up the offer like this:
Lifetime access to all premium courses
Access to forum and live chat for help building your app
App templates and premium resources, including web app to mobile app generator
60-day money back guarantee. No matter the reason.
Bonus Tip #2: How to format your bullet points
Each style guide provides different guidance on punctuation for bullet points. The Guardian (UK), for instance, recommends full stops (that's periods in the US) at the end of each bullet point:
This is the first bullet point.
This is the second.
And this is the third.
The APA style guide even advises full punctuation for fragmented sentences and phrases:
Each child was seated at a separate station and given
an elephant,
a kangaroo, and
a giraffe.
But such punctuation adds clutter to a clean list. Grammar Girl Mignon Fogarty's advice makes more sense:
If your list items are complete sentences, or if at least one list item is a fragment that is immediately followed by a complete sentence, use normal terminal punctuation: a period, question mark, or exclamation point.
And:
If your list items are single words, very short sentences, or sentence fragments, you can choose whether to use terminal punctuation. The important thing is to be consistent.

Finally, your text will be easier to read if you don't put commas or semicolons after the items, and don't put a conjunction such as and before the last item. All of these things are unnecessary clutter. If you find yourself wanting to format it this way, it probably means you should write it as a sentence instead of a list.
The key for formatting powerful bullet points is to declutter and be consistent.
How to write high-converting bullet points
To write sales-boosting bullet points, start with sneaking into your reader's mind: Why would he care about buying from you? Which benefits are most important to him? What might arouse his curiosity?
Once you understand the needs, desires, and secret wishes of your readers, writing compelling bullet points becomes a breeze.
Keep it short. Be clear. And add a small dose of curiosity.