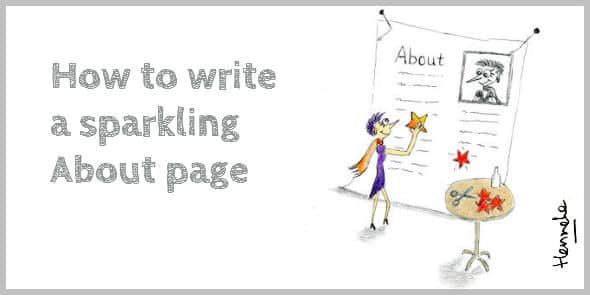 *Sigh*
Why is writing your own About page so damn hard?
As you can't figure out what to write, you make a cup of tea.
Your fifth this afternoon.
You stare out of the window; and click around the web.
But your search is fruitless. You can't find any inspiration.
How can you make your About page compelling?
What should you write about yourself?
The critical problem with About pages
You might think your About page is about you and your company.
But your readers aren't interested.
They want to know what you can do for them. How can you make them happier, richer, or more productive? Which problems can you take away? Which challenges can you help overcome?
When you write your About page, forget about yourself for a moment, and begin with defining:
Who are you writing for?
What action would you like him to take? Would you like him to email you to ask for a quote or sign up to your newsletter? Or pick up the phone?
Why would your reader take action? What can you promise him?
Your About page is a sales page; and selling starts with understanding what your reader is looking for.
Explain what you can do for him. And then encourage him to take action.
The 3-punch personal intro
You don't wave your business card in front of strangers, do you?
Engage your reader in a conversation first. Tell him he's in the right place, so he wants to connect with you. And then introduce yourself with flair:
Step 1. Quick intro
Start with telling people what you do. For instance:
Henneke is an irreverent copywriter and marketer.
When you describe what you do, avoid words like authority, guru and expert.
I've never called myself a marketing expert. Let alone a guru. I wouldn't dare to. Instead, I show you what I know and how I can help you on my blog.
Tell people simply what you do, and add an adjective–like irreverent–to give a glimpse of who you are.
Step 2. Your mission
Explain how you want to make the world a better place–even if it's in a small way:
Henneke is on a mission to stamp out gobbledygook and to add sparkle to boring business blogs.
Don't write a corporate mission. Avoid words like market-leading, best-in-class, and state-of-the-art. Because your mission is not to be the best; your mission tells people how you can help.
A good mission energizes or makes people smile.
Step 3. Credibility enhancers
Can you mention well-known clients or show the logos of publications you've appeared in? Or can specific details demonstrate your knowledge and expertise? For instance:
Henneke is the author of two 5-star rated books about writing and blogging, and she's a regular contributor to popular marketing blogs like KISSmetrics and Copyblogger.
* * *
Your personal intro can be a 3-sentence caption under your picture or a separate paragraph. And you can use the same approach for your social media profiles.
Need to introduce more people?
Make your mission part of your company story, and explain how each of your team members contributes to your mission or how they make your client's lives easier.
Your company story
You might think you need to tell web visitors your whole story–why your company was founded, how it developed, and what it's like now.
But the whole story bores your readers to tears.
Consider what you want to achieve with your story. What would you like readers to remember about you?
Imagine you're a passionate web designer.
Telling your readers you're passionate is a waste of precious pixels because everyone says they're passionate.
Instead, share a fascinating detail or tell a miniature story demonstrating your passion. Did you design your first website when you were 7 years old? Have you read tens of books about web design and usability? Have you compiled a history of web design?
Inspirational business stories can help you bond with your readers, allowing them to get to know you. But keep it short. Share only relevant details that make your personality shine.
First or third person?
Using the first person–I, me, or we–makes your content more conversational.
But the third person–she, he, or him–sounds more objective, more credible.
So which should you choose? Let's compare the two options:
Example 1
First person: I have written two 5-star rated books and am a regular contributor to popular marketing blogs like Copyblogger and KISSmetrics.
Third person: Henneke has written two 5-star rated books, and she is a regular contributor to popular marketing blogs like Copyblogger and KISSmetrics.
Example 2
First person: I ask a lot of questions so I can enchant your ideal customers and help you grow your business.
Third person: She asks a lot of questions so she can enchant your ideal customers and help you grow your business.
In the first example, I prefer to third person because it sounds more objective. The first person version makes me sound like I'm bragging.
In contrast, I prefer the first person for the second example, because I'm having a conversation with the reader about how I can help her.
I've solved this conundrum by writing my personal introduction in the third person, while I've written the main part of my About page in the first person.
Don't fuss too much about choosing the first or third person. What's more important is writing a page that enchants your readers and entices them to contact you.
How to add sparkle to your About page
Small touches make a big difference.
Scan a signature (not your official one!) and add it to your About page.
Use a professional picture rather than a holiday photo. Look at the reader or towards your content. Never look away from the web page, because you don't want to guide your reader away.
Each detail should engage your reader. Make him feel comfortable. Lower the barrier for getting in touch.
Be personal. Be welcoming.
Recommended guide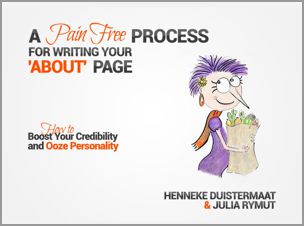 "After following the book's advice, my page is more relevant, less BORING and more natural sounding than my first one."
~ Yvonne Kiely