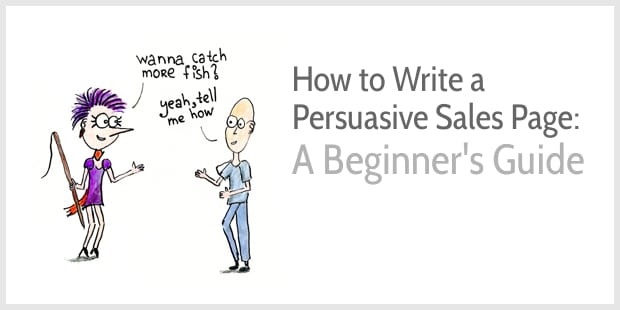 Harry scratches his head.
He has to write a sales page for his new course.
But he can't get started.
So, he brews another cup of Jasmine tea, and browses the web for inspiration.
But Harry feels uninspired. Many sales pages are badly written—they ramble on and are unconvincing. Or they feel too salesy and turn him off.
Can Harry write a high-converting sales page without selling his soul? Can he write a sales page that persuades his favorite readers to join his course?
Of course, you can write a sales page without being pushy.
You simply have to know what problems you solve for whom, and then propose your offer in clear language. With honesty. And without hype.
Step 1. Create your value proposition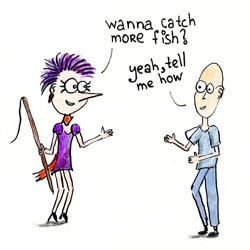 Good sales people know who their target audience is, and what they're struggling with.
They don't sell their products, they sell a better or easier life. They make people happier. They take away their struggles and solve their problems.
They sell people a better version of themselves.
So, think about this: What problem does your product solve? Or how do you help people achieve their aims?
The answers to these questions help you create your value proposition—the headline (and subhead) at the top of your sales page. For instance, a credit card reader helps you accept mobile payments so you never miss a sale. The value proposition could be:
Get paid anywhere.
Here is one of the easiest ways to accept more forms of payment. Wherever your business goes, your sales can go too.
From: PayPal
Or:
Don't miss a sale with mobile credit card processing.
Accept payments—anytime, anywhere.
From: QuickBooks
And Harry?
Harry coaches aspiring business owners to launch a side-business. His value proposition could be:
Launch a side-business and make your first $1000
Step 2. Explain your offer with clarity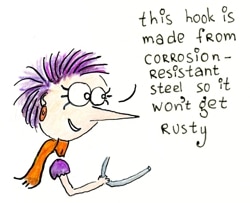 Your value proposition has confirmed to people what you're selling—it tells them whether it's worth reading on or not.
Now, it's time to become more persuasive.
What does your product or service do? And why would readers care about these aspects?
Many business writers describe their product in detail. But readers don't care about these details unless you explain why they should care about each detail. Note, for instance, how the sales page for the Kindle Voyager E-reader explains the benefits of each feature, using specific language:
High-resolution 300 ppi display–reads even more like the printed page
PagePress enables you to turn the page without lifting a finger
Adaptive front light–provides ideal brightness, day or night
And Harry's course?
His course has features and benefits, explaining what people learn:
Generate business ideas so you can feel excited about starting your own business
Vet your business ideas so you don't waste time on unfeasible ventures
Find your first clients so you know your business plan will work
But he also has features and benefits explaining how the course is delivered:
Videos and transcripts so you can choose the learning style that suits you
Real-life case studies so you can see how others have implemented the advice
Online office hours in which experts answer your questions, so you never feel stuck or "out on your own"
Step 3. Back your claims with proof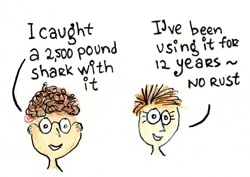 Your readers might not know who you are. Or they might know a little about you, but they're not quite sure how trustworthy you are.
To boost your credibility and persuasiveness, back your claims with facts, such as test results, customer satisfaction scores, detailed testimonials, or expert endorsements.
My sales page for the Enchanting Copywriting course, for instance, features testimonials to show how powerful the course is:
[T]he first enewsletter I wrote using the course material was our most successful ever. Our open rate increased marginally, but our click rate jumped from 5.82% to 41.23%—concrete evidence that the course works. Sales were also good with people coming in, calling and emailing.
~ Roger Carter, Humblehouse.com.au
Testimonials are a great way to boost credibility and let others do your selling for you.
But what can Harry do as he's launching his first ever course?
He could ask beta-testers to try out his course and provide a testimonial. Their feedback could also make his course better. Alternatively, he can ask his coaching clients for testimonials to demonstrate how his advice has helped them; he just has to make clear these testimonials are for his one-on-one coaching and not from the course.
Step 4. Answer questions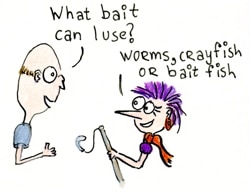 Why are readers hesitating to buy from you?
What questions are left unanswered?
When readers hesitate, they resist pressing the Buy button, and it's your job to take away this resistance so readers feel eager to hire you or buy your product.
Content marketing agency NeoMam Studios, for instance, answers common questions on their sales page with links to more detailed guidance:
Is the service right for me?
Our experience suggests that you will get the most value out of our work if you have at least one team member dedicated to SEO and regularly receive at least 100k visits each month from organic search.
Who will I be working with?
Our team of seven people works together on every client campaign. Founder Danny Ashton, Managing Director Amy Ashton and Operations Director Gisele Navarro have over 22 years of cumulative experience creating and pitching content, so you're in good hands. Read more about our team here.
And Harry?
He probably has to answer questions like who the course is right for, too, and how long it'll take before you'll make your first $1000. Do you need to have business experience to make a success of the course? What type of business ideas does the course work for? Does it work for online and offline businesses?
Step 5. Nudge readers to take action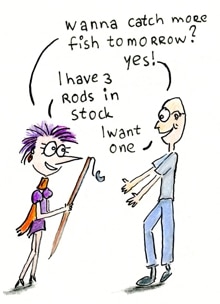 What's the purpose of your page?
Should readers send an inquiry? Fill in a form? Join your email list? Add a product to a shopping cart and open their wallets?
When readers are almost ready to buy, nudge them to take action. For instance, tell them how quickly they'll get the product. Give them a time-limited discount or tell them the number of places on your course are limited (only if that's true of course).
A nudge can help overcome buyer inertia—you help people make up their mind and decide whether the product is right for them.
And Harry?
He could give a special discount as it's his first launch or he could limit access to the course.
High-converting sales pages don't have to be sleazy
As small business owners, we can pick the audience that's right for us.
We can work with our raving fans.
We can show our personality and be natural. That's how we're at our most persuasive.
So, when writing your next sales page, think about your favorite customer. How would you explain your offer to her? Why does she enjoy working with you? What would she like to know?
Write as if you're having a conversation with her. Answer her questions, and use natural language.
Don't change your tone of voice just because you're selling.
Instead, stay true to yourself.
Be honest, and be clear. And help readers make the right decision.

Enchanting Copywriting course
Learn how to write a persuasive sales page
without selling your soul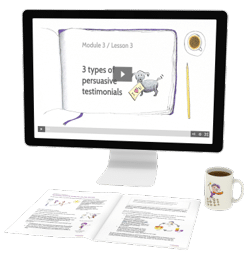 Reading and doing the exercises taught me how to judge my own work, and Henneke's copywriting system helped me put my sales page together, step by step. Definitely 5 stars.
~ Jackson Lamar

"I'm running my refreshed marketing campaign right now and I'm seeing increased open and click-through rates on newly written emails. Better yet, I'm seeing increased sales and less questions from prospective customers, which tells me I answered all their questions and inspired them to buy through my more compelling copywriting. This course is a wise investment that earns itself back quickly."
~ Karyn Greenstreet