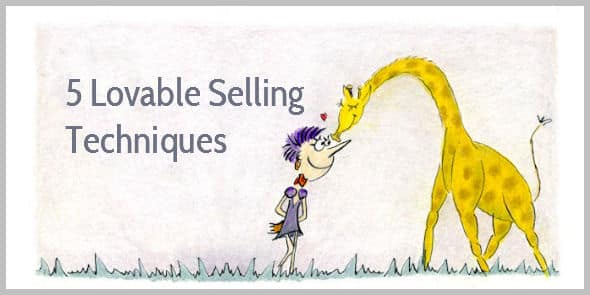 Does selling make you feel …
Pushy?
Does the idea of having to sell make you want to run away?
When most of us think about selling, we imagine a second-hand car salesman with a cigar and a sneaky grin. Or we think of a persistent cold caller interrupting our dinner.
*shudder*
In their book Never Be Closing, Tim Hurson and Tim Dunne argue that many sales tactics are developed to sell to strangers. The purpose of these tactics "is to wrangle out a commitment to buy, even when buying may not be in the best interests of the client."
But selling doesn't have to be this way.
You can sell without being pushy. Without dirty tactics. Without selling your soul.
Sales technique #1. Make customers feel special
This weekend I leafed through the Christmas catalog of UK wine merchant Laithwaites.
I didn't order any wine (honestly!). But I felt inspired to write this post.
Below follow a few examples of how Laithwaites makes their customers feel special …
Friends-and-family exclusive from the King of Barolo
So we're absolutely thrilled to offer you privileged access to a pure Nebbilo normally set aside for close friends and members of the Monti family.
We were the first foreign wine merchants to be invited onto the estate in the early 1980s, and we still enjoy privileged 'local' access.
Making people feel special is a lovable form of scarcity—a well-known persuasion technique described by psychologist Cialdini in his book Influence.
How can you make your clients feel part of an exclusive club?
Think about a hand-written thank-you card, an exclusive bonus or gift for loyal clients, or a waiting list to start working with you. Is your service worth waiting for?
Sales technique #2. Share your secrets
Wine merchants like sharing insider knowledge:
Ask a sommelier, wine critic or trade professional to name their favorite white grape and chances are they'll say Riesling.
Burgundy is home to the world's most prized – and priciest – Pinot Noir. Yet a few miles south you can find stunning bargains if you know where to look …
Mature, rare 1996, only £40 … but shhhh!
18 years old, full bodied and perfectly mature – uncorking this fine vintage will be an unforgettable moment for any Champagne lover. And we've made it a lot more affordable by striking a secret deal with the Champagne house.
When I shared my best copywriting tips in a slidedeck earlier this year, a friend commented I was giving away all my trade secrets.
But do you think I cared?
Sharing those secrets helped me gain a new audience and boost my authority.
When you tell people how to do something, you're not undermining your position. You're building trust. Many people don't want to make an effort or don't have the time to follow your instructions. They'll call you to do it for them instead. Sharing your secrets gives you an air of confidence.
Which secrets can you share to boost your authority? And find more clients?
Sales technique #3. Tap into desires
Do you think we drink wine just to quench our thirst? Or to make our food taste better?
Think again. A wine catalog taps into deeper human desires, such as enjoyment and social approval:
We were grinning from ear to ear when we tasted this, and so will you.
Your Christmas guests will be swept off their feet by the mouthfilling richness of ripe peach and apricot flavors.
These aren't bottles to open if you want your Christmas guests to go home any time soon!
How can you make your products more desirable? In his book Ca$hvertising, Drew Eric Whitman lists 8 basic human desires you should tap into:
Survival, enjoyment of life, life extension
Enjoyment of food and beverages
Freedom from fear, pain, and danger
Sexual companionship
Comfortable living conditions
To be superior, winning, keeping up with the Joneses
Care and protection of loved ones
Social approval
Selling a product or a service is often about a transformation. How do you make your clients feel better happier, safer, or more in control? How can you give them a sense of belonging?
Sales technique #4. Tell stories
What's not to like about stories?
Stories transfer us to a different world. They let us visualize a specific scene or experience a journey.
Stories are compelling and entertaining. And that's why sales messages travel under the radar. Here's an example from the Laithwaites catalog:
They are a patient lot in Pomerol – it's essential for making wines that are "absolute in wine seduction" (Decanter).

But after nine years of wondering when Laithwaite's were going to collect the wine we bought in 2005, finally the winemakers snapped and called our Bordeaux buyer, Jean-Marc.

"What wine?" Jean-Marc said, jumping in his car to Pomerol. He found a dropdead gorgeous 2003 ready to ship for Christmas … blushes, yes, but also huge excitement!

It had been secured by our old Bordeaux buyer in 2005, just before her maternity leave. A tidy price was agreed, but the paperwork never reached HQ. (For the record, her baby is now a cheeky 9-year-old boy … time flies.)
How can you include stories on your web pages? A few ideas:
Sales technique #5. Be lovable
In a world of yellow highlighters and websites shouting BUY NOW!, it's easy to forget that selling is about people.
But as Cialdini has pointed out, we're more likely to say yes to someone we know and like.
When leafing through the wine catalog, I notice smiling images of the company's founder (with a glass of wine or champagne of course!). The opening page includes a "personal" letter with a hand-written signature.
The wine catalog is full of snippets of information about winemakers, their family connections, and photos of real winemakers harvesting grapes or tasting wine.
How can you make your web visitors feel closer to you?
Ditch clichéd stock photography and include photos of real people
Give readers a glimpse of who you are in your blog posts
Add your signature to your about page
Eradicate gobbledygook and be conversational
How to sell without becoming sleazy
Dirty sales tactics are designed for selling to strangers.
But thanks to the internet, the world is becoming a global village. We make friends across the world. And we buy from people and businesses we know, like, and trust.
Treat your buyers like friends.
Be genuine. Be helpful. Be lovable.
Make their life better.
"(…) selling is not about the art of persuasion. Instead, the best kind of selling emerges naturally from your genuine interest in the person you're working with and your sincere desire to be of use"

~ Tim Hurson and Tim Dunne (from their book Never Be Closing)