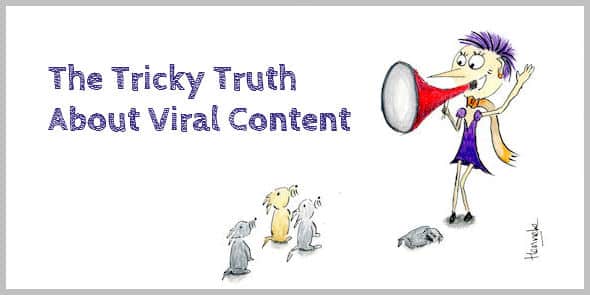 Isn't it all bloody hard work?
You're tweeting, and circling, and pinning.
You're slaving over your blog posts.
And you've not started your next guest post yet.
Sigh
Wouldn't it be nice if a blog post could spread like wildfire?
Don't you deserve a little overnight success?
Imagine waking up in the morning, and seeing a spike in your web traffic. You've gained a few hundred tweets, seemingly out of nowhere.
Let me show you how…
The easiest viral campaign ever
Do you use Buffer?
If you don't, check it out–it allows you to schedule your social media shares so you can engage your audience consistently. I highly recommend it.
Recently, Buffer introduced content suggestions. When Buffer users don't know what to share, they can check this list for inspiration.
As a content creator, getting on the list of recommendations seems like heaven. How many people would see your post? How many tweets and likes would you be able to get?
Recently, I found the "secret" to getting on the list of suggested content:
Choose 5 blog posts that are proven to be popular with your audience
Make sure your posts have attention-grabbing headlines–check out Buffer's guide to writing headlines
Complete this not-much-advertised form to ask the Buffer team to feature your blog posts. (Note: This form has now been taken off line, and as far as I know there's no other option to submit your suggestions to Buffer besides networking with their awesome team.)
And then wait to see what happens.
On Sunday 17 August the post A 61-Point Website Checklist to Avoid Pesky Content Failures was recommended by Buffer: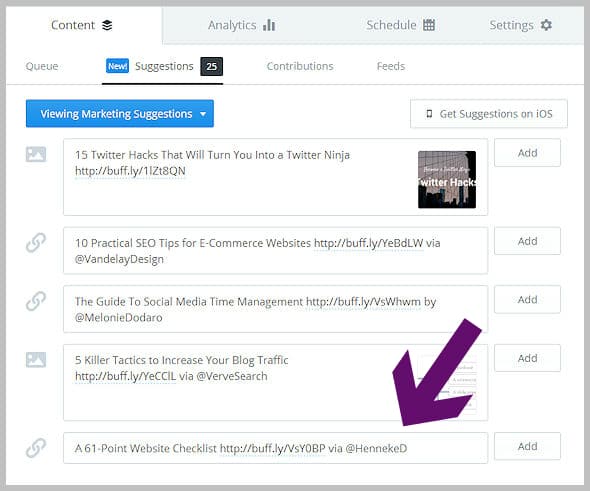 What happened?
Traffic generated (in 9 days):
523 visitors (this is conservative as it only includes Twitter traffic to this post; the total traffic to this post went up by over 600 visitors)
Conversions:
15 email subscribers (est. 2.5%)
Other bragging rights:
This post now has 507 tweets, 127 likes, 181 LinkedIn and 119 G+ shares–it instantly became the most shared post on this blog
Time required:
20 minutes to pick the posts and fill in the form (perhaps only 5 minutes if you're not prone to umming and ahhing like me)
The number of shares may look great, but have people read the post?
The average time on the page was only 50 seconds; for comparison the average time on any Enchanting Marketing page is around 3 minutes.
As Farhad Manjoo suggests, people tweet without reading.
When you slave over each blog post, this is a sorry truth:
Casual visitors don't care about your content.
Most of them are simply looking for content to share. Because sharing good content makes them look good. Reading a headline and glancing at the first paragraph give them enough indication whether content is shareable or not.
But as a serious business blogger, you don't want casual traffic. You want people to read content. You want them to become loyal readers. To become fans.
Still, considering I only spent 20 minutes filling in a form, this has been a pretty good result, and I'm grateful to the Buffer team for this opportunity.
A highly-converting social media campaign
Blog visitors are often passersby.
Window shoppers, who might never come back.
To win serious business with your blog, you need to build a relationship with readers. You have to tempt them to come back again and again. You have to turn them into email subscribers, regular readers, fans.
So let's have a look at another social media "campaign."
Did you see my SlideShare presentation with 17 Copywriting Do's and Don'ts?
I was lucky it was picked as presentation of the day: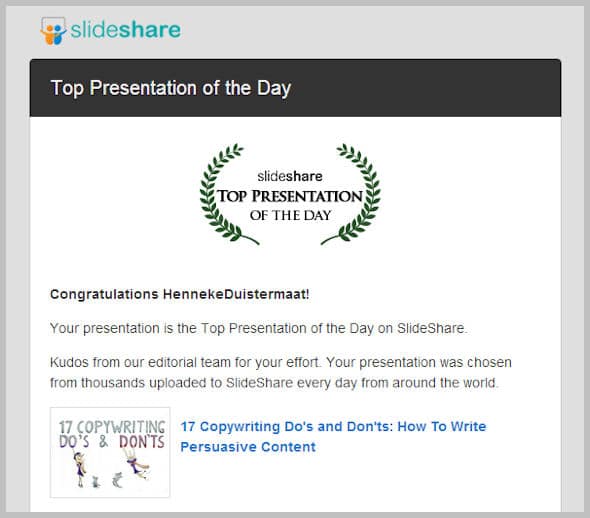 What happened?
Traffic generated (in 35 days):
683 visitors
Conversions:
351 email subscribers (51.4%)
Time required:
Est. 12 hours (because I spent half a day drawing the opening slide—perhaps not good from a productivity point of view, but hugely enjoyable)
This post has far fewer social shares than the 61-point checklist mentioned above. 73 tweets, compared to 507.
But does it matter?
Not really.
This presentation generated 351 subscribers to my snackable course–an opportunity for me to build relationships, perhaps sell a book, or even a blogging course.
Why the huge difference in conversion rates?
People who clicked through from SlideShare to my site, had viewed my whole presentation. On slide 69, they found a call to action to sign up to my snackable course. These people engaged with my content. They read it. They appreciated it. They weren't just looking for a quick share.
The web is full of testosterone
We all get distracted by big numbers.
By vanity metrics.
But stats like views, visitors, comments, and social shares don't really matter.
Want more proof?
Have a look at Marcus Sheridan's River Pools and Spas blog. Each post generates only a few social media shares, and a handful of comments.
Do you think he cares?
Nope, his blog has generated over $2 million in sales.
Here's another example:
Last year, Mars Dorian reported that his traffic numbers had halved.
Do you think he cares?
No, he's attracting higher-value clients, and making more money.
If you want more comments, set up or join a commenting group. The more time you invest in commenting on group member's comments, the more comments you'll get. Easy.
If you want more social media shares, buy them.
If you want more traffic, find the best tricks for going viral. Get a cat. Or eat more bacon.
Do you prefer more business instead?
Going viral doesn't matter. Reaching your audience matters:
Understand what they're struggling with
Help them to solve their problems
When you turn yourself into an exquisite problem-solver, you gain relevant traffic, woo serious readers, and win quality clients.
The truth about viral content
Only a marketer would think that something spreading as easily and quickly as a virus is good.
Good content doesn't need to go viral.
Good content attracts quality prospects. Good content helps you win business.
Don't get distracted by vanity metrics.
Focus on the quality of your traffic. Get people on your email list. And engage in real conversations.
Chase customers, not clicks ~ Tom Martin (tweet this)