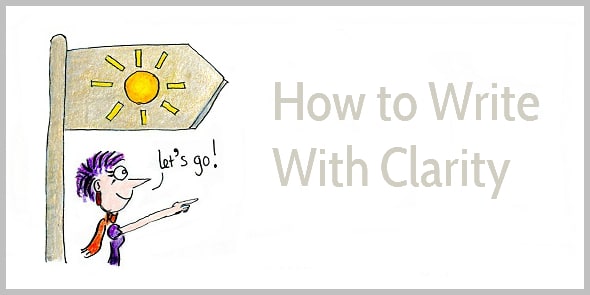 It happens to the best writers sometimes.
We try to simplify our message. We do our best to write with clarity.
But when web visitors read our content, they get confused.
Web readers are in a hurry. They get easily distracted. So we must make our web content so simple, so crystal-clear that even readers racing around the internet get hooked.
Communicating with clarity is probably one of the most difficult writing tasks.
Our efforts get sabotaged easily, without us noticing it. We try to communicate too much. We try to impress with our knowledge. And we think we know what we want to say, but the truth is that we haven't figured out the essence of our message.
When you follow the 4-step approach below, your content becomes clearer, simpler and more persuasive. Readers start following your advice. They take action. They buy from you.
Shall I explain?
Step 1. Clarify your destination and define the shortest route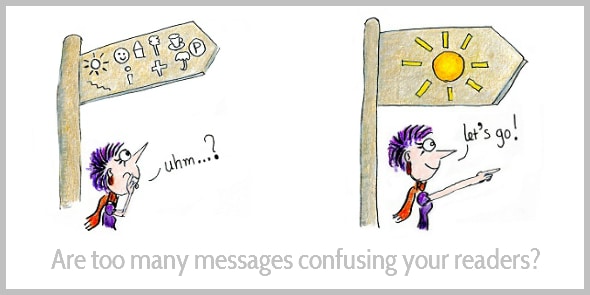 What's your writing process?
Some people get an idea, and simply start writing. That's freewriting, and it works well for some people. However, freewriting can lead to a complicated process of writing, reverse outlining, revising, rewriting, and editing. This process guzzles up time, and there's no guarantee that the content will become clear and persuasive.
A quicker way is to plan your content first:
Write down the purpose of your content in one or two sentences
Create a list or mindmap of what you want to include
Review the list and narrow down your topic—your initial list or mindmap is often too unwieldy, so you must cull irrelevant ideas
Review your purpose and your short list of content—will your content deliver on your promise? Or should you narrow down your purpose?
Irrelevant ideas lead readers astray. They might get confused, or worse, click away. So keep your content focused on one simple and clear message.
Step 2. Set up signposts at each junction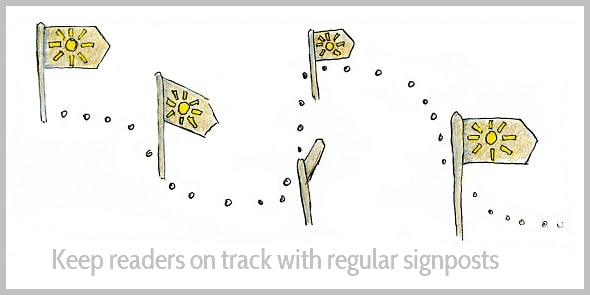 Travelers feel lost when they have no clue of where they are.
With your readers, it's the same. They want to know where they are, and they want to know where they're heading next.
Firstly, readers need to get an instant feel of what a page is about as soon as they arrive:
When visitors arrive on your home page, they want to know what you're about. For instance: Relaxed Holidays in Dreamland. 365 Days of Sunshine.
When visitors arrive on a product page, they want to know what you offer. Show a clear picture and use a simple headline describing the product. For instance: 2-person apartment – 100 yards from the beach
When visitors arrive at a blog post, they want to know what your post is about. Write a headline promising what they'll learn, such as 10 Top European Destinations for Sun Lovers
Secondly, add sign posts at every junction to keep on track:
Use clear button copy and link text. For instance, a "next" button is unclear; in contrast, "view apartment details" tells readers immediately what to expect next
Remind readers why they're interested in buying from you by sprinkling benefits over your copy
Blog posts should also remind readers why they should continue to read. The introductory paragraph of this post, for instance, mentioned that writing with clarity can lead to more engaged readers and more sales. This message is repeated, using different phrases, throughout the post.
Without signposts, readers lose interest in your content. Good signposts keep them engaged.
Step 3. Avoid vague route descriptions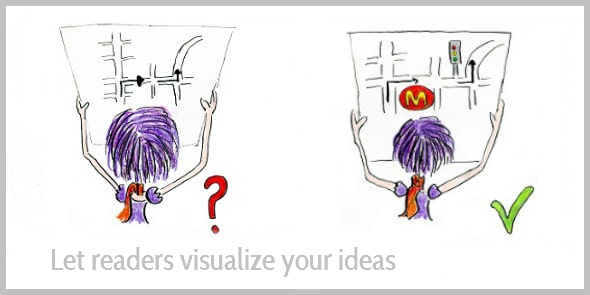 In the good old days, we didn't have sat nav, and sometimes we had to ask for directions. Do you remember?
More often than not, the directions would leave you confused.
Let's compare two route descriptions:
At the third road, turn right. Then at the second junction, turn left.
After about 300 yards, you'll see a large McDonald's at your right. Immediately after the McDonalds, turn right. Go straight at the first junction. Then at the second junction (this one has traffic lights), turn left.
The second description is longer, but it's more concrete. That's why it's far easier to remember.
Writing also needs to be concrete to be understandable:
Abstract language baffles your readers. Vivid language makes your message memorable.
Step 4. Simplify your words
Write to express, not to impress ~ Gregory Ciotti
At school, we received praise for using complicated words. At college, we read texts full of long and Latinized words.
And that's how we become our own biggest enemy when it comes to writing with clarity.
If we want readers to reach our destination, then let's find the simplest route.
Would you rather go to a sunny beach?
Or would you go to a place where a big sphere shines full of hot gas comprising hydrogen, helium and small amounts of carbon, nitrogen, oxygen and more?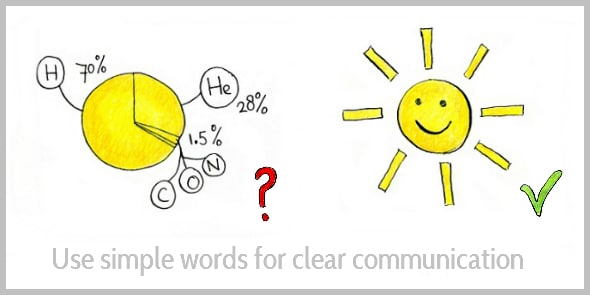 Difficult words make our readers stumble. Long sentences wear them down.
So use simple words and short sentences to communicate your message.
How to write clearly and communicate your message
Ever got lost in a big forest?
Ever stared at a map, wondering where the hell you were? Or were you arguing with your walking companion about whether to turn left or right?
Getting lost in content makes readers feel bad, too.
But there's one big difference: When you were lost in a forest or city, you were determined to find your way. Readers are less determined. Their minds start wandering, and they click away.
Writing clearly signposted content requires effort. Rethink. Review. Edit. And edit again.
But your extra efforts make your readers happy. They stay engaged. They follow your advice. And they might even buy from you.
So make your content simple and clear.
Because your readers deserve it.
Recommended course:
Enchanting Blog Writing
Learn how to engage, educate, and inspire your readers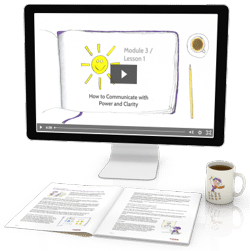 "I'm a copywriter who has bought maaaany courses. This was one of THE BEST courses I've EVER bought. No doubt about it. The countless examples and activities make this blog writing course killer. Henneke breaks down everything you need to know to write incredible blog posts."
~ Esat Akan

"I love how Henneke breaks down complex ideas, and how she reveals the structure behind good writing – this is what I was missing."
~ Tope