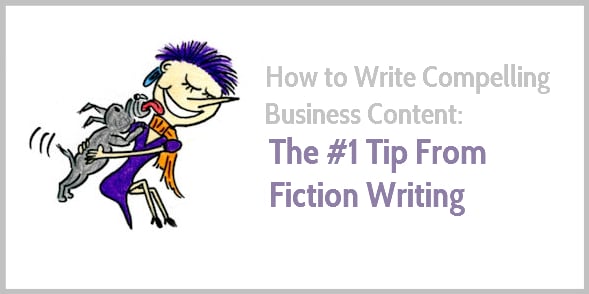 Yeah, yeah.
Sometimes we read a marketing text, and all we can think is Yeah, yeah. It sounds okay, but we don't quite believe it.
Do you know what I mean?
The text feels superficial and lacks flair. We're not tempted. We're not enchanted. We feel resistance to reading and buying.
How can you add pizzazz to your writing so people enjoy reading your business content? How can you establish credibility so people believe your words?
In fiction writing, the concept of "Show, don't tell" gives a story oomph. With a little adjustment, you can use the same concept in your marketing so readers don't question your content. Instead, they get swept up by your words.
Shall I explain?
An example of "Show; don't tell" in fiction
In the book All the Light We Cannot See, Marie-Laure, one of the central characters, is a blind girl. Initially, author Anthony Doerr doesn't tell us she's blind. He lets us experience her world of smells, sounds, and touch first.
She hears:
She can hear the bombers when they are three miles away. A mounting static. The hum inside a seashell.
She touches:
She eases open the left-hand shutter and runs her fingers up the slats of the right. A sheet of paper has lodged there.
She smells:
She holds it close to her nose. It smells of fresh ink. Gasoline, maybe.
And then we read the visual details making us realize Marie-Laure is blind:
Marie-Laure hesitates at the window in her stocking feet, her bedroom behind her, seashells arranged along the top of the armoire, pebbles along the baseboards. Her cane stands in the corner; her big Braille novel waits facedown on the bed.
Anthony Doerr could have just written that Marie-Laure is blind, but the description of her world is more powerful, allowing us to experience the story as if we're Marie-Laure. The sensory details draw us into the story.
The idea of showing lets fiction readers experience a story by sharing sensory details and describing actions. Telling speeds up the story by eliminating details.
Doerr shows us what Marie-Laure's initial experience of blindness is like:
Spaces she once knew as familiar—the four-room flat she shares with her father, the little tree-lined square at the end of their street—have become labyrinths bristling with hazards. Drawers are never where they should be. The toilet is an abyss. A glass of water is too near, too far; her fingers too big, always too big.
But he then speeds up the story by telling us:
The despair doesn't last. Marie-Laure is too young and her father is too patient.
Showing requires more words than telling because descriptions of actions and scenes are longer than simple statements. Sharing details slows readers down, while telling speeds up the story.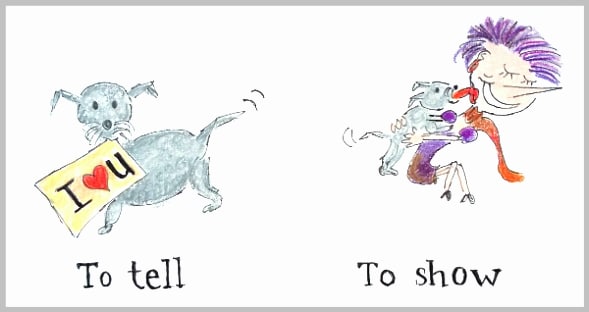 Business content is different from fiction writing
Business readers are more impatient than fiction readers.
Fiction readers "live" the story. They want to be entertained; they want to read the details so they can experience the story. This is why showing is so important in fiction.
But business readers are task-oriented. They want to know quickly what you offer. They don't want to spend hours learning a simple trick.
When business content focuses too much on showing, scanners might miss key messages because they're buried underneath too many details. But without a dose of showing business content lacks depth. Showing allows readers to imagine experiencing our products and services, and that makes our sales pitch more persuasive..
Two examples of "Show and Tell" in sales copy
Fiftythree first tells, then shows in their sales copy:
With Pencil, we've radically simplified things like charging and wireless connection so you can spend less time in menus and more time creating.

Under normal use, you won't need to recharge Pencil for about a month. The battery can be slid out and recharged on any standard USB port in under 90 minutes.

Bluetooth connection as it should be: no settings menus, no confusing pairing rituals. Just press Pencil's tip to the screen. Clear, stable, simple… easy as falling in love.
How this copy tells and shows:
The headline tells us a key message: it's simple to use the Pencil.
The copy shows us how easy it is to use the Pencil by sharing specific details on recharging and connecting.
Apple's copywriters often uses the sandwich approach to showing and telling. They first tell, then show, and then tell again. Here's an example of the copy on the iPad Pro:
Our most powerful chip for our most capable device.

At the heart of iPad Pro lies the new A9X, our third generation chip with 64 bit desktop class architecture. It delivers up to 1.8 times the CPU performance and double the graphics performance of iPad Air 2. So even the most demanding apps run effortlessly.
How this copy tells and shows:
The headline tells us the iPad Pro has Apple's most powerful chip.
The copy then shows why the chip is powerful and why this matters: it's a 64-bit desktop-class architecture; it delivers up to 1.8 times the CPU performance of the iPad Air 2; and it also doubles the graphics performance of the iPad Air 2. Note how these sentences are full of details.
The paragraphs ends with telling us that the iPad Pro runs the most demanding apps effortlessly.
Good sales copy balances showing and telling.
How "Show and Tell" works in business blogging
As business bloggers, we're mentors to our readers. We build our authority by sharing our advice, and encouraging readers to implement our tips.
The most powerful way to do this is, of course, to show and tell:
Tell readers your tips
Show with an example or mini-story how your tip works in practice
Telling and showing is the two-punch winning technique of any educational writing. But telling and showing also allows you to write captivating opening paragraphs.
Here's an example of an opening paragraph which only tells:
Do you ever read a draft of your writing and wonder why it sounds bland?

In this post, I'll tell you how to make your content dazzle and dance.
While the intro above is straightforward, it lacks flair. Here's how you turn it into an opening paragraph that both shows and tells:
Do you ever read back a draft of your writing and wonder what happened?

Red-cheeked, you thought your draft was complete. You felt excited. Brimming with enthusiasm. You knew it … this was going to be superb. Probably your best-ever blog post. Yay!

You poured yourself a beer, feeling elated with your success.

Any minor editing and proofreading could wait until the next day.

But, the next day … you feel disappointed. Your writing sounds bland. Your sentences seem to stutter.

What can you do?

How can you create a smooth and enjoyable reading experience? How can you make your content dazzle and dance?

(From: 4 Delightful Editing Tips to Make Your Words Dazzle and Dance)
Sounds more enchanting, eh? The description with sensory details makes the introductory paragraph much longer, but also more compelling.
Breathe life into your business content
Telling only is boring; it sends your readers to sleep.
Showing helps readers visualize and experience your content. Because details add pizzazz.
Good business writers communicate key messages with clarity, and then use details to allow readers to experience their ideas.
Find a balance between sensory details and quick messages.
Let your content ebb and flow.