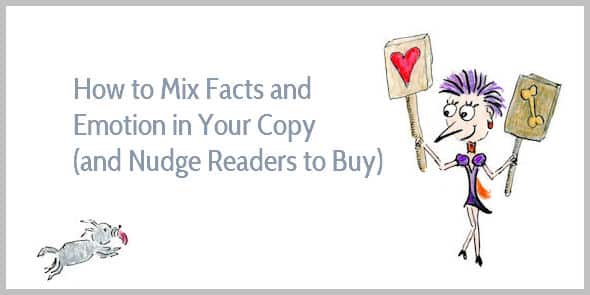 You treat your readers like grown-ups, right?
You give them all the information they need to make a choice. Your copy sounds smooth. Your words seem perfect.
You've presented the arguments to take action—to contact you for a quote, to buy your latest product, or to join your valuable email list.
But when you re-read your words, your content feels flat. The copy seems to lack the powerfully persuasive tone you sense in content written by the pros.
Something is missing.
But what?
Writing seductive copy like the pros isn't as hard as you think once you understand how people choose to buy.
Let me tell you a quick story about a conversation I had a few years ago.
The guy was a wheeler-dealer …
The type of guy who negotiates the best bargains and keenest deals from his suppliers. In his late forties, he owned a bricks-and-mortar store and had a pretty big online presence.
He told me he had purchased a new bike. His sixth or seventh—I can't quite remember. He proudly revealed the cost of the bike … a whopping £7,000. That's over $10,000. Or more than 10 times as much as my bike which I've ridden in Malaysia and Thailand, across the Pennines in Northern England, and from France across the Pyrenees to Spain.
What made his bike so special?
He explained to me his bike was super-light. You could almost lift it up with one finger.
But unless you take part in the Tour de France, does having a super-duper light bike matter that much? Is the purchase of a £7,000 bike a rational decision? Or is it about prestige, a sense of belonging, the proud feeling you ride the same bike as the pros?
As buyers, we justify our purchases with rational arguments. We bought that BMW because of its driving experience. We bought that iPhone 6 because it's much much better specified than our old iPhone 5. But the truth is that we get attracted to a brand, a model, a design, and then find a way to justify our purchase. Emotional appeal comes first, rational arguments come second.
That's why copywriting legend Joseph Sugarman advises us:
You sell on emotion, but you justify a purchase with logic
But how does that work in practice? How can you mix emotion and logic when you don't have a multi-million dollar marketing budget like Apple or BMW?
Let's look at a few examples …
Address a desire and add facts
How does your product or service transform people's lives? How do you make buyers feel better?
Basecamp sketches the transformation their software brings before sharing facts:
Basecamp helps you wrangle people with different roles, responsibilities, and objectives toward a common goal: Finishing a project together.

(…)

For over 10 years, millions have relied on Basecamp to help them get their projects done on time, on budget, and on point. It's their go to—and ours too: We use Basecamp every day to run our own company. Combine that with our best-in-the-biz customer service, and you've got a powerful package. Just last week, another 4,869 companies started using Basecamp.
How this approach works:
The first paragraph uses emotional phrases: wrangle people, a common goal, finishing a project together.
The next paragraph uses hard facts: over 10 years; on time, on budget, and on point; 4,869 companies.
Note how the specific number 4,869 is more persuasive than the rather vague millions who have relied on Basecamp.
To implement this approach in your copy, think about what your customers want to achieve. How do you make them feel happier, more relaxed or more productive? Then back this up with facts.
Intensify the emotional appeal
Can you make the emotional appeal stronger with a more sensory description?
Here's how Innocent Drinks describes a smoothie with pineapples, bananas and coconuts:
[T]his drink tastes of sunshine. Not that watery stuff that you get in the UK for five or six days of the year, but the great, clear, life-affirming rays that you'll only find where these fruits are grown. So even if you've used up your holiday allowance on lots of mini-breaks to Prague and Oslo, you can still find a little bit of the tropics in this recipe. Just close your eyes, whack on the factor 16 and have a mouthful. Il fait soleil.

2 of your 5 a day in every bottle or 250ml glass
it gives you the goodness of 6 different types of fruit
is a source of vitamin c
How Innocent intensifies the emotional appeal:
You can almost feel the sunshine on your face when reading the copy. Note the sensory words used: not that watery stuff; the great, clear, life-affirming rays; tropics; whack on the factor 16; il fait soleil.
The copy smartly links a simple smoothie with a sunny vacation experience.
Once you've read the intro, you can't help yourself wanting this drink, and then you find the reasons to justify this expensive purchase: 2 of your 5 a day, 6 different types of fruit, vitamin c.
To implement this approach, consider how your service or product makes customers feel. How can you describe this feeling? Can you associate this feeling with another experience (like drinking a smoothie makes you feel like lounging in the sunshine)? Which sensory words can describe the experience?
Take away fears
When we think about our service or products, we tend to think about the positives. We know how we can help people save costs, make more money, or become more productive.
But what about the fears and problems we take away?
Freedom from fear, pain, and danger provides a powerful emotional appeal, too. Here's copy for the Rainmaker platform for WordPress sites:
Build without brain overload

Our deployment technology allows you to instantly start building a powerful marketing and sales website without the frustration that comes with do-it-yourself WordPress.
And they also mention:
Experience (…) the peace of mind that comes from never having to worry about updates, theme breaks, outdated plugins, and site-specific security threats ever again.
How Rainmaker takes away your fears:
They use emotional words to describe the hassle they take away: brain overload, frustration, problem; and to describe the transformation: peace of mind.
They back up their claim with specific facts—you don't have to worry about updates, theme breaks, outdated plugins, and site-specific security threats.
To implement this approach, consider what your customers are worried or frustrated about. Which hassles, glitches, and problems can you take away? Make sure you include specific facts to reassure your readers that it's not just empty marketing talk.
Start writing copy like a pro
What are you waiting for?
Writing copy like a pro is easier than you think.
To seduce your readers to buy, appeal to their emotions and help them justify their actions with logic and facts.
Start with emotion.
Back up with facts.
Easy-peasy.