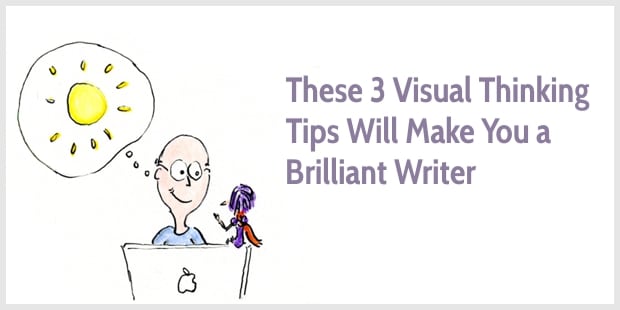 Hector yawns, and takes a large gulp of his Coca Cola.
He's browsing the web, skimming articles to share on Twitter and Facebook.
But man, some of these articles are sooooo uninspiring.
Why, Hector wonders, why are so many articles so boring? What's up with all these writers?
Is there a way to become a better, a more engaging writer?
Yes!
When you apply your natural visual thinking skills, you can captivate your readers and get them to hang onto your words.
Let me explain …
What is visual thinking?
Visual thinking involves more than painting pictures with words.
Research by cognitive scientist Maria Kozhevnikov discusses a second set of visual thinking skills: the ability to recognize patterns and spatial awareness. I think of this skill set as map creation skills.
Both visual thinking skills—painting pictures and map creation—can help us improve our writing and engage readers. Without the need to become accomplished artists.
Visual thinking is natural, even for writers. Recent research by Harvard scientists suggests that even when we try to think in words, imagery still pops into our mind.
For a long time, we understood our world visually, so maybe language is an add-on.

~ Peter Reuell, Harvard Staff Writer
What's more, visual thinking may even boost your creativity.
While a lot is still unclear about how we think, narrative research indicates creativity flows when visual and verbal thinking meet. That doesn't surprise me. I've often found that when I'm stuck with writing, drawing (or scribbling) can get me unstuck.
Want to use visual thinking to improve your writing, too?
1. Map out the journey
As a business writer, you're a mentor to your reader.
You tell him you understand his problems, explain how to solve them, and encourage him to implement your advice.
Each blog post, for instance, is a route description. You guide your readers from a difficult situation via clear lessons to an enjoyable destination.
A business coach, for instance, may help readers vet ideas for their business—she guides them from a state of confusion with too many ideas swirling in their mind to a situation where they feel excited about testing one specific idea. And an interior designer could help readers understand color schemes, so they can feel more confident choosing paint and fabrics for their new living room.
A map keeps writers on track: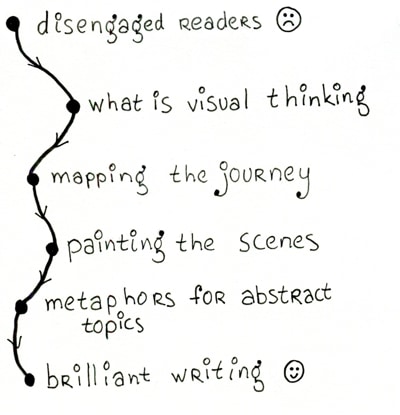 Some writers love detailed maps. Before they start writing they draw such a detailed route description, they've already written a rough draft.
Other writers love exploring without a map. They start writing and see where they end up. Only after they've written their first draft, they draw a map to check whether the route in their writing makes sense.
Many writers fall in between. They like a map, but it doesn't need to be detailed. They jot down a list of questions or bullet points to plan their writing.
It doesn't matter whether you're a detailed map maker or a free explorer. Both methods of writing work—just be sure, that at some stage you create your map:
Imagine your reader—which problem do you help him solve?
Visualize your destination—how does arriving there make your reader feel?
Picture the steps your reader has to take from where he is now to where he could be.
Imagine your reader following your advice—which mistake might he make? When does he resist your suggestions?
By mapping out your journey, your content stays on track and you give readers a strong sense of direction. Together, you travel to a sunny destination.
2. Turn your map into a comic book
Mapping a journey requires one set of visual thinking skills—understanding how the big picture fits together.
But to engage your readers, you also need to sketch vivid pictures in their mind.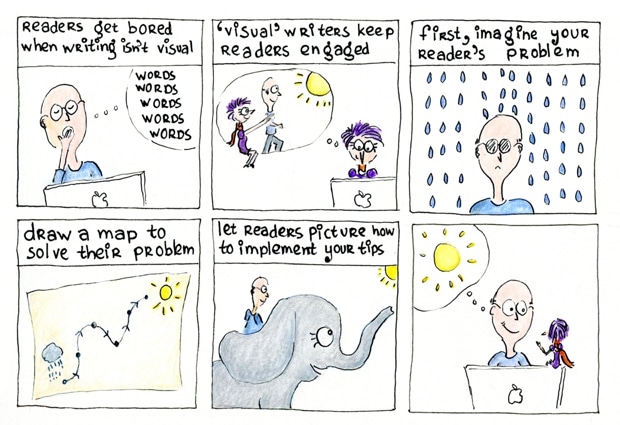 To sketch vivid images in your reader's mind, imagine yourself a comic creator. How would you visualize your blog post? Which pictures would you draw?
For instance, in the opening of this post, I sketched a writing challenge with a few vivid details:
Hector yawns, and takes a large gulp of his Coca Cola.

He's browsing the web, looking for articles to share on Twitter and Facebook.

But man, some of these articles are sooooo uninspiring.
To paint vivid images in your reader's mind:
Imagine your reader in the opening scene—what is he struggling with? How does that make him feel? How do his actions express his feelings?
Illustrate each of your tips with an example so readers gain a concrete picture of how to implement your advice
Visualize your reader and consider what's stopping him from implementing your advice–encourage him to take action
Without vivid pictures, a blog post becomes generic and boring. And without a clear map, your readers lose track.
So, you need both sets of visual thinking skills to keep readers engaged.
3. Use metaphors to explain abstract topics
Metaphors compare two different topics, and they're especially useful for comparing abstract with concrete ideas.
For instance, imagine you're a business coach, and one of your clients can't stop multitasking. Ron Friedman explains it like this:
Suppose each time you ran low on an item in your kitchen—olive oil, bananas, napkins—your instinctive response was to drop everything and race to the store. How much time would you lose? How much money would you squander on gas? What would happen to your productivity?

We all recognize the inefficiency of this approach. And yet surprisingly, we often work in ways that are equally wasteful.

(…) Multitasking, as many studies have shown, is a myth. (…) each time we shift our focus, it's as if we're taking a trip to the store.
Friedman compares the abstract concept of multitasking with the concrete concept of grocery shopping to explain how unproductive multi-tasking is.
To dream up your own metaphor, transplant an abstract situation to a concrete scene. For instance, you can compare:
Arriving at a website with how you arrived at a hotel (here)
Website goofs with road blocks you've experienced (here)
The flow and "direction" of content with a real map for your readers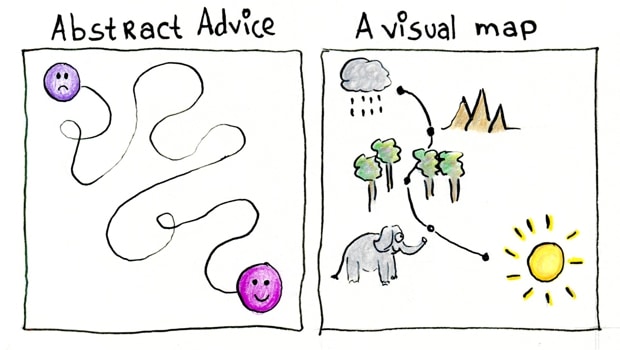 Become a brilliant writer
Imagine your reader, still groggy from sleep.
She switches on her computer, while sipping her coffee. In her inbox, she finds your email. Full of excitement, she starts reading your post. "Wow," she thinks, "this is brilliant advice. I'm gonna try this today."
Can you picture her eyes lighting up? Can you imagine the smile on her face?
To engage and guide your readers like that, use your natural visual thinking skills. Pick up a sheet of paper, scribble down a few ideas and draw a map.
What sunny destination are you guiding your readers to?