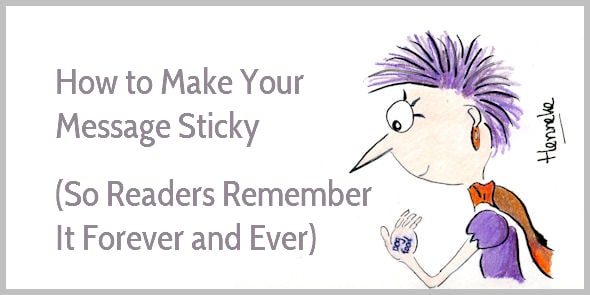 I'm pretty sure you know the feeling.
A headline grabs your attention. You click and start reading the post.
But a couple of minutes later, you're none the wiser.
What's the post about???
You've been consuming words on auto-pilot. Nothing stood out. Nothing made you pay attention. And the message got lost.
In a world of content overload, pixels are cheap and attention comes at a premium. Sharing your ideas may feel impossibly tough.
How can we get our messages heard, understood, and remembered?
Too often content is a dump of information
An About page looks a little bare, so a few extra sentences are strung together. A product description seems too short, so a few bullet points of wordiness are added. And another week requires another blog post. Another offloading of vague ideas.
Too often writers produce content. Without considering their message.
To get people to remember your content, make your message crystal-clear to yourself first. Do you expect the reader to take a specific action? And why would she take this action? How does your content transform her?
Sticky messages are simple
You can summarize sticky ideas in one sentence. For instance:
Sticky content goes one step further than having one simple message.
Sticky messages communicate with vivid words
Imagine selling petrol.
Boring, huh?
How could you give customers a sense that your fuel is better, faster, and more powerful than the competition? For instance:
A tiger in your tank
This Esso (ExxonMobil) advertising slogan immediately conjures up an image of an athletic animal roaring and running. That paints a strong image, right?
Now, imagine writing about an abstract concept like innovation. How can you encourage CEOs to make their companies more innovative without getting stuck in an academic and abstract quagmire?
Scott Anthony explains how CEOs can build an innovation engine in 90 days. Can you hear the engine humming to produce innovative product ideas? The concept of innovation is difficult to grasp, but an engine is tangible.
One more example … let's think about multitasking. How often do you dip into Twitter, Facebook, or your email, while trying to write an article?
I've read numerous times how bad multitasking is. But somehow the message never stuck. I kept multitasking … until I read this post by Ron Friedman:
Suppose each time you ran low on an item in your kitchen—olive oil, bananas, napkins—your instinctive response was to drop everything and race to the store. How much time would you lose? How much money would you squander on gas? What would happen to your productivity?

We all recognize the inefficiency of this approach. And yet surprisingly, we often work in ways that are equally wasteful.

(…) Multitasking, as many studies have shown, is a myth. (…) each time we shift our focus, it's as if we're taking a trip to the store.
Whoa.
Who would be so crazy to run to the supermarket for single items all the time? The analogy between shopping trips and multi-tasking made it immediately clear to me how stupid I was. I've never forgotten this message.
The problem with the human mind is that we struggle to think in abstract concepts.
So to make your message sticky, you need to make it concrete.
Concrete language helps people, especially novices, understand new concepts. Abstraction is the luxury of experts.

~ Chip and Dan Heath
Readers need to be able to feel or see your ideas. And that's exactly why metaphors are so powerful.
Metaphors compare something familiar with something new. They can make abstract concepts concrete, easy to understand, and memorable.
What makes a metaphor good?
Let's first look at some bad metaphors.
A bad metaphor might have lost its visual appeal because it has become a cliché:
Running a business is like a marathon. You have to be in it for the long haul.
Or a bad metaphor might confuse readers because it mixes different images:
Starting a business is like preparing for a marathon. Don't put all your eggs in the same basket and experiment with what works.
A good metaphor, however, paints a clear picture, and often has an element of surprise:
Running a business is not quite like running a marathon. A marathon runner trains for months, if not years. He knows the track. He knows where the finish will be. He knows he can stop after 42km (26 miles).

But running a business?

Yep, you also start full of energy, and sometimes you struggle to keep moving. But you probably have no idea what track you'll run, where the opportunities lie waiting for you, and when you'll eventually get to a finishing line.
Your role as a writer is to paint vivid images in your reader's mind. In her book Metaphorically Selling, Anne Miller quotes the following figures:
We remember 20% of what we hear
We remember 80% of what we hear and see
When images are vivid, we remember 95%
Does dreaming up good metaphors sound impossible?
You don't have to be a creative spirit
When I first started using metaphors, my ideas seemed silly, perhaps a little childish.
I was afraid people would laugh at me.
But I tried it out. And readers seemed to like it.
So don't be afraid. Nurture your sense of play and exercise your creative muscles. Anyone can dream up good metaphors:
Connect your field of expertise to a totally unrelated topic—cooking, parenting, gardening, and traveling are good sources for metaphors. Choose a topic you know well and that your readers can relate, too. For instance, I like long-track speedskating, but don't choose it for metaphors because it most likely would confuse rather than inform you.
Look for similarities. For instance, compare activities to activities, things to things, and roles to roles. Writing an article (activity) can be like planning a new garden or cooking a dish. A great article (thing) can be like a tasty meal or a flourishing garden. Being a writer (a role) could be like being a chef or a parent.
Explore the tiny details that make your metaphor fascinating. Instead of: Her blog post tasted like a bad dish, try: Her blog post tasted like bland potatoes, slightly burnt and without salt; nobody read beyond the first three sentences.
The power of visual language
Remember 2001?
You probably had a portable disc player. A vast improvement compared to the sound quality of a portable cassette player or a Walkman as Sony used to call them.
While everyone was fussing about improving sound quality, Steve Jobs launched a vastly inferior product—at least in terms of sound.
But within 11 years, he sold 350,000,000 iPods.
Why?
The gazillion-dollar power of visual language:
One thousand songs in your pocket
What are you waiting for?
You can't expect readers to write down your message on their hand so they'll remember it.
You're smarter than that.
So, come on. Let's go out for a walk. Bring a little notebook and let your mind wander around.
Don't treat this like an exam. No right answer exists.
Have fun exploring a few crazy ideas. And make your message heard, understood, and remembered.