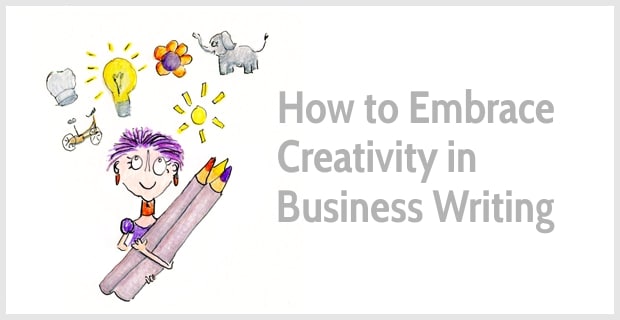 Holly has gotten into a blogging rut.
She's still writing almost every week.
But man …. blogging makes her feel so bored. She plows through her first drafts. She drags herself through editing. Even hitting "publish" leaves her cold. Where has the excitement gone?
Every week, she wonders whether her readers sense her boredom.
And sometimes, she asks herself whether she should write something different. Could she experiment with storytelling? Could she try a metaphor? Could she write about something totally different for once, something she'd love to write about?
Holly thinks back of the time she was young. She loved writing. She dreamed of publishing a novel.
But those dreams evaporated when she grew up. She needs to make a living, and experimentation with her writing takes time. Time feels too precious.
And why be creative if you can write faster on "autopilot?"
Is there a business benefit to creative writing?
I was recently taken aback when reading a quote from Emma Brudner about HubSpot blog editors:
People who are successful in these roles are a lot more strategic and less creative.
She suggests good HubSpot editors spend most of their time optimizing promotion and improving existing content.
I know I probably pour too much energy into writing rather than promoting. But really, is creativity not valued anymore?
A few weeks later, I breathed a big sigh of relief when reading the results of a recent survey of B2B content marketers:
74% of marketers in North America agreed with the statement that "Our organization values creativity and craft in content creation and production."
As Ann Handley, a regular keynote speaker on content marketing, writes:
Metrics and measurement are important. But the art in marketing is just as important as the science!
Of course, it's not surprising HubSpot is less keen on creative experimentation. They've written so many blog posts already. A Google search for any page on blog.hubspot.com generates a whopping 16,900 results. This is an estimate of the number of blog posts HubSpot has published.
But you and I are not like HubSpot. We can never produce so many articles.
If HubSpot were the McDonalds of business blogging with a streamlined content production process, we are the artisan chefs running tiny restaurants. People come to our restaurant for the food as well as the atmosphere. We produce valuable content. But we attract readers because they like us, love us, and appreciate who we are.
For you and me, the best way to attract a loyal audience is to nurture our voice and to stand out. So, we need to be creative.
The certainty of a strict process vs the chaos of imagination
To be creative without sacrificing productivity, we have to find our own sweet spot between chasing productivity and welcoming creativity, between order and chaos, between strict planning and freewheeling. Between staying safe and exploring new territory.
How?
Start by setting boundaries for your creativity.
Have you ever sat down to write, and discovered you had no ideas? You rack your brain for inspiration, but can't dream up a single good idea?
Frustrating, eh?
Creativity benefits from constraints.
So, instead of looking for a random idea, limit your idea generation to a specific topic. For instance, as a life coach, ask yourself: What's the main aim of your clients? Perhaps they want to find more balance in their lives and feel less stressed. So, how can you help them achieve that?
You could help them by teaching how to:
Snatch moments of calmness in a busy day
Say no more often (without feeling guilty)
Get rid of social media addiction
Prioritize your tasks so your days feel more productive
Use time-blocking instead of endless to-do lists
If you give yourself 20 minutes, you can probably come up with another 20 to 40 ideas. Not all ideas will be good, but you'll surprise yourself by how many good ideas you'll dream up. Enough for a few months of blog writing.
Want to come up with a creative metaphor?
You can set a timer, too, and limit yourself to metaphors from one specific field, e.g., cooking or sports.
You may find you can't come up with a metaphor in one session. That's normal. Let it go, and see whether your brain comes up with an idea when you go for a walk, empty the dishwasher, or when you shower tomorrow.
When we allow ideas to percolate, our brain keeps working in the "diffused thinking mode." And especially in that mode, our brain can make new connections—even if we're not aware of it.
And making those new connections is key to creativity.
Creativity is just connecting things. When you ask creative people how they did something, they feel a little guilty because they didn't really do it, they just saw something. It seemed obvious to them after a while. That's because they were able to connect experiences they've had and synthesize new things.

~ Steve Jobs
Foster your curiosity
I used to think "going down rabbit holes" was a bad thing. Aren't we supposed to stay on task to get our work done?
Yes and no.
When you're in productive mode, you need to stay on task. So, for instance, instead of looking for a quote while writing your first draft, write down "TK" (to come) and keep writing. Look up that quote later.
In contrast, when you're in creative mode, allow serendipity to guide you, go down rabbit holes, and follow your curiosity.
When you follow your curiosity and read widely, you can find inspiration everywhere.
Look for connections with your core topic. For instance, when reading Hemingway, I wondered … what can business readers learn from this novelist's writing style? And when I read a book about curiosity, I wondered how writers can use curiosity to boost click through rates.
Taking on writing challenges on different topics opens your eyes, gives you a fresh perspective, and might even boost your productivity. Tim Harford calls it the benefit of "cross-fertilization." In his book "Messy," he describes how the most prolific scientists work:
The top scientists switched topics frequently. Over the course of their first hundred published papers, [they] switched topics an average of 43 times.
So, to kindle your curiosity, stop reading books from those ubiquitous lists with "must reads". Instead, follow your own curiosity and read what excites you. Life is too short to read books that bore you. Don't kill your own curiosity.
You can also foster creativity by asking "Why" more often. Why do clients struggle with a specific problem? Why do they make certain mistakes? Why does A work, and B doesn't? Why did a specific project yield great results? Why can't you change xyz?
In a Wall Street Journal article (paywall), Walter Isaacson writes that Leonardo da Vinci—possibly the most creative person ever—embraced his inner child, and kept asking "Why?:"
He never outgrew the child's need not just to admire the beauty of a blue sky but to ask why it is that color.

~ Walter Isaacson
Switch between your creative and productive mode
Rabbit holes are only dangerous when you don't limit your time. Or when you spend time on social media as an excuse for not writing.
So, when you sit down to work, ask yourself: What is the main objective of the next half hour? Do I need to write as much as possible of my first draft? (that's a productive mode) Or do I have time to explore ideas before finalizing an outline? (that's a creative mode)
If you know what your aim is, you can choose to be intensely focused on a task or surprise yourself with new ideas.
Austin Kleon has two different desks to switch between his productive and creative mindset: An "analog" desk for creative work, and a digital desk for productivity. As he writes in his book "Steal Like an Artist:"
I have two desks in my office—one is "analog" and one is "digital." The analog desk has nothing but markers, pens, pencils, paper, index cards, and newspaper. (…) This where most of my work is born (…). The digital desk has my laptop, my monitor, my scanner, and my drawing tablet. This is where I edit and publish my work.
I don't have the luxury of two desks. But when generating ideas or outlining, I trigger my creative mindset by using colored pens and paper. In contrast, when I'm in production mode, I use my computer.
Learn to observe like Leonardo da Vinci
Leonardo had a sharp eye, and he observed everything in detail:
In his notebooks, Leonardo set out his simple method for truly observing a scene: Look separately at each detail. He compared it to looking at the page of a book. It was meaningless when taken in as a whole and had to be examined word by word.

~ Walter Isaacson
Too often, blog posts barely scratch the surface of a topic. They give generic tips on improving your writing skills, or how to become a successful entrepreneur. Do you think anyone could learn that from reading one blog post? Do you think that helps bloggers build authority?
The magic in business writing appears when you learn to listen better to your customers, when you dig deeper into your topic, when you force yourself to learn more.
For instance, have you written a list post with 10 tips? Great! Now, try to write a more in-depth post about each of these tips.
How to become more creative
Injecting more creativity into your writing doesn't require a lot of extra work or extra time.
But you have to allow for a limited dose of chaos in your process, to foster curiosity, to formulate questions and look for answers, to admit your ignorance, to be brave enough to explore unfamiliar territory.
When you play and learn, you enrich your life.
Writing becomes more fun, you procrastinate less and boost your productivity.
You feel more alive.