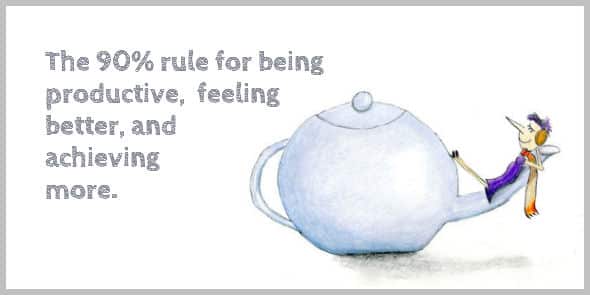 Ever feel like everyone is faster than you?
As if you're messing about, while everyone is launching new products, writing books, and blogging like maniacs?
Do other people not suffer from procrastination?
How can everyone be soooo productive???
Each year, I make my own Christmas cards
Last year, I decided to draw each card.
A little ambitious, as I had to draw each card in pencil, then ink it, and finally add colors.
One card recipient asked me how I could find the time to draw these cards? She made me feel a little guilty I had wasted time on drawing cards. How unproductive is that?
We live in a time of busy-ness.
Everyone is chasing productivity. Amazon lists 5,564 books about time management; and Getting Things Done by David Allen has 1,248 reviews.
But how productive can we be?
I'm no productivity expert
Sure, I like to portray myself as a professional, who gets stuff done. I don't miss deadlines.
But the truth is that I suffer from procrastination, chaos, and doubt.
Sometimes I work like a maniac, and I get an unbelievable amount of work done. At other times, I'm barely muddling through. I try to force myself to work harder, do more, become more productive.
But I'm hitting a wall.
This happened during the last few weeks.
Until I re-discovered the 90% rule.
I've always hated the idea of giving it 110%
Only misguided managers ask their team to give it one hundred and ten per cent.
Working with gritted teeth doesn't make us more productive.
In his book Accidental Genius, Mark Levy describes how Robert Kriegel, a mental coach, trains Olympic athletes.
During a practice run he found his sprinters were tense and tight. Rather than asking them to up their efforts, he requested they run the next practice round at 90%.
The result?
Everyone ran faster the second time!
When writing first drafts, I usually follow the 90% rule. When I take it easy, I write faster and get better ideas. Last week, I decided to take the same approach to my working day.
I slowed down. I took a long break early afternoon. I gave myself permission to go out for longer walks, do nothing, or read a random book.
We grow up learning we have to perform, to better ourselves, to toughen up. Giving ourselves permission to do nothing seems crazy, but it works. Research has indicated that boredom fuels creativity. And even daydreaming is good for us.
In a recent blog post, Chris Winfield admitted he was only able to truly work 16.7 hours per week. You might think that others are far more productive than you. But this isn't necessarily true.
When the 90% rule doesn't get you unstuck …
Running your own business can be exhilarating.
When things go well, you feel fabulous. But when things don't progress like you want, the going gets tough.
Most of us have learned to toughen up. To be independent. To hide our weaknesses. And as small business owners, we love our freedom, the ability to make our own choices.
But sometimes our biggest weakness is trying to go it alone.
We're afraid to admit we're stuck.
For instance, I have wanted to create an in-depth tutorial about writing your own web copy for quite a while. I want to show exactly how to make crappy copy good. I want to include video, and make-over examples, and a checklist. I want to help more people write web copy that converts.
I'm good at breaking complicated processes down into tiny steps, so I can move forward. It usually works.
But this time I'm stuck.
Compared to developing a business blogging course, the project seems simple. But somehow it became a Gordian Knot – a small knot, but so tight I couldn't disentangle it. I couldn't define a first step. And even the 90% rule didn't help.
What could I do?
I admitted I needed help. I emailed a friend and fellow copywriter, and asked her whether she'd be interested in developing a product together?
And you know what?
I rediscovered how much fun it is to do something together. And the product will become better for it. I'm sure.
Getting frustrated with our lack of productivity is a waste of energy. Getting angry because we can't seem to move forward doesn't get us anywhere. The first rule of productivity and getting things done is being kind to ourselves.
And productivity isn't our aim
Don't chase productivity.
Aim for happiness.
Set your own rules.
Decide what makes you happy.