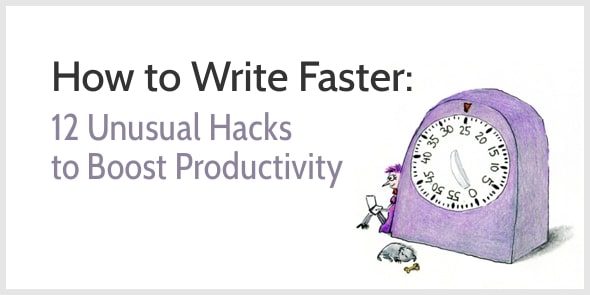 Howard feels fed up with writing.
He started working on his blog post yesterday afternoon, and wrestled with his first draft until almost midnight.
Today, he's revising his post. He wants to create something less woolly and more interesting. He wants his content to flow with a pleasant rhythm. He wants to write content his readers will truly enjoy.
But man, creating that post seems to take ages.
Why can't he speed up?
Howard wonders whether he's missing a trick. He tries to write faster. But the harder he tries, the slower he seems to go. And that's when he gets so frustrated with himself he hardly can write anymore. His inner critic has a field day, telling him he's too slow; he lacks talent and he'll never get good enough.
What should Howard do?
Good writing takes time. That's true. But that doesn't mean you can't speed up. When you adopt the right habits and mindset, you can write surprisingly fast.
In the past years, I've read many books about productivity and writing, and I've learned a few crazy and counter-intuitive tricks to massively shorten the time it takes me to write good content.
Want to write faster and better? Get my best writing tips here > > >
1. Write while groggy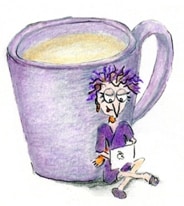 I used to think I had to be bright and breezy to be able to write.
Or failing that, I'd write late at night when time was finally running out to meet a deadline. ⠀
⠀
But I've discovered, I'm better at writing first drafts when still half-asleep. First thing in the morning. (I think it's because my inner critic likes a lie in.) ⠀
⠀
Research suggests we're more creative when we're at our groggiest. So if you're a nightowl, try writing as soon as you get up. And if you're an early bird, you might want to try a late writing session.
There's also some indication that a modest amount of alcohol unlocks our creativity because we're more likely to break out of thought patterns. So, "Write drunk, edit sober" might be good advice. And if you don't like to drink, being slightly sleep-drunk might work, too.
2. Set a timer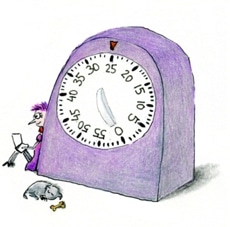 Setting a timer to write seemed, at first, a crazy idea to me. ⠀
⠀
When I'm in a good writing flow, why would I want to stop? ⠀
⠀
However, I've found that stopping while in a flow, makes getting back to writing a lot easier because I still know what to write next.
Using a timer also helps beat procrastination. When I see the time ticking away, I'm more aware I'm wasting time, so I find tactics to keep writing. I might write gibberish. But I keep working instead of checking email or Twitter.⠀
⠀
The Pomodoro technique suggests 25 minutes of dedicated work, followed by 5 minutes' break. It's a good way to keep your energy level up, avoid sitting too long, and stay focused. ⠀
⠀
Before I used a timer, I needed deadlines to get work done. It's taken me some practice, but now I can write even when a deadline isn't near. I can focus on doing the work, and writing has become less stressful, more enjoyable. I get more writing done in less time. ⠀
3. Make writing a choice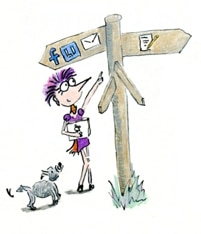 How often do you tell yourself "I should write" or "I have to write more regularly?" ⠀
⠀
I used to do it all the time, but it increased my resistance to writing, and then made me feel guilty if I didn't write. ⠀
⠀
I've learned to change my self-talk, and to make writing a choice rather than a chore: "I want to write" or "I choose to write." ⠀
⠀
In his book "The Now Habit," Neil Fiore suggests that the self-talk of procrastinators often reinforces the idea that a task is unpleasant, and that we don't have control: We have to do it or else …⠀
⠀
Changing our self-talk puts us back in control. We make clear choices. We act as grown ups. Whether you have to call your mother-in-law, should clean up the attic, or must write more, try changing to "I choose to …" or "I want to …" It's surprisingly effective.
4. Make a specific commitment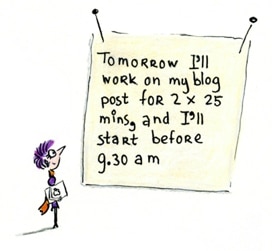 Do you ever wonder where your day has gone?
And get frustrated because yet again, you've not written that all-important sales email or not started writing your next blog post?
I always thought getting something done had to do with willpower and setting the right goals.⠀
⠀
But I've learned that one simple trick can be amazingly powerful. This trick is described in the "British Journal of Health Psychology." Researchers found that understanding the benefits of exercise doesn't increase the amount of exercise we do.⠀
⠀
What makes us stick to an exercise regime is the simple act of writing down when exactly we're going to exercise next week.⠀
⠀
The research shows that without a specific plan only 35% of people exercised at least once a week. But a whopping 91% of people who had written down their plan exercised at least once a week.
So, I sit down every evening and I make a specific writing commitment for the next day. I decide which project I'll work on, for how long, and by what time I'll get started.
An extra advantage of this approach is that my brain start thinking about my writing project (even when I don't realize it), so starting to write the next day becomes easier.
5. Chop up the writing process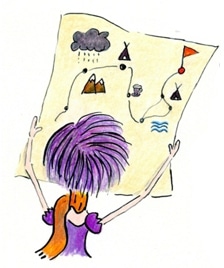 Does writing feel like an insurmountable, big task?
You don't have to do everything all at once.
Start with considering the different parts of your content. A blog post contains a headline, subheads, opening, main body, and final paragraph. And sales copy usually contains a value proposition (headline + subhead), a list with bullet points, detailed copy, testimonials, and perhaps a list with questions and answers.
Next, cut the writing process into steps: idea generation, research, outlining, writing a crappy first draft, revising, editing, and formatting.
When each writing step is as small as possible, writing your next sales page or blog post becomes a breeze.
6. Take advantage of percolation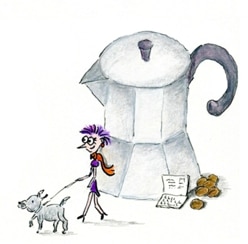 As you've cut your writing project in doable tasks, you can also spread the work over more days.
When you aren't writing, your brain still continues thinking about your content. It's called the diffuse mode of thinking—when you let your mind wander freely.
The diffuse mode of thinking helps you make new connections and get fresh ideas. So spreading your writing over more days, allows you to boost your creativity and make your content even better.
7. Get in the mood to write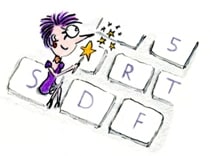 Struggling to get started? Procrastinating?
Try a short writing ritual to get in the right mood. Rituals work because they can boost your motivation and confidence. To me, it feels like a ritual kicks my brain into writing gear.
My ritual is to:
Switch my computer on
Open the document I want to work on
Make a cup of tea
Set my timer for 25 minutes
Start typing—even if it's just gibberish at first
Don't make your ritual too complicated as it might take up too much time.
8. Avoid rabbit holes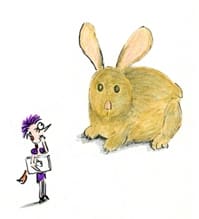 We've all done it.
You're writing, and writing, and writing. And you feel like you're in a good flow.
Then, at once, you miss a piece of information. You open up Evernote, and search for some data you think you've saved. Or you open your Kindle app, and search for the book that for sure must have a useful quote. About half an hour later, you're still reading, and when you try to get back into your writing flow, you feel stuck. You've completely lost your train of thought.
Next time you miss a piece of information, write down "TK." That's editor's jargon for "to come." Keep writing your draft, and add the missing information later. Avoid going down rabbit holes because they're time sucks.
9. Build a bridge to tomorrow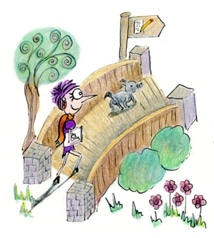 Building bridges is one of my favorite tips from the book "The Creative Habit" by Twyla Tharp.
Twyla Tharp is a choreographer who has created more than 130 dances. Tharp is so productive because she has built a solid creative habit. This is what she suggests about building bridges:
Ernest Hemingway had the nifty trick of always calling it a day at a point when he knew what came next. He built himself a bridge to the next day. I cannot think of a better creative organizational tool. (…) I try to do a variation of the bridge. I always quit for the day before everyone's totally exhausted. I stop when there's still energy left in the room and I know where we would have gone if we hadn't stopped. Knowing what comes next is like crocheting: The end of one day knits into the next, and you wind up with a garment that's flexible but strong.
How I build bridges when writing:
Each evening, I decide what I want to write the next day
I outline one day, start writing the next so I have a starting point
I review headline options before going to bed, and when I wake up the next morning, an even better headline usually pops up in my mind
Don't deplete your creative energy, so you can look forward to re-starting your work the next day.
10. Rescue lousy drafts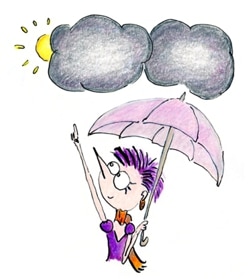 One of the biggest productivity killers is to leave writing projects unfinished.
Before you abandon a topic, and start another article, consider why you were excited to write about this topic. Why would your readers be interested in it?
Try to rekindle that excitement you felt when you started your project, and then look for what's good in your copy. Don't get bogged down by what's not working. Instead, develop your article based on what's working already.
11. Slow down
In his book "Accidental Genius," Mark Levy describes how Robert Kriegel, a mental coach, trains Olympic athletes.
During a practice run he found his sprinters were tense and tight. Rather than asking them to up their efforts, he requested they run the next practice round at 90%.
The result?
Everyone ran faster the second time!
When writing first drafts, I follow the 90% rule. It helps me adopt a zen mindset, to ignore my inner critic. I focus on writing without cramping up. I write much faster—despite taking it slowly.
12. Practice your writing muscles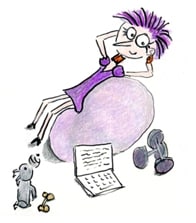 To nurture a healthy writing habit, start by setting your goal so ridiculously low that it's easy to stick with it.
Stephen Guise wrote his book "Mini-Habits" by setting himself a target of writing just 50 words a day. He argues that writing 50 words a day is such a stupidly low target, that he could even do it when he was busy, felt tired, or had a thumping headache.
Jeffrey McDonnell, an assistant professor, devotes the first hour of the day to academic writing. He calls it his 1-hour work day. I try to follow a similar practice as much as I can.
A healthy writing habit helps you keep writing—even when it feels tough.
Want to write faster tomorrow?
Here's what to do today:
Download a timer app—I use Focusbooster
Choose the project you want to work on
Make sure you have an initial idea about what the project entails
Decide how long you'll write tomorrow—don't be overly ambitious; set a doable goal
Note down at what time, or before what time, you'll start writing
Want to write faster and better? Get my best writing tips here > > >

Grab the embed code below to display the image on your website:
12 Unusual Productivity Hacks: How to Write Faster, courtesy of Henneke at Enchanting Marketing
PS Thank you to Danny and Gisele at Neomam for their inspiration and advice on the infographic.
Recommended course:
Write It, Don't Fight It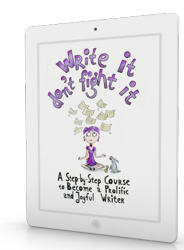 A Step-by-Step Course to Become a Prolific and Joyful Writer
"Since starting the program, I've written and published 3 blog posts, a 300% improvement over my track record."
~ Deborah Reidy