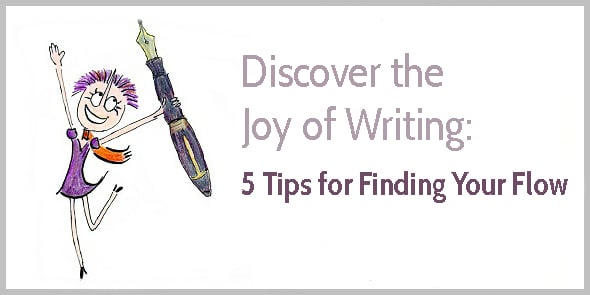 Is writing a painful struggle?
An excruciating battle to get your ideas on paper?
If you'd asked me a few years ago what I love doing, I would have said cycling, swimming, or cooking. Eating a good meal, enjoying a glass of wine and a good conversation.
But writing?
Writing was a painful struggle. Blank sheets taunted me. My inner critic nagged. I was fearful of publishing my content. The only thing I liked about writing was the sense of achievement after having finished a piece.
But over time, I've learned to trust my writing process, and I learned to find my flow.
What is flow?
When we're in a flow, we forget temporarily who we are. We lose our sense of time. We're at ease in our skin.
In his book Flow, Mihaly Csikszentmihalyi calls flow an optimal experience:
There is no need to worry, no reason to question one's adequacy. But whenever one does stop to think about oneself, the evidence is encouraging: "You are doing all right."
When we're in a flow, our inner voice forgets to nag, we don't hear what's happening around us, and we don't worry about what people might think. We're fully present, and feel in control. We're intensely focused on the task at hand.
When we're in a flow, we feel happy.
So how can we get in the zone and make writing a joy?
1. Find intrinsic pleasure in writing
The challenge with writing is staying in the present.
When we think about how much traffic our content will generate, we're not in the present. When worrying about social shares or comments, we're distracted. When we wonder whether our efforts will pay off or feel anxious a piece of writing might not be good enough, we're not in the present either. All these distractions spoil the fun of writing.
So, the first trick for finding your flow is to forget about the impact your writing may have, and focus on the act of writing only. Write because you want to write.
When experience is intrinsically rewarding life is justified in the present, instead of being held hostage to a hypothetical future gain.
~ Mihaly Csikszentmihalyi
Enjoyment of writing can take many forms. Here's what can give me pleasure:
Dreaming up a metaphor that works
Finding a simpler way to formulate my thoughts
Discovering a new idea to improve my writing
Finding a better way to teach and share my ideas
Cutting the clutter from my content
Finding the right word to precisely convey a meaning
Reading my copy aloud and adjusting the rhythm
Sketching a vivid scene with words only
Finding the words to express an emotion
Arranging my thoughts in a logical order
Finding or creating examples to illustrate my ideas
What do you like about writing?
When I focus on writing, I find pleasure in small writing achievements. I find a word I like. I compose a sentence to formulate my thoughts. I create a paragraph that didn't exist before.
This is how writing becomes a journey of discovery, every time.
2. Doable, but stretching goals
Writing on automatic pilot is no fun; it's like tightening 1000 bolts while working on a conveyor belt.
Finding your flow requires a feeling of personal growth, a sense of discovery and mastery.
You can imagine a violinist practicing a specific sequence of notes to master finger placements. You can see how a tennis player practices tossing the ball for the perfect serve.
But how can you pick the right challenge for writing?
Write something you feel you can write, but that's not so easy you get bored.
When you feel overwhelmed by writing, focus on communicating your thoughts in a clear way. Write content to answer one simple question, such as how to achieve X (when writing a blog post) or why hire me (when writing sales copy).
When you feel bored with your writing, find a new challenge. Example challenges are:
Make your writing more conversational
Integrate stories or metaphors into your content
Convey the same message in half the number of words
Occasionally, I take shortcuts and write a piece because I feel I have to write it. This doesn't produce a flow state, but it gets the job done.
Most of the time, I'm lucky to write because writing helps me learn. I wrestle with a topic I haven't quite understood yet; I experiment with a slightly different format; I try to make previous work even better or an existing explanation even clearer.
3. Feedback
To create a sense of mastery and enjoy your writing, learn how to evaluate your own writing.
What do you want to improve? How can you get better?
When a violinist practices a sequence of notes, she can hear when the notes sound right, and over time she fine-tunes how she evaluates her play, becoming more demanding.
Evaluating your own writing may feel difficult at first. You might know you're not achieving the same standard as a writer you admire. But what exactly is the difference?
When you learn how to write, you improve your ability to evaluate your own work, too. You start reading differently, picking up subtle differences in writing voice. You fine-tune your sense of sound and rhythm, and get to appreciate the precise meaning of words.
Learning to write is like learning to appreciate a good wine.
4. Focus
A flow state requires an intense focus.
Most standard advice suggests to block out distractions by closing the door, putting your phone on flight mode, and switching off any desktop notifications.
But that's only the beginning.
The biggest distractions aren't external but internal. Your inner critic berates you for making mistakes. That voice tells you you're too slow.
Here's what helps me:
Practice self-awareness; note when your mind starts wandering, and gently bring it back to your writing task
Practice self-compassion; learn to break through negative thought patterns
Take regular breaks; just like your muscles get tired from exercise, your mind gets tired, too
Learn to trust your process; accept that shitty first drafts are part of the writing process
Learn to focus on one writing task at a time; for instance, when writing a first draft, don't criticize yourself for typos
You can train your muscles to become stronger, and you can train your mind to improve your ability to focus, too. For instance, use a timer and challenge yourself to write for 10 minutes; slowly increase your target to 25 minutes. You can also train your mind with non-writing tasks, like reading a difficult text or practicing mindfulness.
Be kind to yourself, and accept that concentrating on one task requires practice.
5. Nurture a sense of play
Small children can play, dance, and draw without worrying what others think. This is how they learn.
As grown-ups, we worry about people criticizing us. We feel the need to be productive.
To enjoy your writing, embrace your inner child. Give yourself permission to be a beginner. Stumble around and get up again.
Embrace the learning process.