Afraid to produce shoddy writing?
Staring at a blank sheet, you might wonder …
What if you write crap?
What if you're unable to turn your crappy draft into decent content?
What if you're wasting your time?
Getting started with your next piece of content can feel like a big burden. An insurmountable task.
Perhaps you find excuses and do your household chores first. The kitchen still needs cleaning. The Christmas shopping list is waiting. And weren't you going to call your friend?
Even experienced writers may need to trick themselves so they stop despairing and get on with their writing tasks.
Want to know how?
Want to write faster and better? Get my best writing tips here > > >
I used to hate writing …
I love editing, but I hated writing.
Editing is a playful activity. I have fun with words, I try different sentence structures, I play with rhythm. I don't put any pressure on myself.
In contrast, writing a first draft has always seemed damn hard work. I hate staring at a blank sheet. I detest struggling to formulate my thoughts. I despise writing bland and wordy sentences.
The more books I read about writing, the more I hated writing first drafts. Because I learned what I wanted to achieve with my writing but I couldn't produce the standard I aimed for.
My performance anxiety increased.
Until I had a mini-breakthrough.
I discovered the idea of shitty first drafts in Anne Lamott's book "Bird by Bird."
Perfectionism is the voice of the oppressor, the enemy of the people. It will keep you cramped and insane your whole life, and it is the main obstacle between you and a shitty first draft.
~ Anne Lamott
Anne Lamott told me to relax. To give myself permission to write shitty first drafts. To see these ugly drafts as part of the writing process.
Writing as a conveyor belt process
In content marketing circles, writing is often viewed from a productivity angle. The aim is to produce good content faster. Some even argue quantity is more important than the quality of your writing.
That's why they propose content writing as a conveyor belt process:
Write about what you know so you can write faster
Always outline before you start writing so you know exactly what content you need to produce
Don't spend time on experimentation—creativity can slow you down
Follow proven structures—a list post, for instance, is quicker to write
This is a valid writing process; and the big advantage is that it's quick because following a process and proven structure helps you produce content faster. And you can write a decent first draft, so you don't need to rewrite much.
But the content conveyor belt doesn't leave much room for creativity and experimentation. It doesn't allow you to use your writing to think. To explore and dig deeper. To find and formulate new thoughts. To be surprised by new wisdom.
When writing becomes a discovery journey, we don't always outline and we don't follow proven templates. Instead, we prod, poke and stir until we discover what we really think and want to write.
As Donald M. Murray writes in "A Writer Teaches Writing:"
The purpose of the first draft is to discover. Peter Drucker calls it a "zero draft." Other names might be a trial draft, a test draft, a dress rehearsal draft, a practice draft, an explanation or an experimental draft.
This type of discovery writing often leads to shitty first drafts. But that's no reason for despair. You can transform a shitty first draft into magical content like a caterpillar morphs into a butterfly.
How to rescue a shitty first draft
I used to think that once a caterpillar had grown big enough, it simply grew beautiful wings so it could enjoy the freedom of flying. A magical process.
But did you know how gruesome this process is?
A caterpillar digests itself, destroying all its tissues before turning into a butterfly. It's a fascinating, but grisly process. (source)
To transform your shitty first draft, you go through a similar process. The key is not to fall into despair, and not to focus on what's wrong with your draft. Instead, focus on the jewels buried in your words.
Step back from your writing. Don't think of yourself as the writer of your precious words, try to review your draft from a distance—for instance, as a friend or compassionate teacher—and read your draft quickly:
What's the most valuable point for your readers?
Which problem does your content solve?
What surprised you?
For instance, last week, I wanted to write a post about overcoming reader objections to purchasing. My first draft was getting unwieldy, and the most interesting part was the 2-step process for adding credibility. So, I narrowed down the scope of my article and scrapped the unwieldy parts.
Especially when I write about personal experiences, like self-doubt, my inner critic, or perfectionism, I find it hard to outline a post. So, I freewrite a first draft, then look for the jewels, and rewrite my post to find focus.
Good writing isn't about the quality of your first draft. It's about nurturing your ability to spot what's good in your draft.
Like a 12-legged pest can turn into a beautiful butterfly, a shitty first draft can morph into your best piece of writing.
How to get your first draft written
The purpose of your first draft depends on your writing process:
If you follow the conveyor belt process and have a good outline, your purpose is to write a decent first draft
If writing is a discovery process, your purpose is to get your ideas out of your head so you have a starting point for revising your text
Your process may fall in between—you could partly freewrite and rely on a rough sketch as an outline
Sometimes you may need to produce content quicker, and at other times you may have more time for exploration and experimentation. Try different approaches, and find out what works for you. Learn which process feels most rewarding—writing can nurture your soul.
Once you've decided the purpose of your draft, get your first draft written:
Give yourself permission to write shitty content; perhaps write down "shitty first draft" or "discovery draft" at the top of your page
Remove all distractions, set a timer 15 or 25 minutes and write non-stop; take a break and reset your timer
Write as fast as possible to outpace your inner critic
Consider writing someone else's name at the top of the draft so you feel less precious about your words
Type nonsense words to get your fingers moving and kick your brain into action
Remember, it's fine to write a shitty first draft—the only person who sees your draft is you.
Write with the door closed, rewrite with the door open.
~ Stephen King
And this is what Nobel winner Kazuo Ishiguro said about the first draft of "The Remains of the Day" (source):
Awful sentences, hideous dialogue, scenes that went nowhere—I let them remain and ploughed on.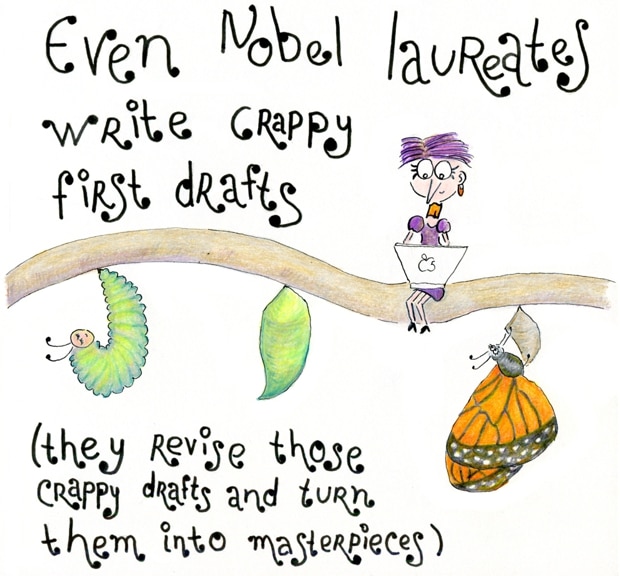 The art and magic of shitty first drafts
To stop feeling despair at the state of my first drafts, I had to get over my perfectionism.
I had to embrace the idea that writing is a process, and that often the best pieces of content are composed over time, through various phases of rewriting.
When I learned to embrace shitty first drafts, I started to trust my writing process. I discovered the joy of outpacing my inner critic. I learned to embrace the gruesome metamorphosis required during the revision process.
I learned to think, explore, and dig for jewels.