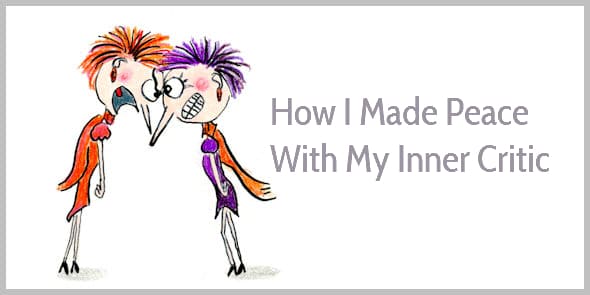 Oh my, it's sooooo frustrating.
You've worked your socks off. Your new article is nearly ready. You've polished your words. You've created the images.
You only need to write an opening paragraph.
But you can't do it.
The knot in your stomach is growing. Self-doubt is bubbling up. Your inner critic is having a field day:
Don't publish this. It's stupid. People might think you're crazy.
I've heard people say you must simply banish that nagging voice. Lock it away in a drawer. Or punch it. Knockout.
But that's not easy, is it?
The harder I tried silencing my inner critic, the more agitated it became. I felt fed up. Why couldn't I be as confident as everyone else? Why did writing about myself make me so nervous while others share their innermost feelings without blinking an eye? Why was I so afraid to disappoint my readers?
My inability to tame my inner critic made me feel weak and inept.
Until I had a mini-breakthrough
Late last year, I was diagnosed with a serious whiplash injury. At first, I tried to keep up with my normal life. But in December I broke down. My body didn't want to co-operate anymore.
I could hardly work. I could hardly concentrate. I was exhausted.
I spent a lot of time staring out of the window. I thought I could manage the pain. I thought I could learn to cope with the exhaustion. What scared me most was what would become of me.
We often define our identity in terms of what we do.
We're writers, creators, business people. We cook. We cycle. We dabble in drawing cartoons. We connect with others.
But my self-identity was in tatters. I wasn't able to climb the Pyrenees on my bike again. I couldn't work crazy hours, thriving on adrenaline.
Who was I going to be if I had to work less, cycle less, write less, draw less, and rest more?
But I learned that my self-identity is not defined by what I do or what I can't do. My spirit, my enthusiasm, my drive was still there, it just manifested itself differently.
I was still me.
And I realized that I couldn't allow my inner critic to define who I was either. That voice wasn't me. The real me was hiding underneath.
To heal from my injury, I had to learn to listen to my body. I stopped ignoring the signals I was tired. I stopped pushing through pain barriers. Instead, I learned to slow down. I started to treat my body like an ill baby I had to take care of. Gently.
And the same was true for that voice in my mind.
I learned to be kind to her. To accept that she was only telling me I was scared. And sometimes she was warning me I was too tired. I learned to observe her, to work with her.
Sometimes I could even smile about her widely exaggerated claims. She drew ridiculous conclusions based on a sample of one. She defined failure by one tiny mistake. She strongly denied my ability to learn from mistakes.

Fighting your inner voice is a lonely battle
You feel ashamed of your weakness, your stupidity, your lack of confidence.
You wonder why everyone else is so much more competent than you. Why do they seem to breeze through life with so much ease? Why do they build their business without fear? How can they publish their artwork without hesitation?
Once I started writing about my self-doubt, I learned that we only see the outside of what people do. We see the results, not the struggles, the worries, the fear.
When I outlined this article a few weeks ago, I had a sleepless night. The next morning, I put the outline away.
But why am I worrying so much?
I've learned that being honest about self-doubt makes me feel stronger, not weaker.
I can't tell you my inner critic and I are now best friends
She still nags me. I still get upset with her.
But I know we can work together.
I know she's warning me I'm doing something new, exciting, scary.
And I know that the best way to keep the peace is to sleep enough, to take tiny steps forward, and to never be ashamed of feeling scared.
And to keep breathing.
Recommended course:
Write It, Don't Fight It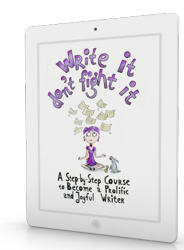 A Step-by-Step Course to Become a Prolific and Joyful Writer
"Since I finished the course I find it easier to silence my inner critic and get more writing done."
~ Elena de Francisco