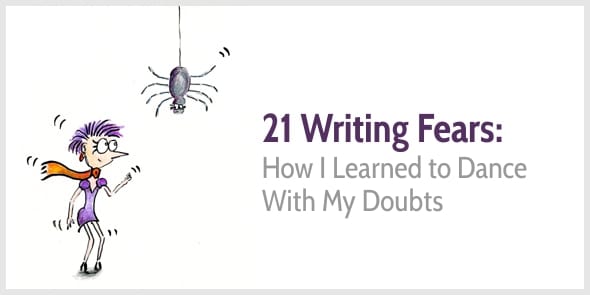 Oh my, it's back.
The knot of fear in my stomach.
I stare at my screen. Unable to type. Unable to think.
This blog post sucks. I am a fool. I can't do it anymore.
Sound familiar?
I used to think I was a writing wimp.
When I tried to "man up" and fight my fears, my stress and anxiety got worse. Why couldn't I be as confident as everyone else? Why was I so afraid to disappoint my readers? Why was I worrying so much about being a fool?
I've since discovered writing fears are normal.
Writing means dealing with the uncertainty of creating something new and then publishing it for other people to judge. It's exciting, but also scary.
To write, we have to dance with our fears. We have to muster the courage to move forward despite our fears.
You may think fear will evaporate when success arrives, when your readership grows, when you get positive feedback.
But don't think success is the antidote to fear. While confidence in your writing skills may grow, the feeling of responsibility grows equally fast. So, you have to keep dancing. Always.
The destructive power of fear
Writing fears increase stress; and stress affects our ability to think. So when we're stressed, we're less creative.
Fear also breeds procrastination. As psychologist and procrastination expert Neil Fiori states in "The Now Habit:"
Procrastination is a habit you develop to cope with anxiety about starting or completing a task. It is your attempted solution to cope with tasks that are boring or overwhelming.
Fear creates a vicious circle of not feeling good enough, procrastination, guilt about lack of progress, stress, and exhaustion. Throw in a pinch of jealousy and a dollop of self-doubt, and you spiral out of control.
The way to break through that nasty cycle is to learn to dance with your fears. This requires self-compassion, a commitment to getting started, and trust in your process.
I've always thought that self-compassion was a fluffy concept
I grew up with the idea that stamina and perseverance matter.
Self-compassion, I thought, was for sissies.
But in the last few years, I've discovered the benefits of self-compassion. When I look at myself with kindness, I can take better care of myself. I can be honest about my fears and insecurities, and then find ways to deal with them.
Lisa Feldman Barrett, professor of psychology, suggests that when we understand our feelings more finely, we can gain the tools to deal with emotional challenges. She calls this "emotional granularity:"
Emotional granularity isn't just about having a rich vocabulary; it's about experiencing the world, and yourself, more precisely. This can make a difference in your life. In fact, there is growing scientific evidence that precisely tailored emotional experiences are good for you, even if those experiences are negative.
When I started writing, I didn't understand where all my stress was coming from. My fears felt like a big tangled mess. Identifying each fear was my first step in learning to dance.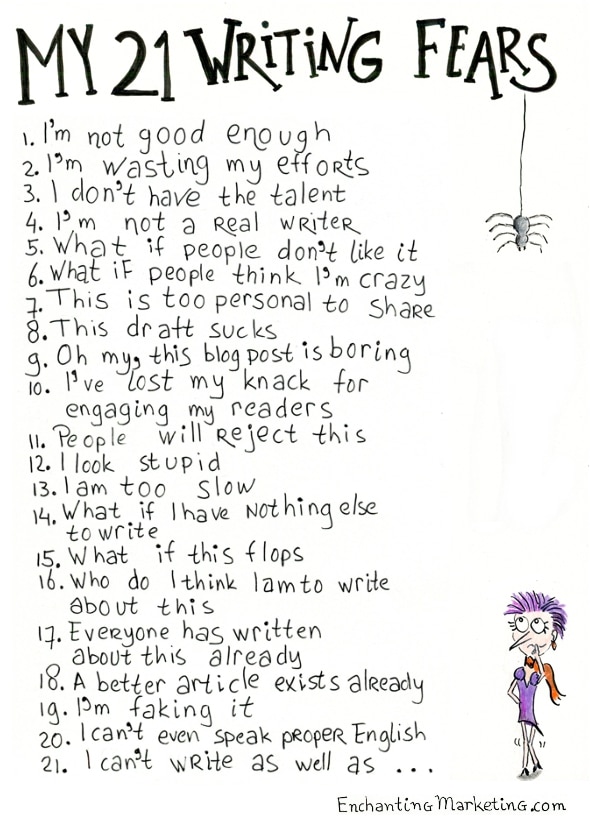 Your writing fears may be different from mine. But most fears fall into two categories:
Fears about our own abilities: Do I have the talent? Am I too slow? Why are others better than me?
Fears about other people's judgement: What if I get harsh comments? Or crickets? What if I look like a fool?
When you've written down your fears, look at yourself with friendly eyes. If a friend would feel this way, what would you recommend? A good friend would look for the positives in your writing. For instance:
You may think your writing isn't good enough yet, but I liked your personal story. Sure, your writing can be better. Just keep writing, and your content gets better over time. It's a learning process.
When I pinpointed my fears more precisely, I also noticed how I jumped to ridiculous conclusions. For instance: After publishing a post with a silly typo, I'd tell myself I could never get things right. Or when I was nervous about publishing my first book, I thought my whole business would be in tatters if the book didn't sell.
When you learn to catch negative thoughts, you can start being more kind to yourself, and you can learn to dance.
Fear makes us feel overwhelmed
Each writing project can feel enormous, and you might think you'll never get it done.
Over the last two years, I've learned to commit to getting started and doing the work:
In the evening, I decide my first writing task for the next day, so I can start in the morning without delay and without dithering
I also commit to getting started by 9.30am and to work fully focused for 25 minutes
In the morning, I open my document, brew a cup of tea, set my timer, and start writing (by 9.30 at the latest!)
If I've committed to writing the evening before, I'll write—even if I've had a bad night, feel groggy, exhausted, or got up with a bad headache.
I try not to worry how my writing will turn out. I try not to think about what you, my readers, might think. I concentrate as much as possible on doing the work for 25 minutes.
Action boosts confidence and courage
When you practice getting started regularly, you don't have to think about when to write. Your decision to write becomes automatic. You produce more content, and you dance with your fears. Your fears are there but they don't interrupt you—they don't interfere with your writing process.
When you write more, your confidence grows, your dancing skills improve, and your writing gets better.
In their book "Art & Fear," David Bayles and Ted Orland describe an experiment by a ceramics teacher. The teacher divides his class into two groups. One group will be graded based on the quantity of their output only. The other group will be graded on the quality of their best piece only.
Which group do you think created the best work?
That's right: The group that produced more.
What others might say about your writing
What happens when a piece of writing gets rejected? When it flops? When a client provides withering feedback?
Does a bad or rejected article make you a different person? Or are you still the same person?
We tend to identify with our work.
We see our content as our precious baby. We fear our world might fall apart when others don't see how beautiful our baby is.
But just like babies grow up to be independent people with their own will and their own rebelliousness, your work doesn't define you either.
So, write as if your life depends on it.
But then take a step back, and press publish.
And start thinking about your next piece of writing.