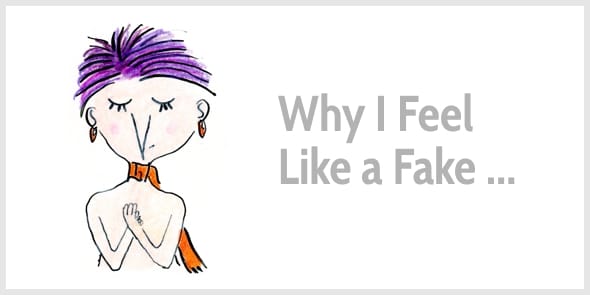 Do you hear that nagging voice, too?
That voice telling you that writing isn't your thing? Or that you're not made to run your own biz?
You might wonder why everyone else seems so professional and confident, while your life is full of doubts, flaws, mistakes, and imperfections.
You're not alone.
Even high-achievers like Neil Gaiman, Sheryl Sandberg and Emma Watson suffer from this "impostor syndrome." They feel they don't deserve their achievements—as if they've just been lucky and might be found out as a fraud any time.
In an article for the Guardian newspaper, Oliver Burkeman argues only real fraudsters never feel like a fake. He quotes Bertrand Russell:
The trouble with the world is that the stupid are cocksure and the intelligent are full of doubt.
Self-image is tricky
We tell ourselves stories about who we are and who we are not.
It's a way to simplify our life and make sense of our world.
So, for instance, when I started my business, I didn't see myself as an entrepreneur—those genes don't run in the family. I thought entrepreneurs were more gung-ho, more salesy, and louder than me. They were go-getters, adrenaline-addicted risk-takers, not quiet workers.
So, I felt like a fake entrepreneur.
I ignored the facts I had an MBA and had been a company director for several years. I discounted the fact I had successfully lead sales and marketing teams. I didn't like sales, so I felt like a fake. I didn't fit my own interpretation of entrepreneurs.
Our self-image has a scary impact on our life. As Susan David, a psychologist at Harvard Medical School, writes in her book "Emotional Agility:"
[N]umerous studies have shown that people who think poorly of themselves prefer interacting with individuals who also view them negatively. And it may astonish you to hear that people with low self-esteem tend to quit their jobs more often when their earnings increase over time. In their minds, it just doesn't seem coherent to be appreciated and rewarded.
We view our world through the glasses we choose, whether they're rose-tinted glasses or mirror-coated sunglasses preventing the light from shining through.
When I started blogging, I didn't see myself as a writer
I thought real writers were tortured geniuses who write their masterworks through pain and despair. Writers are creative. They probably smoke, and drink too much. Their friends are writers and painters. And they write for hours and hours a day.
And me?
I didn't think I was creative. I don't smoke. I'm not a tortured genius. I didn't have writer-friends (not at that time). I couldn't write for hours and hours. No way.
The gap between my self-image and what I (mistakenly) thought of writers, was too large to bridge.
Some coaches advise us to call ourselves writers as if giving us the label of writer helps overcome procrastination, so we can write. I think the opposite might be true: if I'd have called myself a writer a few years ago, I would have felt like a fake even more. My anxiety would have skyrocketed, my writer's block would have become unconquerable, and my business might have ended as a failure.
So, how did I become a writer?
I nurtured the habit to write, and I committed to publishing a blog post every week.
I didn't consider whether I was a writer or not. I simply wrote.
After several years of consistent blogging and after writing three books, I'm finally okay with the label of writer. I don't feel like a complete fake anymore, even though a voice sometimes still nags I'm not a real writer (hey inner critic, please be quiet, I'm writing).
Labels are destructive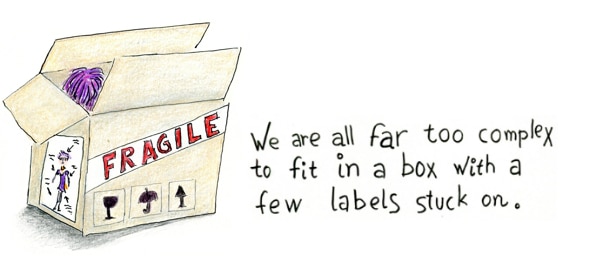 We are contradictory beings.
For instance, I run my blog and courses professionally, but other parts of my business can be a mess. I can't manage my inbox. If I need to think more than five minutes about replying to your email, your email might get stuck in my "Later" folder for weeks.
Last year, that "Later" folder became so overwhelming, I deleted almost all emails. Unanswered.
I feel embarrassed about this because it doesn't match the professional image I like to portray; it makes me feel like a fake professional.
But I'm learning to accept my imperfections.
For over three years, I've been dealing with chronic pain; and it has made me think a lot about who I am and who I am not.
I like to see myself as an energetic and strong person, but I've become fragile and my energy is low. Physical exercise can make the inflammation in my body flare up. Even positive emotions like enthusiasm can make my body tailspin out of control, so I have to stay grounded and tiptoe through life. Recently I even had to give up meditating, because it made my psoas muscle so cranky, I couldn't sleep anymore. Where has the strong Henneke gone?
Chronic illness teaches me about the complexities of life. I'm learning to embrace life as it comes each day. Full of contradictions.
I can be both fragile and strong.
I can be both ambitious and content with my life.
I can be an optimist and a worrier.
I can be both a professional and I can suck at certain parts of my business.
I can learn to laugh at my silly mistakes, my dilly-dallying and crazy self-doubts.
Life is too complicated for simple stories
I'm learning to soften my ideas about fakeness by changing the stories I tell myself.
Perhaps I don't feel like a real writer, but I can write a blog post every week. I might not feel like a real entrepreneur, but I am running my own business.
Perhaps I feel fragile, but I am also strong because I will not give up and I am getting better. I might have become so wimpy I can't even meditate, but I have been back on my bike and that's worth a celebratory bottle of wine. (Yay!)
Enriching our lives doesn't mean reaching for perfection
The opposite might be true.
We can live a fuller life by deepening our connections and discovering new experiences. With every new experience, failure lurks. But this failure helps us learn and live a fuller, more abundant life.
Embracing life's opportunities starts with accepting our flaws and our imperfections.
So, let's stop torturing ourselves about the mistakes we make. Let's stop feeling embarrassed. Let's get rid of shame.
Instead, let's show up, do the work, and embrace the opportunities life offers us.