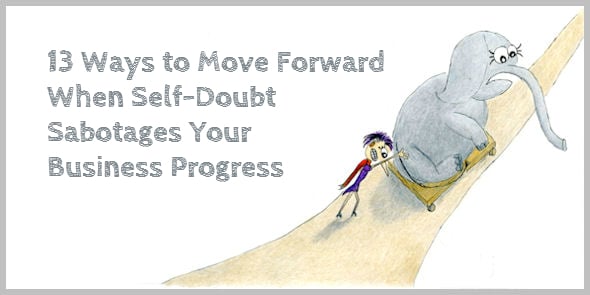 The internet is full of testosterone.
People with big lists. And large social media followings.
As a beginner this can feel huuuuugely intimidating.
You may feel there's nothing to add to this crazy non-stop world of tweets, likes, and pixels.
Why would people listen to you?
That's certainly what I wondered when I started Enchanting Marketing.
I wasn't sure what to write about. I wasn't sure what people would want to read. I didn't really know how I could make a living online. I doubted my ability to build an audience, and even to have meaningful conversations.
So how can you cope when self-doubt creeps up, threatening to derail your business-building efforts?
Imagine you're an Olympic athlete
You're about to run the biggest race of your life.
You've trained innumerable hours. You have the right shoes. The right shirt. Your lucky underpants.
You know the track. You know how to run your race, and you know where the finish line is.
Have you noticed how often sports analogies are used to explain how to run your business?
There's a huge problem.
When you start running your own business, you're unprepared for what's coming. You don't know the track. You haven't completed the proper training. You might not even know what the finish line looks like. Let alone understanding how you get there.
You can't know how people will react to your ideas, your services, your products. So you just have to start. Without the type of training an athlete undertakes. Without perfect knowledge of your track.
During the last two years, I've felt crippled by fear from time to time. I could do nothing but aimlessly click around the web, sometimes for a whole day or even days. Not noticing anything, and unable to make a move. Scared that my efforts would be wasted, and I would be a failure. Nervous of being ridiculed.
Some people told me to think about the worst that could happen. This may help if you're scared of financial problems, because you can plan for those. You can save money, cut costs, or consider to find a job or go back into freelancing when a product launch fails.
But what do you do when your fears are irrational? When you're scared of not fitting in? Or of failure? When the worst that can happen is that your confidence is crushed?
Below follow the 13 ways I've learned to cope with my fears.
How to overcome self-doubt
Move forward in small steps. Go fast enough to stretch yourself, but don't go so fast you collapse under the weight of self-doubt. Rather than write your first book, write a blog post about your book topic first. Then write a series of posts, and only then write a book.
Get feedback from people you trust. I had beta-readers for my two books–people who fitted my ideal reader profile. Their feedback helped improve the books; and, even more importantly, my beta-readers boosted my confidence by confirming I was on the right track.
Accept that self-doubt is normal–it's a sign you're learning and developing. Fighting self-doubt leaves me more frustrated, so I'm learning to accept it. I remind myself I'm only fearful because I'm learning new things.
Sleep enough. Everything is harder when you're tired. Seriously. I often forget to listen to my body. And when I've worn myself down, self-doubt strikes without mercy.
Start a trial for a lower price, or give something away for free. When I thought my business blogging course would suck, I invited three people to test the program for me. I didn't ask for money, only for a commitment to go through the program and provide feedback.
Celebrate your successes. Don't get bogged down by everything you still have to do. Write down a list of things you've achieved and what you've learned.

Especially when you're setting up a new business, you go through a huge learning curve–from quoting for projects to bookkeeping, from learning WordPress to mastering Twitter. Your newly acquired knowledge and skills are precious. Celebrate. Be proud.

Be careful with setting goals. Big goals like reaching 1,000 subscribers can be disheartening, especially when you're only at 57.

Rather than get frustrated by your lack of progress, focus on the tasks you can do to achieve your goals, like writing at least one guest post a month. Things will become easier over time when you consistently focus on a limited number of tasks.

Separate your must-do's from your nice-to-do's. Whether you're launching a book or a product, it's impossible to organize the perfect launch when you're on your own. I'm more comfortable when I focus on a really small number of must-do's, so I can do them well.
Find ways to hold yourself accountable. If I hadn't told you I'd be posting a new blog post every Tuesday, I wouldn't publish weekly. No way.

Whenever I create a deadline for myself, I fail. But when I agree a deadline with someone else, I stick to it. So I find ways to commit to deadlines. For instance, when an editor of a blog doesn't ask for a deadline for my guest post, I'll still email him to let him know when I will submit my post.

Walk. Cycle. Swim. Staring at your computer monitor can be soul-destroying–especially when you get stuck in a rut. I've found swimming, cycling, or walking are ideal activities to feel good, gain confidence, and stimulate creativity.
Find mentors and make friends. I've been a member of Copyblogger's Authority forum for a few years and I've received a lot of help and advice in my early days. I also have regular calls and email with a few friends to bounce off ideas and keep each other accountable. The right relationships fuel your confidence and your creativity. You can't do it all on your own.
Build your audience first. Ask for their input and engage in conversations. When you listen well, your audience will tell you what to write about, what services to offer, and what courses to develop. When you get to know your audience, you can be more confident about how they'll receive your ideas.
Get started. Anywhere. The perfect blueprint doesn't exist, so stop looking for it. When you keep analyzing what's the best way forward, insecurity increases. But when you take action, your confidence grows.
The truth about building your business online
Don't think a self-doubt fairy can take your fears away.
You simply have to learn to live with it. Because each time you experiment and learn, self-doubt will be there with you.
Set your own rules.
Move at your pace.
Reflect on what's preventing you to move forward, and find ways to deal with it. Step by step.
Above all, remind yourself of why fear and self-doubt seep in.
When you push yourself outside your comfort zone, you learn new things. It's exciting. Fulfilling. Hugely rewarding.
Go for it.
Found this post useful? Please say thank you to Kitty, who asked me to write about my fears, and to Alison, who encouraged me to write it.