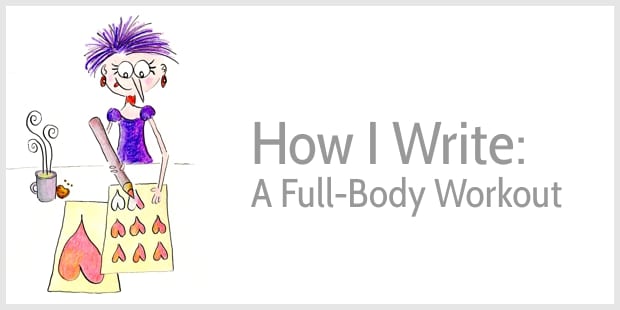 How do you write like a human?
How do you ensure nobody mistakes your writing for AI-generated text?
On 28 February, I had a short conversation with Curtis on Twitter.
And Curtis wrote:
I totally associate the phrase [wholehearted writing] with you. You are original. Anything that attracts your thoughts gets your interpretation. For you, if it feels like it or not, it's like breathing. You write as a "Wholehearted human" now. Describe that. Talk about that. Your insight. 🙂
Awww, that's a big compliment, I thought. Thank you, Curtis.
Am I up for the challenge?
Do I really know how I write?
How I changed my approach to writing
When I started this blog, I answered questions in my blog posts.
Sometimes, those questions were mine. Often, the questions came from readers. For instance:
How can I learn copywriting?
After a couple of years of blogging, I had answered the most common questions.
So, what could I write about next?
The internet is a giant echo chamber, and I thought I should write about what's popular—the same things others are writing about. Isn't that the essence of content marketing? Just put it in your own words.
But I had done that.
I needed to do something different. I had to reinvent myself.
The only option seemed to be to follow my curiosity.
But it's surprisingly hard to follow your curiosity
My inner critic thinks it's safer to write about the same things that other people blog about.
And she loudly opposes ideas that seem slightly off the beaten track. On writing this post she told me:
Nobody will find this interesting!
Nobody wants to know how you write!
What arrogance!
Unfortunately, Curtis' prompt to write this post wasn't enough to silence my inner critic.
So, as usual, I listened to my inner critic, I acknowledged her fears, and then I took charge and wrote a first draft.
I've learned to follow my intuition rather than my inner critic.
And yes, my inner critic also thinks following my intuition is a crazy idea: Isn't intuition woo-woo? Shouldn't I be more rational? You write with your brain not with your gut, right?
But my inner critic doesn't quite understand how writing works.
I don't just write with my brain.
I write with both body and mind
The idea of writing as an embodied practice isn't as crazy as I used to think.
Research suggests that financial traders who are more in tune with their bodies are more successful. Thinking doesn't just happen in our brains; there's wisdom in our bodies, too.
When I ground myself in my body, I feel more alive, I am more inspired, and I can give myself permission to follow my curiosity. I'm more patient, gentler with myself.
My writing process can be messy. But when I ground myself in my body, I don't let the messiness frustrate me. I trust that clarity will emerge.
When I ground myself in my body, I allow myself to be more playful, to try things out. I can connect with my inner child. I don't take myself too seriously, but I don't undermine my self-worth either. I dare to trust my intuition.
That trust—in my observations, in my ideas, in my writing process, in my intuition—has slowly grown over time. Partly because I listened to my inner critic, realized she was only voicing my fears, and took control away from her. And partly because I kept writing, and publishing, and tiptoeing out of my comfort zone.
I try to protect and nurture that trust. It allows me to write with a sense of calm, to be fully present, and to be my most compassionate self.
I care about my writing, and I care about you.
Writing is a conversation with you
I used to think that blogging was about building authority.
I wanted to come across as an expert. I wanted to make a good impression.
And that's not a bad idea.
But more than building authority, blogging for me is about connecting from human to human.
Yes, I still write to help and share what I learn.
But I don't write to impress.
I share what fascinates me and hope you'll find it interesting, too. I write to share my enthusiasm and hope it inspires you.
I always want to leave a piece of me in my writing
This post you're reading right now shares quite a big piece of me. It's personal. I feel vulnerable. But that's okay. It'll make me stronger.
The piece of myself I leave behind in a blog post can be smaller, too. It can be a story in miniature (stories are always more human than straightforward tips) or a personal comment here or there.
But the rule is that I have to leave something behind. It can be only me who's written this. If it feels like anyone could have written a post, it's not good enough. I have to show up.
My inner critic has never been keen on being personal in my writing. She used to say I'm too boring and my ideas aren't worthwhile.
But she's learning to shut up so I can listen to my body. My body tells me it's okay. I am safe.
I imagine you—my reader—are cheering me on. I think of you as appreciative, gentle, and kind. It's why I like having this conversation with you.
I don't know exactly how it works
But when I write with both my mind and my body, I drop my shiny mask of perfection and show up as myself.
That doesn't mean I reveal all. I show you my best self. My gentle self. My curious self. My playful self. My compassionate self.
I don't need to pretend that I know all, and I don't need to pretend to be perfect.
I can be human. I am present.
And I hope you can feel that presence when you read.
Thank you for being here.
PS
Thank you to Curtis Beaird for challenging me to write this post. Follow Curtis on Twitter here (and follow me here).