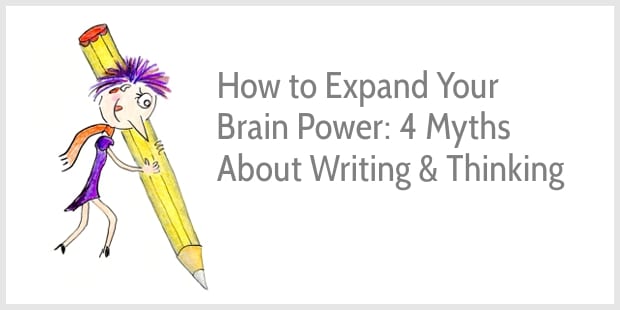 Sometimes, I wonder …
I've been writing regularly now for almost 10 years.
And writing has become much easier.
I'm less anxious. I trust that somehow, I can turn each idea into a decent blog post.
Yet, my writing process can still be messy. Sometimes, I still wrestle with an idea. A blog post doesn't always work the way I thought it would.
Is that just how it is?
Or could I use my brain more effectively and become more productive?
How to expand your brain
I recently read the book The Extended Mind by Annie Murphy Paul. The subtitle of the book is: The Power of Thinking Outside the Brain.
It's an intriguing concept isn't it? Can we think outside our brains?
Below I've summarized 4 of the key findings of Annie Murphy Paul's research that may help you re-imagine how we think, how we write, and how we can expand our brains to become more productive writers.
Want to know more?
1. Your brain is not a computer
If you ask a computer program to write a blog post, you feed it some information, and then it produces a finished piece in one go.
That's it.
A computer doesn't revise. It doesn't edit. It doesn't restructure a piece of writing.
Why are humans so different?
As Annie Murphy Paul suggests, our brains are loopy. Our ideas—and our thinking and writing—become clearer each time we revise.
That's why we produce crappy first drafts. That's why we edit our writing in round after round after round until it's finally clear and publishable. That's why we can't get our thoughts on paper in one go. We have to keep rewriting until our ideas shine brightly.
In the past years, I've already learned to accept the messiness of the writing process, and it has made writing more joyful. Now, I also understand why that is: My brain is loopy.
2. You don't need to sit still
Were you also taught at school to sit still and concentrate?
Perhaps that was the wrong advice …
First, there's a challenge with trying to sit still.
For instance, when I'm struggling to formulate an idea, I often take my fingers off the keyboard and rub my temples. I do this automatically.
Should I try to stop myself fidgeting?
Probably not. As research suggests, trying to stop ourselves from fidgeting may take up so much brain power that it actually becomes harder to focus.
Next, forcing ourselves to sit at our desk might not always help us be productive either. As Annie Paul Murphy writes:
Moderate-intensity exercise, practiced for a moderate length of time, improves our ability to think both during and immediately after the activity.
It's no surprise that many prolific writers and scientists are avid walkers.
Darwin did his best thinking not at his desk, but while walking in his garden. Rousseau claimed he could only think and find inspiration when walking. And as Frédéric Gros writes in his book A Philosophy of Walking, Nietzsche even wrote his book The Wanderer and His Shadow while walking, scribbling down his lines in notebooks.
Maybe our brains just work better when our feet move?
3. Free up your brain
Caro is a historian who received a Pulitzer prize for The Power Broker, a biography of Robert Moses.
While researching his book, Caro felt overwhelmed. He was gathering a lot of information but he couldn't keep it all in his head. And yet, he also felt he couldn't start writing before he knew how the book would work. He needed to get a full view first.
So, Cato created a mammoth map of all information. As Annie Murphy Paul writes:
One entire wall of his office on Manhattan's Upper West Side is taken up by a cork board four feet high and ten feet wide; the board is covered with a detailed outline of Caro's current work in progress, plotting its trajectory from beginning to end.
Creating a map, like Caro did, helps us sift through ideas and see them in perspective. It also helps offload our brains so we can focus on figuring out an outline.
Here's Annie Murphy Paul again:
[Offloading] relieves us of the burden of keeping a host of details "in mind," thereby freeing up mental resources for more demanding tasks, like problem solving and idea generation. It also produces for us the "detachment gain," whereby we can inspect with our senses, and often perceive anew, an image or idea that once existed only in the imagination.
This is probably the hardest lesson for me. I'm not a systematic note-taker. I don't like big plans. My way to beat overwhelm is to isolate a small question and figure out its answer by writing about it. Then I work on the next small question, and so on until I can see how the small questions connect in the bigger picture.
Could I be more productive if I force myself to take more notes? Should I figure out the big picture before I work on the small questions?
4. Think with your body
John Coates has a PhD in economics, and he used to work as a financial trader.
Before making a trading decision he would read financial reports and review statistics. Despite this careful analysis, many trades would fail.
Sometimes, he'd follow a gut feeling. And you know what? These trades based on instinct were often profitable.
Intrigued, Coates committed himself to scientific research, and he found that traders who were more in tune with their bodies—who have a better interoceptive sense—were more successful.
Who knew that gut feelings had such power?
Here's what Annie Murphy Paul suggests:
HERE, THEN, is a reason to hone our interoceptive sense: people who are more aware of their bodily sensations are better able to make use of their non-conscious knowledge.
When I write with my brain, there's more anxious chatter. When I ground myself in my body, I feel more inspired, I'm more patient, and eventually I might get an unexpected flash of insight.
To do my best writing, I need do as photographer Henri Cartier-Bresson suggests: Put my head, my eye, and my heart on the same axis.
How's that for you?
How to expand your brain power
Of course, we can practice our ability to focus so we can be more productive and write more.
But perhaps some of our biggest productivity wins are less about exercising our brain, and more about thinking outside our brains.
Instead of getting frustrated, we can embrace the loopiness of our brains. We can use the writing process to sharpen our thinking.
Instead of trying to push through stuckness while sitting at a desk, we can go out for a walk and boost our creativity. We can also offload our brains by making notes and creating maps.
And we can learn to pay more attention to the sensations in our body.
And listen to the wisdom within.
Happy writing!