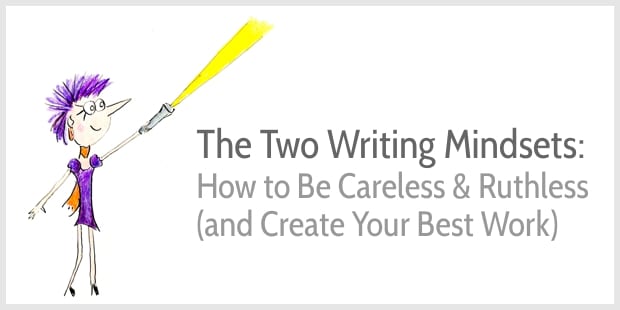 Harun despairs.
He's keen to become a blogger.
He loves writing.
But sometimes he hates writing.
The whole process of writing a blog post feels complicated, muddled up, and it's sooo frustrating. ARGH.
Is there an easier way to write?
Well, yes, to some extent.
Of course, creating something new is often a messy process.
However, learning how to adopt two different roles can help streamline your writing process and take away some frustrations.
Shall I explain?
The creator vs. the editor
In an episode of the documentary Abstract, Christoph Niemann, an illustrator and animator, talks about being both a creator and an editor:
I need to be in control and I need to have a clear sense of where I am going and why something's working and not working. On the other hand I've also realized that being more free-spirited is necessary. I've found that I need to develop these two personas separately. Be a much more ruthless editor and be a much more careless artist. This I find physically exhausting but there's good stuff happening there.
So, Niemann talks about two creative roles:
The free-spirited creator or careless artist who comes up with thousand different ideas, makes surprising connections, and dreams up metaphors and stories.
The ruthless editor who pares down an idea to its essence and polishes any work close to perfection.
Any illustrator, writer, or other artist will have to juggle these two roles—be a creator AND an editor. This juggling act is one of the reasons why the creative process can feel demanding.
How to juggle your two roles
In his book Hyperfocus, Chris Bailey describes two types of focus: Hyperfocus and scatterfocus.
Hyperfocus means giving all your attention to one specific task. For instance, eliminating typos and grammar mistakes is a focused task, and the better we focus, the easier it is to spot typos and the quicker we can finish proofreading.
But being focused can lead to tunnel vision.
To be a creator and create something new, we also need what Bailey calls scatterfocus. Scatterfocus is when we intentionally let our minds wander to let creativity thrive and come up with fresh insights.
While most productivity advice tells us how to focus better, Bailey found that learning how to engage in scatterfocus had a big impact on his productivity and creativity.
I like how Alison Gopnik, a professor in cognitive science, compares the two types of attention to spotlights and lanterns.
A spotlight highlights just one thing, perhaps one picture in a room. So, a spotlight blurs distractions and allows you to study that one picture in detail. Hyperfocus is like a spotlight.
In contrast, scatterfocus is like a lantern. A lantern illuminates the whole room, all around you. You notice where the table is, how many chairs are around it, and how many people are present. You might even see there are 7 pictures on the walls and several plants on the windowsill.
As a writer, you need to be both a lantern and a spotlight. You need to see the big picture and the detail. You need to associate freely and think linearly. You need to be free-spirited and ruthless. You can't do both at the same time, so you need to keep switching.
The lantern: How to let your mind wander to boost creativity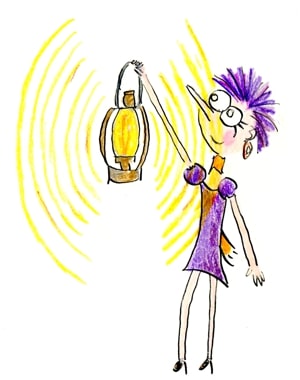 Bailey suggests 3 types of lantern mode:
Capture mode: This is like a brainstorming session for blog post ideas. You intentionally let your mind roam freely and capture any ideas that come up.
Problem-crunching mode: This is when you hold a problem loosely in your mind and view it from different perspectives.
Habitual mode: This is when you do a simple task like washing the dishes, and you let thoughts and ideas bubble up.
Bailey suggests that the last mode is often most powerful to boost creativity.
In her book A Mind for Numbers, Barbara Oakley suggests a two-step approach to problem solving. First, do some focused thinking, next let go and engage in what she calls diffuse-mode thinking, which is similar to lantern mode or scatterfocus.
For instance, you may pick an idea for a blog post and write an initial outline. Then you let go. Oakley suggests taking a shower, doing sports, drawing, painting, or listening to music without words. Or even better: Sleep on it! While asleep, your mind continues processing ideas that you were considering at daytime.
I sometimes read a series of headlines before bedtime, and when I wake up, a better headline pops into my mind. Or I've written a quick outline the previous day, and when I wake up, I'm writing a draft blog post in my mind.
Or sometimes, I hit a problem in a blog post—the structure isn't working. I try to pinpoint why the blog post feels wonky, and then I let go. I might solve the issue while walking in the woods or I know what to do when I wake up the next day.
Lantern mode means being open-minded and allowing inspiration in from anywhere. It's a relaxed state of mind and it helps you see how to connect different ideas and put them together in one blog post. The lantern mode helps you become a more careless creator, a free-spirited artist.
The spotlight: How to focus to boost productivity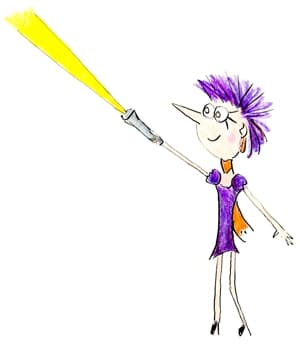 Oakley suggests that focused thinking is rational, sequential, and analytical. It also tends to be detail oriented. We choose what's important to us, set a goal, and then give a task our full attention.
To help get focused, I find it useful to set a timer. I don't allow myself to do anything else but the task I've set. If my mind wanders off, I refocus until the time is up.
When I'm tired, I set a timer for 10 or 15 minutes. When I feel energetic, I set the timer for 25 minutes, then take a short break before setting the timer again.
Bailey gives a few other suggestions for entering a focused state including: Cut distractions in your environment—e.g. put your phone outside the room, switch off notifications, consume some caffeine (if it's not too late to do so), and remind yourself why an activity is important to you.
A focused state helps you spot the issues in a blog post. You can see what's redundant, what's missing, and how to polish your writing.
Be a creator and editor
I like how Jerry Seinfeld talks about juggling the creator and editor roles.
When in creator mode, Seinfeld suggests treating "your brain like a toddler. It's just all nurturing and loving and supportiveness." Coax yourself gently to get your thoughts on paper, and don't share it with anyone else, at least not for a day. As Gopnik suggests, toddlers are good at being open-minded and getting inspired by anything they notice.
In contrast, when reviewing your work, Seinfeld suggests being "hard-ass." You have to switch off your toddler-creator mode because you need to be strict with yourself, and see where you can improve. As Seinfeld suggests, be a "ball-busting son of a bitch" and tell yourself what's not good enough, what needs to be redone, and what needs to be thrown away. Your creator brain is too fragile to cope with such criticism, so you need to play your other role—the role of the ruthless editor.
This switching between the roles of creator and editor—between carelessness and ruthlessness—isn't always simple. Some people like switching within one writing session. I find it easier to be a careless creator one day, and a ruthless editor next. I'm still surprised sometimes how much more productive and creative I am by spreading the work of writing one blog post over more days.
And you?
How to be a joyful writer
I can't tell you writing is easy.
But when you learn to switch between the two roles, writing becomes more joyful.
When in creator mode, connect with your free-spirited self and be open-minded like a lantern. Welcome inspiration from anywhere and embrace the unknown that each blank sheet of paper offers. Learn to be gentle with yourself.
When in editor mode, connect with your ruthless self and be focused like a spotlight. Welcome any critical comments (from yourself or others), and face up to the challenge of making each piece of writing better.
Happy writing, my friend.
Books mentioned in this post:
The links below are Amazon affiliate links. If possible, please support your local bookstore.