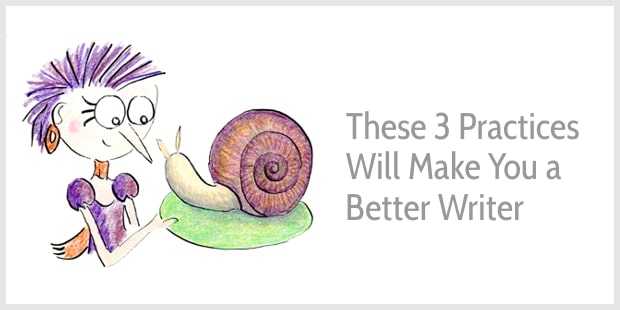 What makes you a better writer?
You may have heard the advice to read more and to write more.
And that's, of course, good advice.
But there's more …
To be a good writer, you also have to practice the art of noticing.
When you learn how to observe better, you can write more vivid descriptions, communicate your ideas with flair, and engage your audience more strongly.
The 3 practices outlined below not only help you write more vividly, they may also help you nourish your soul, find a moment of calmness, and reconnect with yourself.
Shall I explain?
The art of noticing
I recently read the book The Sound of a Wild Snail Eating by Elisabeth Tova Bailey.
Bailey is bed-ridden due to illness, and a friend brings her a pot of violets and a common woodland snail. The snail becomes an object of fascination and a companion during Bailey's lonely days:
One evening I put some of the withered blossoms in the dish beneath the pot of violets. The snail was awake. It made its way down the side of the pot and investigated the offering with great interest, and then began to eat one of the blossoms. A petal started to disappear at a barely discernible rate. I listened carefully. I could hear it eating. The sound was of someone very small munching celery continuously. I watched, transfixed, as over the course of an hour the snail meticulously ate an entire purple petal for dinner.
Have you ever slowed down so much and paid so much attention that you could hear a snail eat?
It doesn't matter whether we write a memoir or a poem, a blog post or a sales page, all good writing is precise and vivid.
And to write precisely and vividly, we need to stop and pay attention.
Why is that so hard?
Exercise #1: 10 observations
Poet and teacher Marie Howe suggests paying attention is hard because we find it uncomfortable to be fully present with what's right in front of us.
In an interview with Krista Tippett, Howe shares an interesting exercise:
I ask my students every week to write 10 observations of the actual world.
The trick is not to use metaphors (it's like …), not to use abstractions (I saw a lot of people …), and not to interpret what you see (it made me think of …). Howe thinks this exercise is hard because an object in front of us—e.g., a grey mug with peppermint tea—doesn't feel important enough. We want to give it more meaning. We want to look away.
According to Howe, after 4 weeks of practicing such observations, a transformation takes place:
The fourth week or so, [the students] come in and clinkety, clank, clank, clank, onto the table pours all this stuff. And it's so thrilling. (…) Everybody can feel it. Everyone is just like, "Wow." The slice of apple, and then that gleam of the knife, and the sound of the trashcan closing, and the maple tree outside, and the blue jay. I mean, it almost comes clanking into the room. And it's just amazing.
This exercise in descriptive writing is, of course, a way to get out of our head and engage our senses.
And we can only do this if we slow down to a snail's pace and if we care to really look and listen.
Exercise #2: The missing words
Paying attention is not just about describing our environment.
Slowing down to a snail's pace also helps us notice our own feelings and emotions.
One of the features in Rob Walker's newsletter on The Art of Noticing is a description of missing words. Below follows a description submitted by one of his readers—Mirja:
I am searching for a word for the lovely feeling when I am very cold and approach a front door and know it will be warm once I get inside. The same feeling as when I'm freezing and arranging logs in the fireplace but haven't yet lit them, so I am still very cold, but feeling safe, knowing I will be nice and warm very soon.
Do you recognize that feeling?
And which other words for feelings are missing? Can you describe such feelings?
Finding the language to describe our feelings, helps us connect with each other. We learn that we're not alone.
Each of our stories is unique, our lives are different, and each of our experiences is particular. But our feelings make us all human and connect us to each other.
There's a shared suffering and a shared joy.
Exercise #3: The art of delight
A few years ago, the poet Ross Gay set himself a target to write a daily essay about a delight.
A selection of these "essayettes" are published in The Book of Delights. For instance, Gay describes the delight of seeing two people carrying a sack of laundry together:
It at first seems to encourage a kind of staggering, as the uninitiated, or the impatient, will try to walk at his own pace, the bag twisting this way and that, whacking shins or skidding along the ground. But as we mostly do, feeling the sack, which has become a kind of tether between us, we modulate our pace, even our sway and saunter—the good and sole rhythms we might swear we live by—to the one on the other side of the sack.
When we direct our attention to the small beauties around us, we can find delight everywhere. The abundance of green colors in the woods. The shapes of the clouds in the sky. The cheerful birdsong. The card received from a friend. The tulips received as a present. The smile of a passerby.
As Gay writes, his essayettes emerged from "a practice of witnessing one's delight, of being in and with one's delight, daily, which actually requires vigilance. It also requires faith that delight will be with you daily, that you needn't hoard it. No scarcity of delight."
Looking for delight doesn't mean we ignore our pain or sadness (Gay writes about those, too).
But we give ourselves permission to find joy, no matter what. Especially when the world feels chaotic and scary, small beauties and tiny acts of kindness can fortify us and keep us grounded.
When we slow down to a snail's pace, we can feel more human, and we can reconnect with ourselves and each other.
The art of noticing
Sometimes, writing feels like an act of rebellion in our world of busyness, distractions, and chaos.
It's easy to feel we always have to speed up, be more productive, and get more done.
But good writing requires us to slow down and pay attention.
Slowing down and paying attention can help us write more vividly and more precisely. It can help us be more creative as we gain new insights and discover new connections.
But paying attention can also help us connect more strongly with each other and appreciate each other.
Paying attention not only helps us become better writers.
It can make us better humans, too.
Books mentioned in this post:
The links below are Amazon affiliate links. If possible, please support your local bookstore.