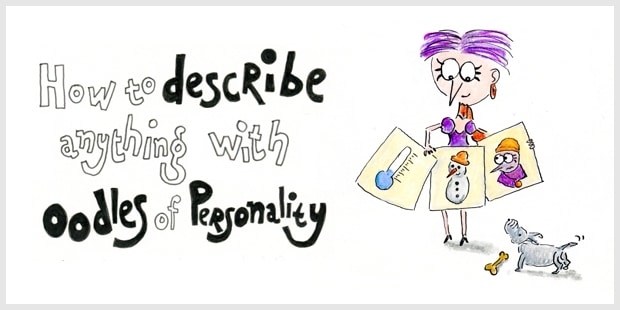 With a deep sigh, Helen sits down at her desk.
Today is her writing day.
Helen is a marketing coach, and she tells herself she must, at last, write her coaching page. How else can she attract more clients?
She sips her Jasmine tea, and mutters to herself that she must stop procrastinating and start writing.
But she feels sooooo uninspired.
She performs a quick Google search for inspiration. Ouch. A search for "marketing coach" generates 462,000 results.
Helen feels scared about competing with thousands of coaches for the same clients. But she understands how she should compete:
She has to describe her service with personality so she can attract her favorite clients. And when she does her best work, clients will rave about her, and her reputation will spread naturally.
The theory sounds good. But Helen feels stuck. How does she describe her coaching offer with more flair?
Shall I explain?
50 shades of cold
I recently read the thriller "The Quality of Silence" by Rosamund Lupton. From a writing perspective, the numerous descriptions of the coldness caught my attention.
Think about it for a sec … How would you describe a cold day? Extremely cold? Freezing? Ice-cold? It's so cold you can't stop shivering?
In the book, Yasmin arrives in Alaska with her deaf daughter Ruby. They drive in 24-hour darkness through the frozen wilderness searching for Ruby's lost father.
10-year old Ruby's description of the cold air is full of personality:
It's FREEZING cold; like the air is made of broken glass. Our English cold is all roly-poly snowmen and 'woo-hoo! it's a snow day!' a hey-there friendly kind of cold. But this cold is mean.
The main storyteller's voice is grownup, and it describes the cold differently:
Yasmin put on her Arctic parka and face mask and mittens before getting out of the truck. Even so, the cold shocked her; it was like plunging into a lake, not air.
And Yasmin wonders what the color of cold is:
She'd thought the color of cold was white, like snow, or blue perhaps, like on a cold tap, but cold like this was conceived in a place without daylight and was black, the absence of all light and color.
Later in the book, the cold gets worse. Yasmin and Ruby get stuck in a truck in the middle of a snowstorm, without heating:
It's getting so hard to breathe, my lungs are filling up with ants and there isn't room for air any more. There's a monster made of cold, hard as the edge of a pavement, coming towards us in the dark and it's cutting through the windscreen and doors and windows and the only weapon against it is heat, but we don't have any heat.
To write descriptions that ooze personality, go beyond the obvious. Think a little harder to find strong imagery to fully engage your reader. This works for anything, whether it's the scenery in a fiction book, a product description on an ecommerce site, or the service page on your website.
Follow the three steps below to describe anything with oodles of personality …
Step 1. Write with piercing precision
Writing with personality starts with being more descriptive. Pay attention to details.
Note how many details are in this description of the cold:
She'd seen cold as a predator, made of the dark, as if it were alive. But she felt it now as vastly, cruelly impersonal; a frozen darkness absorbing you into itself. She felt it filling her hollow spaces, embedding itself as icy marrow in her bones and then consciousness seeped away from her into the Arctic blackness.
And here's how Vitamix applies the same technique, describing precisely why their mixers are durable:
A key to long motor life is preventing it from overheating. In addition to the overload protection that's built into every blender, Vitamix engineers have been working for decades to perfect airflow circulation around the motor, precisely channeling a controlled amount of air to the places that need it most. The result is a quieter, more reliable motor that will serve you for years to come.
And studio Neomam describes exactly how they develop link-worthy content for their clients. One of the steps they describe is how they test their content:
Before we hit up journalists we test your content with a real audience of at least 1,000 people using Reddit.

We make adjustments based on audience feedback, so we're confident about the success of your content even before we start pitching.
No matter what service you supply, it's easy to think your clients know what you do.
But do they really? Probably not.
So, take a potential client by the hand and show her, step by step, what you do for her and how you make her life better. Don't skimp on the details.
Step 2. Create a multi-sensory experience
Have you considered what cold smells like?
She smelled the cold and then realized that it was an absence of all odors. She wondered if it was because her airways were not functioning properly – she could feel the little hairs in her nose freezing – or if it was that in this degree of cold no molecules could permeate the air.
When you appeal to the senses, readers experience your content as if they can really see, feel, hear, smell or taste it.
The copywriters at Innocent know this, and they turn drinking a smoothie with pineapples, bananas and coconut into a sunny, sensory experience:
(…) this drink tastes of sunshine. Not that watery stuff that you get in the UK for five or six days of the year, but the great, clear, life-affirming rays that you'll only find where these fruits are grown. So even if you've used up your holiday allowance on lots of mini-breaks to Prague and Oslo, you can still find a little bit of the tropics in this recipe. Just close your eyes, whack on the factor 16 and have a mouthful. Il fait soleil.
Sound difficult for a service?
Chris Conner gets pretty close in his description of my business blogging course:
Imagine sitting on a sunny sidewalk at a café …

As you are writing in your journal, your teacher occasionally strolls by to look over your shoulder and help with your work. Henneke's Enchanting Business Blogging course is as close as you will get to that without buying a plane ticket.
If you struggle to describe your product or service, ask your clients. What was their experience like? Can they provide a detailed description? What experience can they compare your service with?
Step 3. Make readers feel the impact
What impact does the cold have on your body?
She took a breath and the freezing air went into her lungs and she felt them going into spasm. She gasped and more cold air went into her lungs and it was as if she were drowning.
When you read such a vivid description, you can almost feel the cold air and the spasms of your lungs.
The copywriters at Purple use the same writing technique. Here's how they explain what a comfortable mattress means for you:
The Purple Smart Comfort Grid™ effortlessly isolates motion, so you don't feel your partner, posterity, or pets when they wiggle about.
And:
The only mattress that intelligently adapts to the human body for mind-blowing, personalized comfort. Translation: Wake up every morning with your happy face on.
When you think about the impact of your service on clients, it's often best to ask clients to explain it to you. Here's how Irina Bengtson describes one of my courses:
I loved waking up in the mornings during this class. I knew something exciting was waiting for me—a next lesson, a new assignment or a new comment.
And Louise Rasmussen said it like this:
Henneke's Enchanting Business Blogging course is like fentanyl for chronic writing pain. For me this course undid 20+ years of misguided writing habits.
Writing your own service description can feel hard. But you don't have to do it alone. Ask your clients for their input, and use their testimonials throughout your page.
Discover your writing genius
You might think that writing with personality should come naturally.
But writing often doesn't work like that.
You have to work a little harder to inject personality into your writing. So, follow the three steps. 1. Write with piercing precision. 2. Appeal to the senses and use strong imagery. 3. Let readers feel the personal impact.
That's how you engage your readers with power and pizzazz.
Let your personality shine.
And discover your writing genius.