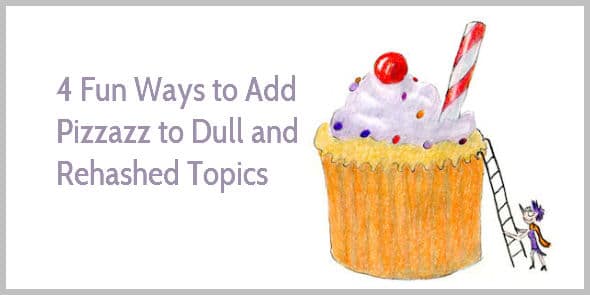 Tssss.
Another week. Another post.
How often have you written about the same topic? What else can you write?
At some point in our blogging journey, we all hit the same brick wall. We seem to have written about everything already. Even worse… hundreds of bloggers have written about the same topic, and we feel like a cow regurgitating grass.
Everything we write feels repetitive. Dull. Yuck.
How can you breathe life into those same old topics? How can you find your sense of fun again? And keep your readers glued to your last word, and coming back for more?
Adding a splash of color to boring topics is easier than you might think. Try the 4 fun methods below, and make dull topics shimmer and shine again.
Sound good?
1. Transport readers to a different scene
Imagine writing a blog post about the difference between features and benefits.
A feature is an aspect of a product, while a benefit explains what it does for its user.
That's it.
Pretty dull, right?
So, how do you start the zillionth post about features and benefits?
Tell a simple story:
Imagine you haven't cycled for years.

And you don't know much about bikes.

But you want to get fit again, and biking seems fun.

You go to your local bike store and tell the super-sporty-looking shop assistant you're looking for a bicycle to tour around the area. Leisurely.

He tells you full of enthusiasm a hybrid would be ideal and shows you a few popular models. This one has 24 gears and it has cantilever brakes. That one has a Shimano drivetrain and disc brakes. And here's a model currently on offer – it has an aluminum frame and hydraulic disc brakes.

Huh?
The feature-spewing assistant makes the limitations of features instantly clear. This simple story pulls readers into the post. And once a web visitor has started reading, he's more likely to read on.
To write a story for a boring topic:
Imagine a scene showing why your topic is important
Allow your readers to picture the scene by using vivid details
Keep readers engaged by adding a dash of drama—you sense something won't work when you notice the contrast between the super-sporty-looking assistant and the shopper wanting to tour leisurely around the area
Keep your story short
Your readers are hurrying across the web trying to escape regurgitated content. They're dying to be entertained. So, "transport" them away from their computer. Hook them with a quick story.
2. Apply the perfect antidote to dull generics
Generic statements are dull.
Because we can't picture them in our mind. For instance:
To improve my productivity, I decided to take more breaks
To make your voice more dynamic, write shorter sentences
Define your marketing goal before deciding on your content strategy
Each of the sentences above is quite abstract. A reader can't visualize them. They first need to think about what a marketing goal is and what a content strategy is before they understand the meaning of the last sentence. And what is a shorter sentence? How does it look? And what do you do in a break?
When readers are in a hurry, do you think they stop to think about what a sentence exactly means?
Probably not.
Instead, they start skimming your article for concrete advice. Or they click away. And that's when you might lose them forever.
So, to avoid boring your readers with generic statements, use examples to make your ideas concrete and vivid. Have you noticed how many examples have already been listed in this post? I didn't simply tell you to use stories, I used an example from an old post. You've also read three examples of generic statements.
Here are two more posts buzzing with examples:
Fun examples make boring topics interesting. They make abstract ideas concrete. They engage readers and help them both understand and implement your advice. Examples—especially from well-known brands— instantly boost your credibility, because you show your knowledge is not only theoretical. You demonstrate that you know how to apply your advice.
To breathe life into boring old topics use vivid examples:
Use a real case study
Quickly create your own examples
Scour the web for suitable examples
To save time when writing your articles, create a collection of examples in Evernote or set up a folder on your computer.
3. Decorate like cupcakes
Want to turn bland ingredients like flour and butter into cupcakes that look and taste delicious?
Use a spoonful of sugar and a touch of creativity.
Metaphors work the same—they add a splash of color to dull topics. Metaphors compare two unrelated topics (like writing and cooking). They make blah content more vivid, entertaining, and personal.
Have you noticed my love of metaphors?
I've compared a blog with a restaurant, a website with a hotel, and a smooth reading experience with cycling. (For more inspiration, check out these 14 metaphor examples.)
Sounds difficult?
You don't need a special creative brain to generate metaphors. Give yourself permission to play:
Define the key point your blog post should communicate
Get away from your computer—I come up with better metaphors when I'm in the kitchen or out on my bike
Focus your creativity by choosing one broad area e.g. sports or cooking
Play around to find connections
Choose the best metaphor
Don't put too much pressure on yourself. Allow your mind to associate freely. Use colored pencils to scribble notes. Or draw simple stick-figure pictures.
A sense of play is key to being creative.
4. Create a festival of colors
Metaphors help make abstract topics concrete.
And once you've discovered how much fun metaphors are, it becomes easier to turn your blog post into visual content, too. Because a good metaphor already paints a clear picture in your reader's mind.
Creating visual posts is fun—both for bloggers and for readers:
By creating visual posts, you give yourself an opportunity to write about the same topic once again:
Turning your blog posts into a visual story makes your content instantly more charming. And more memorable.
Stop blabbering on
There are no dull products, only dull writers.
~ David Ogilvy
When you're bored with your content, rest assured: You're boring the boots off your readers, too.
So find a way to re-engage with your topic. Follow your curiosity. Start writing poems. Draw pictures. Become a video whiz. Or take a break.
Re-invent your blog.
Because when you have fun, your enthusiasm shines through. And that ignites a spark of excitement in your readers.
Enjoy!
Special thanks to Julia who nudged me to write this post.