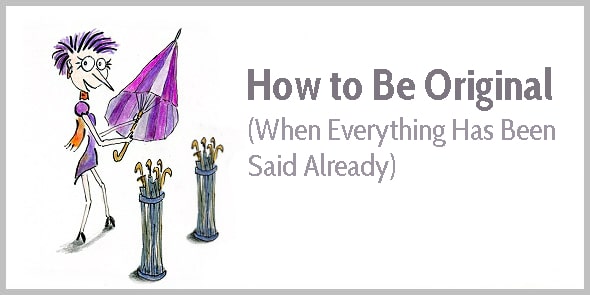 Do you feel everything has been said already?
Discussed from every angle by every authority?
You leaf through your notebook with blog post ideas. You scratch your head. Nothing feels right.
You've hit a mental wall. Robbed of inspiration.
What the hell can you write about?!?

You mutter a few bad words. You want to shut down your computer, go out for a walk, and forget about your blog. Forever.
*Sigh*
But your readers are waiting for your next post.
And you've promised yourself to write every week.
Others can do it, so why can't you?
Writing a blog is not about picking original ideas. It's about finding original ways to communicate your message.
When you discuss ideas with a new twist, your voice becomes colorful in a sea of grey voices. You stand out and draw your audience closer to you. Readers come back week in week out to read more, craving to hear your ideas, your views, your voice.
Want to know how?
Read along the edges
Why is the web a giant echo chamber?
Because everyone is reading the same blogs and books, and everyone is listening to the same podcasts, which anyway discuss the same things as those blogs. Which is often the same you'll hear at webinars and possibly at conferences.
So, we're going around in circles.
Want to get out?
Read a book slightly outside your niche.
Like every blogger, I hit the no-ideas-wall recently. After writing about writing for 4+ years, I felt I couldn't go on any longer. Haven't I said everything already?
I needed a fresh injection, so I started reading books vaguely related to writing. I read about curiosity, empathy, and Chinese philosophy, giving me a fresh perspective on writing. I was able to discuss worn out topics like writing for your readers and finding your authentic voice in new ways.
Reading a book for each blog post is not a quick way to write. But it's an enriching experience. I get bored if I don't learn something while writing a new article. Secretly, I write as much for myself as I write for you.
To inject your blog with fresh impetus, think about topics at the edges of your niche.
If you write about web design, for instance, you could explore creativity, architecture, or philosophical questions like: what is beauty? If you write about building a business, you could branch out into topics like overcoming your fears, motivation, decision making, or consider philosophical questions like: when does entrepreneurship make us happy?
Where does your curiosity lead you?
Take a deep dive
Some blogging gurus tell us to write about the issues that keep our readers awake at 3am.
This advice can quickly destroy creativity and our motivation to blog. Because very few issues keep our readers up at night, and usually you can't solve those issues in one blog post.
Instead of writing about the big issues, dive deeper into teeny-tiny topics.
Have you ever written a list post?
List posts are great for giving a quick overview of a topic. But they're more powerful as a collection of articles allowing readers to explore your blog in more detail.
For instance, look at my article about 27 ways to improve your writing—I've written an in-depth post about almost each of those 27 ways, whether it's about rhythm in writing or removing weak words.
Ridiculously small topics like punctuation or adverbs have proven to be some of my most popular. They get high open and click rates, as well as comments and social shares.
Check out the list posts you've written. Can you expand on the points you've listed?
To learn how to write a post about a small topic, check out:
Share your own experience
We often think of the web as a giant collection of information. We keep up to date with the news. We search for shopping deals. We google questions and look for answers.
But the web is about more. We also look for connection with like-minded people, for compassion and a sense of community. We share ideas and socialize.
When you share only tips on your blog, you sound like every other blogger. But when you share your personal experiences, you stand out from the crowd. Show what you've learned and how you've become an expert. Or explain how you've learned from your mistakes.
When you regurgitate the tips everyone else is sharing, you don't add value for your readers. However, when you mix your tips with your personal experience, your readers start seeing you as a true expert. Even more importantly, you give a glimpse of who you are, and that's how you bond with your readers.
To write original blog posts, think about the personal experiences you can share. Or can you share a case study?
Tell it in your own words
Everything has been said already.
But we've not heard it from you. In your words.
I'm sure you've had this experience when learning something new … You read about the same thing again and again, but it remains a little vague or abstract. You're not sure what to do with it. And then, at once, you get it.
As Kathy commented two weeks ago:
Just had several lightbulb moments reading this. Some of this I had read before, but hadn't internalized it.
I finally GET the reason I should narrow my ideal client down to the narrowest possible definition, to be exact and really pin her down.
A new story, a fresh metaphor, an original twist, or different wording—they can help readers get your message, even if they've heard it all before.
How to be original
You are unique. You know that.
You have unique experiences. A unique voice. A unique mix of ideas, examples, and stories.
So stop worrying about originality. Instead, help your readers. Share your knowledge and experience in your words.
Your readers are waiting for your next blog post. A helpful tip. A pep talk. A spark of inspiration.
What are you waiting for?