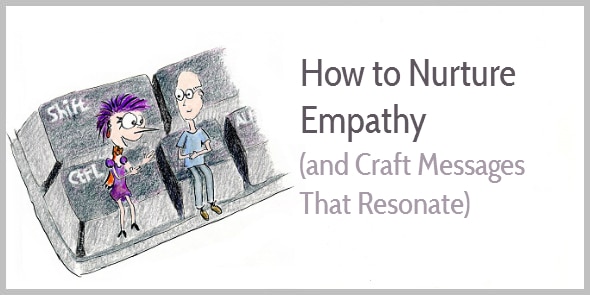 What would happen if no empathy existed?
We'd lose our ability to understand other people's thoughts and feelings.
We'd be unable to engage with other human beings.
The world would become a cold-hearted place.
Psychologist Sherry Turkle argues that modern communication—like rapid-fire tweets, updates, and instant messages—has undermined our ability to have valuable conversations. In turn, this might diminish our ability to empathize.
But what is empathy?
Empathy is not a shortcut to marketing success
Slick marketers use "empathy" as a technique for gaining more business. Sneak into the mind of your readers. Understand their fears. Make them feel even more insecure and get them to buy your product.
That's not real empathy. That's exploiting people's insecurities to make more money.
Real empathy starts with a desire to help. Instead of making people more insecure, suggest: If this is your problem and you feel like this, then this product may be able to help.
Empathy is the art of stepping imaginatively into the shoes of another person, understanding their feelings and perspectives, and using that understanding to guide your actions ~ Roman Krznaric
The purpose of connecting with your audience is not just to craft better messages. The purpose is to compose content that's meaningful, and to create products and services that truly help.
An empathy-based business puts its audience on center stage:
Don't see your blog as a sales tool, but as an opportunity to connect; be generous
Don't write to impress but to help; building your authority is a by-product of being helpful and inspirational
Don't put short-term business goals ("we must get more subscribers") above creating engaging experiences—why annoy web visitors with popups to satisfy your short-term business goals?
Respect your audience and give buyers the power to decide whether the product is right for him or not; don't use pushy sales techniques
Respect for your audience also means respect for yourself. Be proud of your services and charge a price that feels fair to you, too.
How to nurture your empathetic skills
In his book, Empathy: Why It Matters, and How to Get It, Roman Krznaric describes how for centuries our culture has framed humans as primarily egocentric beings.
We act in our self-interest (Adam Smith). We compete for survival (Darwin). We are driven by our libido and aggression (Freud).
To nurture your empathy skills, start with letting go of the idea that all humans are inherently selfish, and acknowledge that empathy is part of human nature, too. Empathy helps us build connections and friendships.
Next, start viewing your readers as unique individuals. Seeing people as individuals boosts our empathetic powers. It becomes easier to take their perspective. We can see why they're stumbling and how we can help.
The web feels anonymous, but your readers are real.
So, don't write emails to your email list. Don't talk about your subscribers. Get away from worshipping visitor numbers and clicks.
Each person reading your content is one individual person. Engage. Connect. Ask questions.
Nurture your curiosity
I've always been interested in reading about different cultures and finding out how other people live.
In my early twenties, I was lucky to join a summer course in Taiwan.
That course rudely opened my eyes to different perspectives.
At that time, I was a naive romantic. I thought living in harmony with nature was like paradise. This was a time before the internet, email, and cell phones, but I was already feeling overwhelmed by modern urban life.
As part of the course, I went on an anthropological field trip to Orchid Island, just off Taiwan. The island is inhabited by the Tao, indigenous people who migrated to this volcanic island from an archipelago close to the Philippines about 800 years ago.
I discovered that my romantic idea of being one with nature was completely wrong.
There was boredom. Alcohol abuse. Many young people left the island to find a better lifestyle.
My perspective on the world was shattered; and it took me a long time to recover.
We don't have to travel to nurture empathy and challenge our worldview. Research has suggested that good conversations, reading novels, and watching movies all can increase empathy.
Empathy is not a shortcut for getting rich quick
Empathy is about creating meaningful connections. About learning to understand another person's perspective. About an intrinsic desire to be compassionate, to do good.
And, as small business owners and solo-flyers, you and I have a big advantage. We don't have to maximize shareholder value. We can focus on what counts for us. Doing meaningful work. Making tiny ripples.
Empathy makes your work more rewarding.
Because empathy is at the core of human relationships.
And human relationships make life worth living.