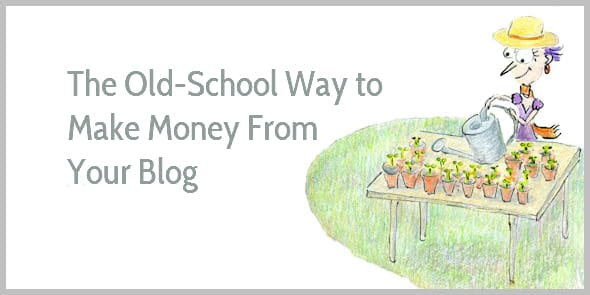 You can call me old-fashioned.
I like writing postcards. Licking a stamp. Walking to the nearest postbox.
In this time of instant gratification, the postcard's slow journey adds a sense of value. Unlike clicking the send button to dash off an email.
I'm also an old-fashioned cook.
On Sunday, I made 42 spicy meatballs. For each small meatball, I measured the minced meat in the palm of my hand. I rolled the little ball between my hands until its shape was imperfectly perfect.
42 minutes of meatball meditation.
I'm old-fashioned in numerous ways. I enjoy a romantic dinner—a slow savoring of food and wine, and company. I hate tweeting and whatsapping in between sipping my wine and feasting on my steak.
And I'm building my internet business using these old-fashioned slow-movement principles, too.
1. Generosity
I might be naïve.
But I've never worried about sharing my knowledge with you.
If my business was a garden, then my blog posts would be a colorful display of flowers. Lavender, bougainvillea, fuchsias. Mostly in my favorite color (purple of course!). You can walk around this garden and enjoy my flowers. It's free.
A generous supply of valuable information builds a solid foundation for an online business. Valuable information builds trust and authority, and readers can get to know you and like you.
2. Connection
The internet world talks about people in numbers.
As if we're faceless pixels.
Marketers and online entrepreneurs scrutinize conversion figures so email lists and sales can be boosted. But they sometimes forget it's real people getting irritated by popups.
The internet offers a wonderful opportunity to connect with people across the world; but this human connection only happens when we treat people like human beings, not like pixels.
This doesn't mean we ignore conversion rates and A/B tests, but we must balance numbers with human insight. With a willingness to be good. To be ourselves. To connect.
If my business was a garden, then I'd have benches for you and me to sit on and chat. You'd bring your thermos with coffee, and I'd be slurping my green tea.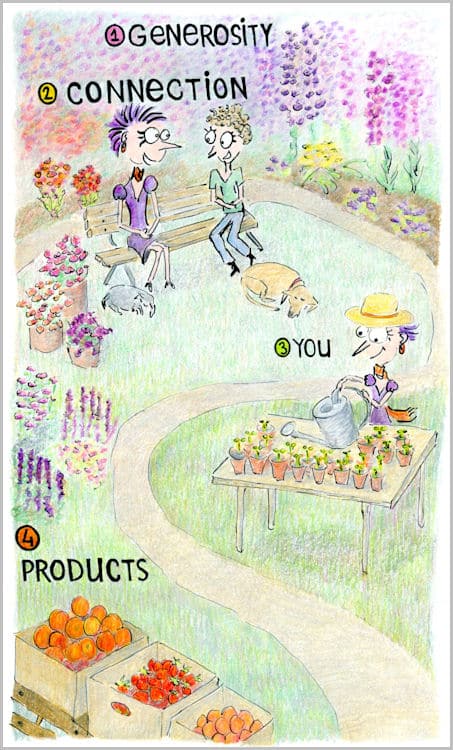 3. Personality
The web is overflowing with content.
And we all feel overwhelmed.
As a one-man band or one-woman business, you may feel there's no place for you. How can you compete with companies and editorial teams producing outstanding content on a conveyor belt? Copyblogger offers a free library of ebooks about content marketing. And have you seen how many free ebooks HubSpot offers on their blog?
But there's one way you can be different and compete with the biggest companies: Stand out by being more personal. Because everyone is looking for trusted voices to make sense of the frightening avalanche of daily information.
So infuse your content with You. Write with your unique voice. Tell stories about your life. Take time to answer comments and emails.
These days, we "talk" with call center menus. We get canned email responses. We can automate almost everything.
But we crave a human touch.
In my little garden, you know I've watered the seedlings, mowed the grass, and it was me, not a robot, chatting with you and laughing at your jokes.
4. Products
I've taken the old-school approach to making money from my blog.
And let's be honest … that's partly because I didn't have a clue.
So I started with building an audience, with finding my tribe and learning how I could help.
My tribe—that's you—told me what services and products to offer. I developed my most recent guide, for instance, after a blog update about writing About pages received my highest ever click through rate. Clearly, this was something you wanted help with.
And here's one other bit of advice:
In the beginning, your garden may only get a trickle of visitors. At that time, it's hard to make money from selling apples, strawberries, and peaches. So when your audience is small, hire yourself out as a gardener or garden designer, or develop premium gardening courses.
To make a living from apples, you need to sell a lot of apples. But you'd only need to sell a few premium gardening courses.
Focus on serving your tribe
At business school I was taught to focus on the projects that bring in most money. In my marketing classes I was told how to manipulate prices to determine maximum profit.
But as a solo-gardener, I've learned more important lessons.
Design your garden around your personality to attract the right visitors. Spend some time drinking tea and chatting.
Don't forget to water your seedlings. It can be hard work, but it's also utterly rewarding.
As enjoyable as 42 minutes of meatball meditation.