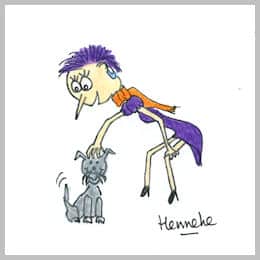 Yeah, yeah.
Every blogging expert tells us to add personality to our writing. And to develop a distinct voice.
But how exactly?
In a face-to-face situation you use body language and intonation to show how you feel and who you are.
You can speak quietly and choose your words carefully. You can use wild gestures to stress your points. You can whisper to share a secret. *Shhh*
But in writing you can only choose your words.
And compose them into sentences and paragraphs.
How can you show your personality? And have a distinct voice?
It might be simpler than you think. Just like when you talk, your personality shines through in how you write and what you write.
Authority is rather dull
Everyone tells us to build authority. But authority reminds me of dusty professors and boring text books. Devoid of personality.
If you want to connect with your readers you shouldn't be authoritative at all times. Don't put yourself on a pedestal. Admit your fears, failures, or weaknesses. And make a little fun of yourself.
Think about your best friends or favorite colleagues. You enjoy having a chat with them because they can talk about more than their specialism. You know I love cycling and good food, don't you? You might even remember that a long time ago I was a puking tour guide in China.
By sharing snippets of your life, you change from a one-dimensional authority into a more interesting personality.
But don't become a blabbermouth
Readers don't have the patience to hear you rambling on. And they don't want to hear too many random facts about your life.
To avoid blabbing on, watch the flow of your content. Focus each post on one big topic.
Most of my blog posts are simple lists or how-to posts. They follow a logical path summing up tips about one issue or explaining a number of steps to take. I don't always number them – that would be boring.
The flow of your content shows whether you're muddleheaded, ploddingly predictable, or somewhere in-between.
Pay attention to rhythm
Rhythm impacts the mood of your writing – just like in music.
You have two main ways of playing music: legato and staccato.
When you play legato, the notes are longer, and each note blends with the next one. No pauses exist between the notes. When you play staccato, each tone is short and stops abruptly. The long tones of legato make music flow fluidly, almost dreamily. Staccato is more fiery. It wakes you up and draws attention to each individual note.
To change the mood in a musical piece, a legato playing style can be interrupted by a few notes of staccato. The same is true in writing. When you only write long sentences, you slowly lull your reader to sleep. By interrupting a calming flow with a few ultra-short sentences you attract attention to your point. You wake your reader up.
To get a feel for rhythm, read your post aloud. When you find yourself gasping for air, your sentences and paragraphs are probably too long. Hack sentences in two. Add more periods. Or more commas.
Short and broken sentences add energy to your writing.
Go beyond word choice to set the mood of your writing
Are you happy, deliriously happy, or fucking happy?
Your choice of words sets the tone of your writing. Do you swear a lot? Do you use everyday expressions to set a conversational tone? Or do your words sound soothing like susurrous, fluffy, and furry?
Plundering a thesaurus can help you adjust the tone of your writing, but metaphors provide a more fascinating way to add personality:
Happy as a 32-year-old speed skater winning his first Olympic gold medal
Happy as a baby panda rolling in the snow
Happy as a toddler with chocolate all over her face
Be careful. A clichéd metaphor—happy as Larry—immediately kills your voice. Good metaphors are unique and paint a vivid image. Kids, animals, and sportsmen can almost always help you come up with a unique metaphor.
The truth about your online personality
Adding a dash of personality doesn't mean just being yourself.
You can choose which part of you you want to show and which part of you you prefer to hide. You can choose to share your angry self, your insecure self, or just your happy self.
You're in charge.
You can find your own rhythm. You can choose your own words. You can show your most dynamic and most entertaining YOU.