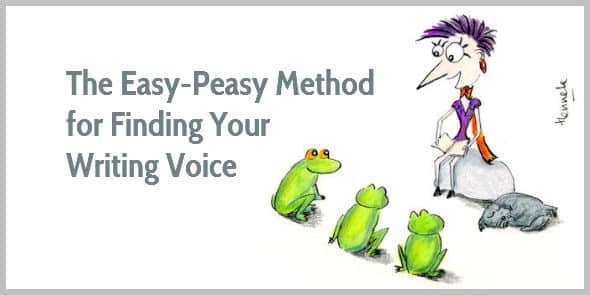 Phew.
You've written your web copy.
You've slaved over your words, editing each sentence and polishing each word.
You think you've done a good job.
But now you read your copy again, you wonder …
Does your content sound like you?
Finding our voice is perhaps the biggest challenge we face as writers.
A strong voice helps us stand out in a snot-green ocean of boring content. A unique voice helps us bond with our readers, enticing them to come back to "hear" our voice again. An energetic voice makes us feel good about our writing.
But how?
How can we find our writing voice?
You might think your voice is innate
You may think, you're born with a voice inside you. And you only have to discover it.
But this is far from the truth.
Your writing voice develops over time. You can even steal it by studying the masters.
And don't listen to the people who tell you to write the way you speak.
Whoa!
This is a really …. uhm … really big misunderstanding. Who told you that?
When you speak, your sentences are often unfinished. You make grammar mistakes without anyone noticing. You use words and phrases and even whole sentences that are redundant.
You know what I mean?
Content with a strong voice is carefully edited. It's more concise than spoken language. It's more sensory and emotional, too, because you need to compensate for lack of intonation and body language.
You can't whisper. You can't cry. You can't move your hands to stress your points. You can't even make eye contact.
When you write you only have words to communicate your message.
4 examples of writing voice
Do you feel the difference?
Evernote addresses a wide audience. Their writing is to-the-point and simple. No frills.
In contrast, Mancrates' targets a more specific reader. They use more words to get their message across, but their voice has more emotion, and resonates stronger with their specific audience.
Now, let's compare the voices of two writers …
Jon Morrow was one of my early mentors. His writing is in your face and almost-over-the-top emotional. He speaks strongly to his audience, and he probably repels a few people, too.
I discovered Nancy Duarte's writing only last year. With sensory words, she conjures up images in my mind, communicating her ideas strongly. I like it.
What makes these 4 voices strong?
We've all listened to speakers with a weak voice.
They ramble on.
They speak in generic terms. They use meaningless words.
They don't appeal to us with emotion. Their messages remain wishy-washy. Their ideas are buried under wordy sludge. Verbosity kills their voice.
To strengthen your voice and resonate with your audience you need to:
1. Be concise
A strong voice starts with clarity of thought. You need to know exactly what you want to communicate, so you can present your ideas clearly. Without frills. Without distractions. Without blabbering.
Look at the examples above again—they don't use any redundant words. They present their thoughts clearly.
What do you want your reader to remember from your content? And what action should he take? Can you explain this in one sentence?
Cut away the fluff that doesn't contribute to your message. Brush off the dirt. Chisel away the ugly parts, so your message pops and sparkles.
2. Appeal to your reader
We often think that writing is a one-way process.
We sit at our desk. We type our thoughts. We edit.
But this is far from the truth.
Good writing is a conversation with your reader. You sneak into his mind because you want to answer his questions, help him with his struggles, overcome his objections to buying from you.
A strong voice speaks the reader's language, uses the phrases the reader recognizes and understands. No jargon. No academic rigmarole. No complications.
3. Paint clear pictures
Being concise is often confused with using as few words as possible.
But this is wrong.
Sometimes you need to use more words to make an emotional connection. To touch, tickle, and dazzle.
Stating the bare facts doesn't communicate your message. To connect with your readers, you need to make them feel your words.
Paint a picture in your reader's mind. Make your words more sensory and emotional.
4. Add rhythm to your writing
A monotone voice is flat and boring.
It drones like a humming aircon. Without excitement. Without surprising the reader. Without stressing key points.
To avoid boring the boots off your readers, you need to vary the rhythm of your writing. Mix long sentences with short sentences. Use one-sentence paragraphs to stress certain points.
The staccato of short sentences makes your voice more dynamic.
The truth about your voice
The key to developing a strong voice is to cut away the monotony, the boredom, the wordy sludge hiding your message.
When you focus on concise and clear language, your voice will appear as by magic.
Your content will shimmer and shine.
And your readers will fall in love with you.