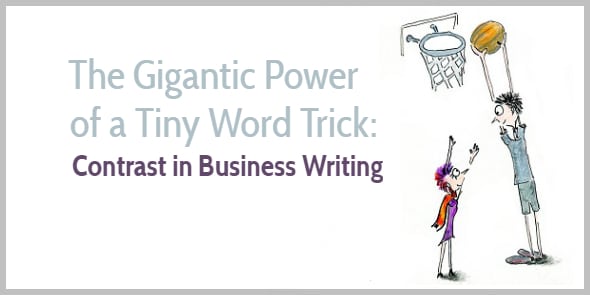 Imagine walking into a room full of grey-suited men …
But there's one girl, in an orange dress.
Who would you notice?
Now, imagine a room full of Dutch sportsmen and women, clad in their orange kits. Would that same girl still stand out?
This is the power of contrast.
Contrast attracts attention, creates interest, and adds drama. Without contrast, life would be pretty dull.
Have you walked through a dark forest, and suddenly stepped into a brighter area… a field full of yellow buttercups drenched in sunlight?
The contrast with the dark forest makes the ordinary flowers feel magical. Like a soprano in duet with a tenor. Or a cathedral towering high above town. Or a delicate butterfly fluttering in front of a rough brick wall.
People are naturally drawn to contrast, because life is surrounded with it. Day and night. Male and female. Up and down. Good and evil. Love and hate.
~ Nancy Duarte (in: Resonate)
We can use this principle of contrast to draw attention to our words, to add drama, and make our writing sound so magical that people can't stop reading … even if you write sales copy.
Shall I show you how?
Grab attention with contrast in your headlines
How about a wickedly good trick?
Contrasting combinations of an adverb and an adjective, like "crazy good" or "wickedly wonderful," grab readers' attention.
For example:
Another option is to highlight a transformation your readers may achieve. For instance:
Contrast transforms humdrum sentences into attention-grabbing headlines; and contrast can make your sales copy more enchanting, too.
Turn boring content into silky-smooth sales copy
Contrast can make your product seem extra special; and it can even help overcome a hesitation to buy.
Concerned that the iPad Air 2 is not strong enough? Here's how Apple reassures you:
Ingenuity makes it thin.
Its unibody makes it strong.
Or perhaps you think the iPad Air 2 might lack power?
Massive power. In a minimal form.
So you can do more. While carrying less.
The contrasting short sentences make Apple's sales copy sound poetic. You'd almost forget they're trying to sell you something.
J Peterman also uses the technique of contrast. Here's a description of one of their women's coats:
Cool breezes off Okawa River. Cherry blossoms glittering.
Naoko and I practice hanami: picnicking under a sakura tree (ancient Japanese custom once reserved for Imperial Court).
She picks up a pink petal, murmuring "Shibui."
"I'm sorry?"
She smiles. "Think beautiful in its simplicity."
"Like this." I gesture to her classic, fully buttoned collarless coat.
"No, Peterman." She stands, unbuttoning. "This celebrates me, the unexpected."
She opens her soft wool coat to reveal a vibrant leopard print lining.
The sales text above sketches an idyllic picture by appealing to the various senses: the glittering cherry blossoms in pink, the cool breeze, and Naoko murmuring. But the sense of calmness is almost rudely interrupted by the leopard print lining. This positions the coat as an expression of individuality and strong character.
Contrast creates tension—an essential ingredient in good storytelling. Want to use the same trick in your sales copy to keep your readers hooked? It's easier than you'd think …
A simple yet powerful persuasion technique
Are your customers angry, frustrated, down, or feeling overwhelmed?
They don't want to buy just a product, they want to turn their anger into calmness, their frustration into success, their sadness into happiness.
Persuasive copy contrasts "what is" with "what could be."
This is how Ramit Sethi (Find Your First Profitable Idea) explains "what is":
We've all talked about wanting to start a business. "One of these days," we say, "I'm going to do it. I just need to figure it out."

And months pass…then years. How many of us know someone who's been talking about starting something for 10 years? They'll say, "I had that idea years ago!" And yet, they're still dreaming.
He contrasts this feeling of procrastination and frustration with what "could be:"
Imagine you use this program to identify a profitable idea. You know it works because you get your first enthusiastic, paying client who is delighted to pay for your services. You now have new money in the bank.

What would that mean?

Would you be more confident of your abilities?

Would you be more motivated to earn more and use it to pay off debt, increase your savings, or take an extravagant vacation?

Would you be able to take that first client and "tune" your work into higher-value work that you love…including charging more?

Would you be able to focus on doing the things you love instead of making decisions based on money?
People don't buy a product or service; they want to buy a better life, a better version of themselves. To write persuasive copy, highlight this transformation—contrast where your readers are now with where they could be.
The art of using contrast in your writing
Want to write content with oomph? Content that delights and persuades?
Start with understanding your customer. Empathize with his pain points, no matter how big or how small.
Then show him he doesn't need to accept these pain points. A better way exists.
Lastly, let him believe he can make his life better, with your help.