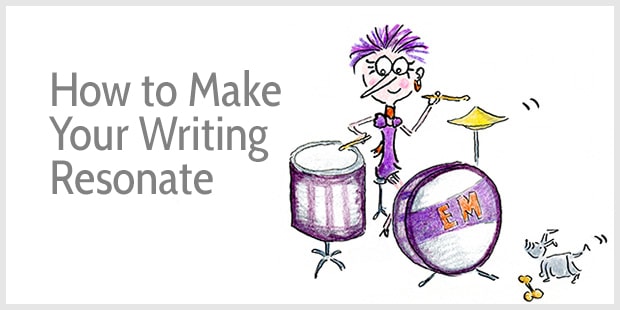 Remember the red pen of your high school teacher?
Whenever you repeated a word in a sentence, there it was: the angry red mark. Ouch.
Over time, like most writers, you probably learned to avoid word repetition, and you diligently replaced duplicated words with synonyms or pronouns.
But did you know word repetition can add rhythm to your writing?
That it can strengthen your message, and make it more memorable?
And that repetition can shape your voice?
No matter what you write, whether it's a blog post, sales copy, or poetry, purposeful repetition can add power and pizzazz to your writing.
Shall we start with an example from poetry?
Repetition examples in poetry
I've not read poetry for years, but recently I've fallen in love with Mary Oliver's evocative poems.
Below follows a fragment from her poem Mushrooms. Read it aloud, and notice how repetition of the words through and their adds rhythm:
red and yellow skulls
pummeling upward
through leaves,
through grasses,
through sand; astonishing in their suddenness,
their quietude,
their wetness, they appear
on fall morning, some
balancing in the earth
on one hoof
packed with poison,
others billowing chunkily, and delicious
And in the poem The Moths, she repeats a longer phrase:
I was so full of energy.
I was always running around, looking
at this and that.

If I stopped the pain was unbearable.

If I stopped and thought, maybe
the world
can't be saved,
the pain was unbearable.

Finally, I had noticed enough.
All around me in the forest the white moths floated.

How long do they live, fluttering in and out of the shadows?
But this is not an article about poetry. Repetition works in any type of writing, even in sales copy.
Repetition examples in sales copy
Perhaps Apple's copywriters are the poets in the world of marketing. Here are some examples of repetition in Apple's sales copy:
Your all purpose, all day notebook.
And:
iOS 13
A whole new look.
On a whole new level.
And:
Every decision that goes into iPhone makes it stand apart. From the way it's made, to the way we build in privacy and security from the start, to the innovative ways we recycle its components.
Repetition not only provides a beat to your writing, it can also reinforce a key point. In the examples above, repetition strengthens the message that iOS 13 is wholly new and that the iPhone stands out in many different ways.
Repetition also shapes your voice
I first learned about repetition as a technique for forming your voice from author Andy Martin.
In his book Reacher Said Nothing: Lee Child and the Making of Make Me, he tells the story of Child writing his 20th Jack Reacher book, and he explains his discovery of the double tap in Child's writing.
The double tap is a repetition of the word no. This is an example from Make Me:
The street was quiet. Just seven similar houses, three on a side, plus one at the dead end. No moving vehicles, no pedestrians. No eyes, no interest. Not really a Neighborhood Watch kind of place.
And from Persuader:
I saw nobody. No cops, no ambulances, no police tapes, no medical examiners. No unexplained men in Lincoln Town Cars.
Perhaps no one seems to use repetition as much as Nora Ephron. This is from Heartburn:
Heartburn. That, it seemed to me as I lay in bed, was what I was suffering from. That summed up the whole mess: heartburn. Compound heartburn. Double-digit heartburn. Terminal heartburn.
And:
I loved to cook, so I cooked. And then the cooking became a way of saying I love you. And then the cooking became the easy way of saying I love you. And then the cooking became the only way of saying I love you.
And:
Vera said: 'Why do you feel you have to turn everything into a story?' So I told her why: Because if I tell the story, I control the version. Because if I tell the story, I can make you laugh, and I would rather have you laugh at me than feel sorry for me. Because if I tell the story, it doesn't hurt as much. Because if I tell the story, I can get on with it.
At school you may have been told that repetitiveness is bad. But if an award-winning screenwriter and author can repeat words and sentence fragments, who are we to say that repetition is bad?
The above are just three examples of repetition in Ephron's writing. There are many, many, many more.
Repetition keeps readers on track
Word repetition can provide a cadence to your writing and guide readers so they don't get lost. This is especially important in long sentences.
In the example below, Tommy Orange repeats the phrase where to help readers understand the sentence structure:
The grass is chalked with straight lines that separate foul and fair, that reach out to the stands and back toward the infield, where the players play the game, where they pitch and swing and steal and tag, where they signal and hit and strike and ball, score runs, where they sweat and wait in the shade of the dugout, just chewing and spitting until all the innings run out.
And, in the same way, he repeats the word whose here:
That guy in the black windbreaker, whose hair is fully grayed and receding, and whose stomach comes out a little more each year, whose feet and knees hurt when he stands or walks too long, he's okay, he's making it.
Word repetition is only bad when it happens by accident. Most of the time, it's like the drum beat accompanying your writing.
And sometimes, the drum has a solo—when word repetition becomes the essence of a sentence. Here's Tommy Orange again:
She told me the world was made of stories, nothing else, just stories, and stories about stories.
And:
The trouble with believing is you have to believe that believing will work, you have to believe in belief.
A drum solo is rare. Mostly repetition is an underlying beat, providing a cadence to your writing.
How to use repetition correctly
As Joe Moran writes in his book First You Write a Sentence:
Repetition is fine if you and the reader know you are doing it.
But how does your reader know you're doing repeating a word on purpose?
Below follows an example of repetition that's so obvious, that it has to be on purpose. Here's Tommy Orange again:
She put a cough drop into her mouth so casually that you could tell she probably ate a lot of cough drops and smoked a lot of cigarettes, and never quite beat the cough, but beat it enough while she was sucking on a cough drop, and so ate them constantly.
Moran suggests that inexperienced writers use repetition too randomly, making it jarring. And more experienced writers are afraid of repetition, so they vary their words too much, making the writing feel unnatural.
Let's have another look at the sentence with cough drops. Imagine Tommy Orange had been afraid of repetition. He would have written:
She put a cough drop into her mouth so casually that you could tell she probably ate a lot of them and smoked a lot of cigarettes, and never quite beat the tickle in her throat, but she could cope while she was sucking on throat lozenges, and so ate them constantly.
Note how the music has gone out of that sentence? Without the music, the sentence drags on a little, making it feel too long and cumbersome.
One more fabulous example of word repetition
In The Writing Life, Annie Dillard writes about not saving ideas for writing for later:
One of the few things I know about writing is this: spend it all, shoot it, play it, lose it, all, right away, every time. Do not hoard what seems good for a later place in the book, or for another book; give it, give it all, give it now. The impulse to save something good for a better place later is the signal to spend it now.
Why do I like these so much?
The first sentence has a great selection of strong verbs: shoot, play, lose. Read this sentence aloud and you'll notice a great rhythm, too.
The second sentence ends with a triple tap for stress: give it, give it all, give it now. Again, read aloud to appreciate the rhythm.
The third sentence is the clincher summarizing the key advice, so readers remember: Grab any good ideas right now and spend them.
How to put music into your writing
Using repetition correctly is not as difficult as your high school teacher would have told you.
The easiest trick is Child's double tap of repeated no's. No repetition. No music. And no fun in your writing.
The second easiest trick is a variation of the double tap: to repeat the first word of a sentence at the start of the next sentence (this is called anaphora).
Stop being afraid of repetition. Stop paying attention to readability scores telling you to mix it up. Stop worrying about your high school teacher crossing out your words, with her ghastly red pencil. Instead, have fun with word repetition and listen to the rhythm of your writing.
Next, pay attention to word repetition in good writing. Apple's website is a good starting point—you'll find repetition is never overbearing there, and mostly used to reinforce key points, making them more memorable.
In Ephron's Heartburn and Orange's There There, repetition is a more dominant style figure. Read their work aloud and note how it pulsates, echoes, and sometimes booms. Reading aloud can help you develop an ear for when repetition works.
Writing without word repetition is like music without a beat.
Like a rock band without a drummer.
Happy writing!
Books mentioned in this post:
The links below are Amazon affiliate links.