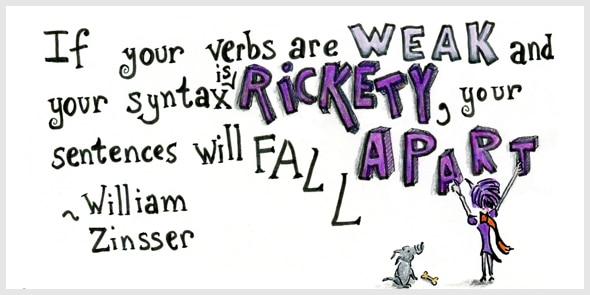 Do you ever read text and wonder …
Why do the words jump off this page?
Why does this writing feel energetic and strong?
Why is it so fast-paced?
And do you wonder why your draft text seems a tad limp in comparison?
It happens to all of us.
First drafts often require an injection of power and pizzazz. First drafts are full of weak verbs, and weak verbs make your writing limp, flabby, and listless.
In contrast, strong verbs add action, vitality, color, and zest. So, the "secret" to writing with gusto is to choose stronger verbs.
Want to write better? Get my best writing tips for business here > > >
What are strong verbs?
Strong verbs engage your senses, and help readers picture a scene (verbs in bold):
You feel the air reverberating when he slams his fist on the table. The teacups jiggle, his face reddens, and his voice thunders.
Strong verbs allow readers to visualize actions. Instead of only reading words, they're drawn into your writing, experiencing your story.
But strong verbs don't need to convey powerful action. Subtle action can evoke powerful feelings, too. For instance:
He cradles the baby, strokes her dark hair, tickles her chin, and hums a lullaby.
Strong verbs are precise and concrete. In contrast, weak verbs are abstract and generic—they don't help you visualize a scene. Examples of weak verbs are "to be," "to provide," "to add," and "to utilize." You can't picture these words.
For instance, if someone provides feedback, is he shouting his comments? Or lecturing you with a smug face? Or perhaps scribbling a few suggestions in the margin of your handout?
You can't picture "provide feedback," but you can visualize "shouting," "lecturing," and "scribbling."
Strong verbs breathe life into abstract ideas
Over the weekend, I read Ray Bradbury's "Zen in the Art of Writing." I enjoyed his word choice, and I loved how his verbs breathe life into abstract concepts, like storytelling and the Muse.
For instance, he describes how he started writing stories based on lists of nouns:
And the stories began to burst, to explode from those memories, hidden in the nouns, lost in the lists.
And he writes about the Muse:
The Muse, then, is the most terrified of all the virgins. She starts if she hears a sound, pales if you ask her questions, spins and vanishes if you disturb her dress.
And on eating books:
I tore out the pages, ate them with salt, doused them with relish, gnawed on the bindings, turned the chapters with my tongue!
Bradbury's choice of strong verbs (like "gnaw" and "douse") adds zest and power. He uses few adjectives and adverbs to keep his writing fast-paced.
Strong verbs in business writing
You might think strong verbs are only for fiction writers.
But that's untrue.
Here's Nancy Duarte in her book "Resonate" (about engaging your audience with story-based presentations):
Throughout history, presenter-to-audience exchanges have rallied revolutions, spread innovation, and spawned movements.
And:
When a great story is told, we lean forward, and our hearts race as the story unfolds.
And:
Haven't you often wished you could make customers, employees, investors, or students snap, crackle, pop, and move to the new place they need to be in order to create a new future?
Here's an example of Apple's copy:
So whether you're listening to music, watching videos, or making speakerphone calls, iPhone 7 lets you crank it up. Way, way up.
And:
Apple Watch Series 2 counts more than just steps. It tracks all the ways you move throughout the day, whether you're walking between meetings, doing cartwheels with your kids, or hitting the gym.
"To do" in the last sentence is, of course, a weak verb. Apple's copywriters could have changed "doing cartwheels with your kids" into "cartwheeling with your kids" without disrupting the rhythm and making the sentence stronger.
It is nouns and verbs, not their assistants, that give good writing its toughness and color.

~ Strunk and White (in the Elements of Style)
Are adjectives always bad?
We don't have to go to extremes and use verbs and nouns only.
Adjectives and adverbs can add precision and nuance.
In the paragraph below, for instance, Helen Macdonald describes her hawk. This paragraph (from the book "H is for Hawk") is full of adjectives:
In the half-light through the drawn curtains she sits on her perch, relaxed, hooded, extraordinary. Formidable talons, wicked, curved black beak, sleek, café-au-lait front streaked thickly with cocoa-coloured teardrops, looking for all the world like some cappuccino samurai.
The craft of writing is more subtle than following the advice to write in verbs and nouns only. Adjectives and adverbs may allow readers to sit back and admire a scene instead of racing through your words.
You're the writer—you can play with your words, then choose which words express your voice and your thoughts best.
How to choose strong verbs
No clear distinction exists between strong and weak verbs. It's a gliding scale, and it's up to you as a writer to decide how strong you'd like your verbs to be.
For instance, "to walk" is stronger than "to go" because it gives you an indication of how someone moved. But stronger options would be: to saunter, to hike, to shuffle, to trudge, to stride, or to plod. Each of these verbs gives you an indication of how someone walked:
to saunter: picture a girl walking rather leisurely, perhaps peeking into the shop windows
to hike: picture a woman in walking boots with a backpack, walking at a good pace
to shuffle: picture an elderly woman moving ahead gingerly, hardly lifting her feet
to trudge: picture a girl in wellies making a big effort, perhaps walking through the snow or mud
to stride: picture a lady walking as if on the catwalk, with long strides
to plod: picture a tired woman with sagging shoulders, walking rather tiredly
Strong verbs can also be used for abstract language. For instance, you could say you generated ideas during your brainstorm session. But how did your ideas arrive? For instance:
A few ideas popped into your mind
Your mind exploded with ideas
A stream of ideas burst forward
Ideas first trickled, then gushed forth
The brainstorm session spawned a stream of ideas
Strong verbs are more precise than weak verbs; they can paint clear pictures—even of abstract activities like thinking and generating ideas.
How to play with your verbs
Imagine this: how would readers experience your voice if you used fewer adjectives and adverbs?
Here's an example of text, sagging under adjectives and adverbs:
While quietly sitting at her wooden desk, she slowly formulated her thoughts and worked really hard to write her blog post. The next day she felt apprehensive and nervously hit publish. Would her audience be interested enough to read her content word-by-word?
To add energy to the text, the first step is to strip the content back to its bare bones:
While quietly sitting at her wooden desk, she slowly formulated her thoughts and worked really hard to write her blog post. The next day she felt apprehensive and nervously hit publish. Would her audience be interested enough to read her content word-by-word?
The stripped down version lacks nuance and color. So, let's try stronger verbs and add a little context:
For hours, she sat at her desk. She wracked her brain, and slaved over her words to produce a blog post. And the next day? She hit publish with trepidation. Would her audience gobble up her words?
The thesaurus is your friend. Use a thesaurus to find more precise alternatives for weak verbs.
Your word choice shapes your voice
Finding your voice is about experimentation.
Try writing with verbs and nouns only. Then stuff your writing with adjectives and adverbs.
Read both versions aloud as if you've never seen them before.
What works? What doesn't work? Which words do you like?
Play with your words. Have fun. And discover your voice.
A list of 99 strong verbs to try in your business writing
To sparkle, to tickle, to thrill, to explode, to burst, to crack, to crank up, to surge, to flood, to snowball, to skyrocket, to roll, to soar, to catapult, to polish, to shine, to brighten, to scour, to tap, to flick, to snap, to guzzle, to gobble, to wipe out, to stumble, to wobble, to jumpstart, to muddle, to swing, to lurch, to breeze through, to glide, to zip, to sail, to crash, to sputter, to drool, to spit, to sprout, to flourish, to buckle down, to tackle, to grab, to grasp, to grapple, to wrestle, to poke, to stir, to prod, to stab, to knock, to strike, to smash, to hit, to arouse, to plunge, to dive, to dip, to tiptoe, to pussyfoot, to duck, to flip-flop, to dilly-dally, to linger, to drop, to trickle, to splash, to seep, to dump, to drain, to squeeze, to dazzle, to knock, to slide, to slump, to tumble, to topple, to nose-dive, to ditch, to fly, to float, to choke, to fix, to block, to clog, to muzzle, to stall, to electrify, to galvanize, to fire up, to kindle, to spark, to whip up, to propel, to glow, to sway, to sharpen, to shock, to jolt