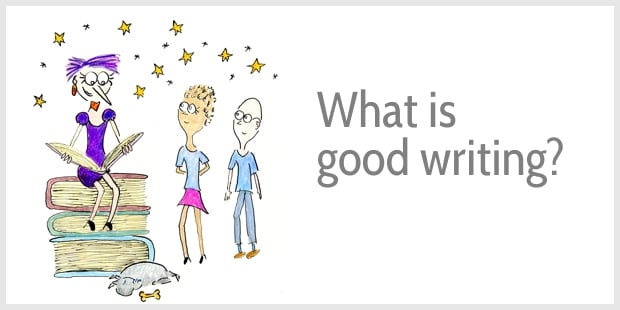 Sometimes, I savor a book slowly.
I pick the book up, read a few pages, then put it down again.
I highlight ideas and sentences that attract my attention.
Later, I treat myself to rereading those highlights.
What makes writing worth savoring like that?
At school, you probably learned that good writing is coherent, focused, and correct.
But isn't that like suggesting a good bicycle has two wheels, a saddle, and handlebars?
I recently read The Dictionary of Obscure Sorrows by John Koenig. This book contains 272 pages but it took me almost 7 weeks to read. Not because it was difficult or boring. No. Because it was worth reading slowly. I highlighted 82 snippets of text.
So, what did I learn about good writing?
1. It's carefully written
Koenig makes up phrases for feelings not commonly described. For instance, he describes "fool's guilt" as follows:
a pulse of shame you feel even though you've done nothing wrong—passing a police car while under the speed limit, being carded after legally ordering a drink, or exiting a store without buying anything.
I like how precise that description is. Only 35 words. Yet a lot of detail as we learn:
What the obscure feeling is: A sense a shame even if you've done nothing wrong
How the feeling manifests itself: A pulse
3 clear examples of when the feeling arrives: passing a police car while under the speed limit, being carded after legally ordering a drink, or exiting a store without buying anything
I get a sense that Koenig has carefully sculpted each sentence. Each word matters. It's a delight to read.
2. Good writing is creative
Creativity comes in many forms. A play with words. A story in miniature. Vivid imagery. A sense of rhythm.
Koenig often uses metaphors to make his descriptions of feelings more meaningful and interesting. He describes "nighthawk" as follows:
a recurring thought that only seems to strike you late at night—an overdue task, a nagging guilt, a looming future—which you sometimes manage to forget for weeks, only to feel it land on your shoulder once again, quietly building a nest.
And "liberosis:"
the desire to care less about things; to figure out a way to relax your grip on your life and hold it loosely and playfully, keeping it in the air like a volleyball, with quick and fleeting interventions, bouncing freely in the hands of trusted friends, always in play.
The pictures that Koenig paints—of playing volleyball and of a nagging thought building a nest on our shoulders—are functional; they help us understand the concepts he's explaining.
Good writers don't want to impress readers with their creativity and word wizardry. They aim to engage and communicate clearly.
Creativity serves your reader.
3. A good writer shows up in their writing
When I read something good, I feel a connection with the author. It's like I get to know them a little.
Koenig's descriptions give me a sense of what matters to him. For instance, he describes "suerza:"
a feeling of quiet amazement that you exist at all; a sense of gratitude that you were even born in the first place, that you somehow emerged alive and breathing despite all odds, having won an unbroken streak of reproductive lotteries that stretches all the way back to the beginning of life itself.
He even has a word for the sense of connection with authors. He calls it "moledro:"
a feeling of resonant connection with an author or artist you'll never meet, who may have lived centuries ago and thousands of miles away but can still get inside your head and leave behind morsels of their experience, like the little piles of stones left by hikers that mark a hidden path through unfamiliar territory.
In my 10+ years of writing regularly, I've learned that my writing process starts long before I open a new Word doc. It even starts before I get an idea and mull it over during a walk. Writing starts with what I'm paying attention to.
What we give our attention shapes our writing, and that's how we show up as writers.
So, give yourself permission to write about what matters to you, about what attracts your attention.
The best writing is personal.
On good writing
A good bicycle is one that lasts. The ride is smooth. It makes cycling a joy.
The same is true for good writing.
It's worth savoring. A joy to read.
A worthwhile conversation between the writer and the reader.
Book mentioned in this post:
The link below is an Amazon affiliate link. If possible, please support your local bookstore.