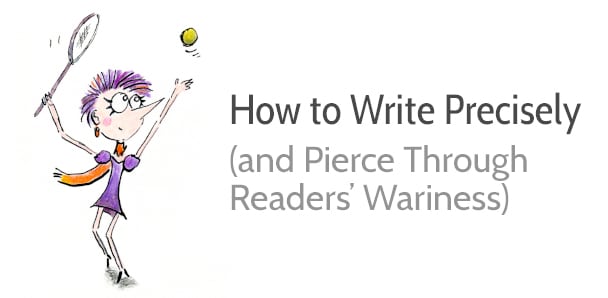 Don't take me wrong.
I hate long, rambling writing as much as you do. It bores the hell out of me. I'm impatient.
But I don't agree writing should always be brief.
Brevity can suck the spirit out of your writing. Writing that's too brief is soulless. It lacks the power to engage and inspire.
In contrast, precise writing is sharp, vivid and full of zest. Even if your text becomes longer, precision captivates readers.
Want to know how?
An example of piercingly precise writing
John McPhee is a Pulitzer-winning journalist. Here's how he starts his book "Levels of the Game" (for ease of online reading, I have cut his first paragraph into three):
Arthur Ashe, his feet apart, his knees slightly bent, lifts a tennis ball into the air. The toss is high and forward. If the ball were allowed to drop, it would, in Ashe's words, "make a parabola and drop to the grass three feet in front of the baseline." He has practiced tossing a tennis ball just so thousands of times. But he is going to hit this one.

His feet draw together. His body straightens and tilts forward far beyond the point of balance. He is falling. The force of gravity and a muscular momentum from legs to arm compound as he whips his racquet up and over the ball.

He weighs a hundred and fifty-five pounds; he is six feet tall, and right-handed. His build is barely full enough not to be describable as frail, but his coordination is so extraordinary that the ball comes off his racquet at furious speed. With a step forward that stops his fall, he moves to follow.
To be brief, McPhee could have written:
Arthur Ashe started the match on serve.
That's only 7 words—the actual first paragraph, as above, contains 165 words.
But note how the original version allows you to picture how Ashe stands, how he tosses the ball up and how he serves at a furious speed. You also get an initial impression of Ashes' physical powers: 155 pounds, 6 ft, relatively frail. You even learn that Ashe has practiced tossing tennis balls thousands of times.
Precise writing pulls readers into your story because vivid imagery allows them to experience the story. When you read McPhee's description you feel like you're on court, watching the match unfold.
But there's more to precise writing …
Precision also boosts your persuasiveness. It makes you credible as an expert.
From reading only one paragraph about one serve in a tennis match, you can deduce that McPhee knows a lot about tennis. He's observed the match closely, and he knows how to interpret what he sees. That suggests a deep understanding.
This doesn't just work in sports journalism. Sales copy benefits from preciseness, too. For instance, Apple could have written:
The iPhone XS screen shows images in a more natural tone
But they don't because that statement lacks precision and credibility. Their actual sales copy is more precise:
True Tone. A six-channel light sensor subtly adjusts the white balance on screen to match the colour temperature of the light around you. So images on the display look as natural as on a printed page and are easier on your eyes.
Apple also doesn't write this brief statement:
Your photos will show more low-light details.
The actual, more persuasive version is:
More low‑light detail. The camera sensor features deeper, larger pixels. Deeper to improve image fidelity. And larger to allow more light to hit the sensor. The result? Even better low-light photos.
When sales copy is too brief, it sounds hyped up—as if it's written by a marketer who doesn't really know what she's talking about.
Persuasive copy educates the reader, and the details in the copy boost the credibility of the seller.
Precise writing also heightens drama
Let's go back to that first paragraph of McPhee's book on tennis …
When you read it, could you feel the tension rising? Did you become curious whether the serve would go in or out? Could it even be an ace?
That tension is absent in the brief statement "Ashe starts on serve."
The impact of precise writing on drama is oft-misunderstood. This is what Lee Child, the inventor of Jack Reacher and a master in story pacing, says about it:
You should write the fast stuff slow and the slow stuff fast. I picked that up from TV. Think about how they shoot breaking waves – it's always in slow motion. Same thing. You can spend pages on pulling the trigger.

From: "Reacher Said Nothing: Lee Child and the Making of Make Me" by Andy Martin
I made that last sentence bold. Just like you can write pages about pulling a trigger, you can write a whole paragraph about one serve in a tennis match. And it's the precise, detailed writing that increases the drama.
But beware: random details bore readers, and make our writing needlessly long.
To captivate your readers with your story, the details need to be relevant. For instance, McPhee doesn't describe what Ashe is wearing. That doesn't matter for his story. What matters is how he plays his tennis.
As McPhee writes in his book "Draft No. 4:"
Another mantra, which I still write in chalk on the blackboard, is "A Thousand Details Add Up to One Impression." It's actually a quote from Cary Grant. Its implication is that few (if any) details are individually essential, while the details collectively are absolutely essential.
Writing concisely means eliminating redundant details and excess words. So, precise writing, when done well, is concise—the author has chosen carefully what details to include and what to leave out.
Each detail helps tell the story.
When to be precise in your writing
The book "The Levels of the Game" is 150 pages long, describing one tennis match between Arthur Ashe and Clark Graebner in 1968.
Of course, it's impossible to describe each stroke of the whole match with as much precision as in that first paragraph. A continuous flow of details would exhaust readers. A story needs to ebb and flow.
McPhee intertwines the story of the tennis match with profiles of the players. It's the Zoom-In-Zoom-Out technique: He zooms in on a specific exchange of strokes in the match, then zooms out to profile the players.
For instance, he interviews Graebner about Ashe's playing style:
I've never seen Ashe really discipline himself. He plays the game with the lackadaisical, haphazard mannerisms of a liberal.
The more I learned about the backstory—about how the players grew up, their family, their training, their characters, and the psychology of the game—the more fascinating the match becomes to me, as a reader. With eagerness, I'd read yet another description of an exchange of shots:
Graebner lifts the ball. Crunch. Right down the middle. Ashe swings away and hits a forehand return so hard that Graebner can't handle it. "He's going berserk," Graebner thinks, and the trouble Graebner is in is so deep that he thinks no further. Fifteen-forty. Set point.
How to engage and inspire with precise writing
Four simple rules exist on writing precisely without becoming long-winded:
Decide where you want to slow down the pace of your story by sketching a vivid scene
Use sensory details to make your descriptions more vivid
Where possible use numbers—they give an impression of factual knowledge
Avoid vague language and gobbledygook
But the truth goes deeper than the rules …
Precise writing is about your attitude and your expertise.
To be precise you need to observe carefully, dig deeper and gain a profound understanding.
It's this deeper understanding that makes precise writing so fascinating.
And it's what keeps readers craving more.
Books mentioned in this post:
The links below are Amazon affiliate links.