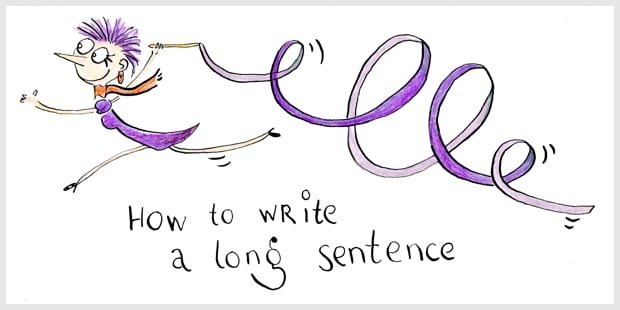 Long sentences?
Really?!?
Yes, long sentences can add poetic power and rhythm to your writing—as long as you know how to write a good one, without running out of breath.
Of course, shorter sentences are easier to gobble up for readers.
But that doesn't mean long sentences should be banned.
Readability research suggests long sentences are fine, as long as you mix them with shorter ones.
Trick #1: What's the idea?
Long sentences get a bad rap.
Because many writers abuse long sentences, cramming too many thoughts into each sentence, muddling up their message and leaving readers confused.
So, the main trick to composing a beautiful long sentence is to communicate only one idea with clarity.
A couple of weeks ago, I read There There by Tommy Orange. The New York Times named it as one of the 10 best novels of 2018. It's an ambitious novel about identity and about urban life of Native Americans.
Tommy Orange is a master of poetic sentences:
It's important that he dress like an Indian, dance like an Indian, even if it is an act, even if he feels like a fraud the whole time, because the only way to be Indian in this world is to look and act like an Indian.
The sentence above contains 46 words. Despite this high word count, it's easy to read because the sentence kicks off with the core of the sentence:
It's important that he dress like an Indian
Then, the sentence branches out towards the end, but always staying on topic.
Trick #2: How to start a beautiful long sentence
Each sentence has a core. This core gives readers a quick sense of who and what a sentence is about, such as:
The writer struggles
The girl screams
The train emerges
The sentence becomes difficult
To make a long sentence easy to read, put the whole core of your sentence at the start, or close to the start.
Note how this sentence is difficult to read because the core is broken up:
A long sentence, in which the writer delays the core to the middle of the sentence or in which the core is broken up so readers have to remember how the sentence started, is more difficult to read.
This version highlights the core:
A long sentence, in which the writer delays the core to the middle of the sentence or in which the core is broken up so readers have to remember how the sentence started, is more difficult to read.
And here's the easier variant with the whole core at the start:
A long sentence becomes difficult to read when you delay the core until the middle of the sentence or when you break up the core. A broken core forces readers to remember how the sentence started, making it hard to figure out the structure.
Putting the core at the front is a simple trick to help readers devour long sentences without running out of breath.
There is poetry in long sentences
Like a poem, a long sentence takes readers on a tiny journey, describing one thought, one feeling, one evocative scene.
You'll appreciate a long sentence more when you read it aloud, savoring its rhythm. Here's another example from There There—I've written it as a verse:
The train emerges,
rises out of the underground tube
in the Fruitvale district,
over by that Burger King
and the terrible pho place,
where East Twelfth and International almost merge,
where the graffitied apartment walls
and abandoned houses, warehouses,
and auto body shops appear,
loom in the train window,
stubbornly resist like deadweight
all of Oakland's new development.
The sentence above describes one scene: how a train emerges in a rough, impoverished city district. The summing up of the graffitied apartment walls, abandoned houses, warehouses, and auto body shops gives you a feel of the overcrowded city life.
Note how the sentence starts with its core (the train emerges), then meanders through the rough buildings, and ends with a bang: stubbornly resist like deadweight all of Oakland's new development.
Just like poetry, the start and the end lines of a long sentence are the most important. Here's an even better example, showing the chaos and power of memories:
We are the memories
we don't remember,
which live in us,
which we feel,
which make us sing
and dance
and pray the way we do,
feelings from memories
that flare and bloom
unexpectedly in our lives
like blood through a blanket
from a wound made by a bullet
fired by a man shooting us
in the back for our hair,
for our heads,
for a bounty,
or just to get rid of us.
Badly written long sentences drag on, but beautiful long sentences have energy, propelling readers from the start towards the end. As a reader, you feel a sense of anticipation wanting to know what comes next.
Tools like the Hemingway app encourage users to chop up long sentences
But an app doesn't hear the rhythm of a sentence, like humans do.
And an app doesn't understand the intense emotion of a long sentence. It doesn't understand how a long sentence spurs readers on towards the last word, and then on to the next sentence.
Of course, there's a difference between being engrossed in a novel, like There There, and reading online.
Online readers are often in a hurry, and they're easily distracted. So, choose where to place long sentences carefully. Especially at the start of a blog post, keep your sentences short.
Once you've captivated readers, experiment with a couple of longer sentences. Read aloud to hear the rhythm and pay attention to how the sentence looks on screen—large blocks of texts can put readers off. So, don't overdo it.
You're the writer, you're in charge
Don't write a long sentence to show off your grasp of grammar.
Don't write a long sentence to impress your readers.
Instead, write a long sentence to express an idea with power and rhythm.
Be enchanting.
A long sentence (…) can put the reader on edge a little, so long as this does not feel like its main point, so long as it feels as if the sentence has no ulterior motive other than the giving of its own life-delighting self. This is what readability scores will never tell you. They deal only with reading ease, not the knottier, exacting pleasures of expectancy and surprise, the teasing way that long sentences suspend the moment of closure.
~ Joe Moran
PS For fans: More examples of long sentences
From Deacon King Kong by James McBride:
He landed on his back on the concrete, coughed a few times, then rolled onto his stomach and began choking, desperately trying to rise to his hands and knees as the stunned boys around him scattered and the plaza collapsed into chaos, flyers dropping to the ground, mothers pushing baby carriages at a sprint, a man in a wheelchair spinning past, people running with shopping carts and dropping their grocery bags in panic, a mob of pedestrians fleeing in terror through the fluttering flyers that seemed to be everywhere.
And:
You lived a life of disappointment and suffering, of too-hot summers and too-cold winters, surviving in apartments with crummy stoves that didn't work and windows that didn't open and toilets that didn't flush and lead paint that flecked off the walls and poisoned your children, living in awful, dreary apartments built to house Italians who came to America to work the docks, which had emptied of boats, ships, tankers, dreams, money, and opportunity the moment the colored and the Latinos arrived.
From 10 Minutes 38 Seconds in this Strange World by Elif Shafak:
Young women in miniskirts walked arm in arm; drivers catcalled out of car windows; apprentices from coffeehouses scurried back and forth, carrying tea trays loaded with small glasses; tourists bent under the weight of their backpacks gazed around as if newly awake; shoe-shine boys rattled their brushes against their brass boxes, decorated with photos of actresses – modest ones on the front, nudes on the back.
By Nick Cave, from The Red Hand Files #3:
But still you write, because over the years you have learned—midst the nonsensical hieroglyphics you compulsively scrawl in your notebooks, the dumb single lines that stare contemptuously back at you, the song titles that excite you then lose their magic the next time you look at them, the half-baked and derivative ideas, the stolen lines, the Freudian doodles, the desperate over-egged metaphors and lunatic, pencil-snapping, last-ditch attempts at something, my God, anything—you have learned to hold fast and trust.
Books mentioned in this post:
The links below are Amazon affiliate links.