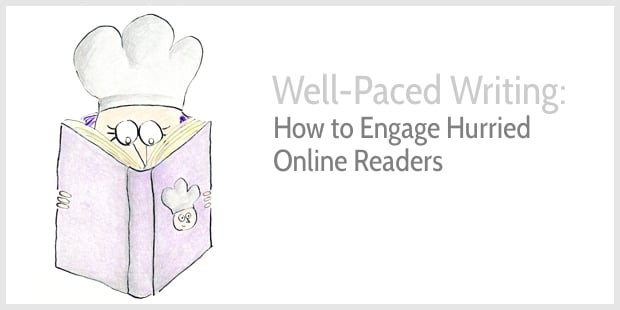 Henry sighs.
He's reading back a draft blog post.
And he's finding it hard to understand what's wrong.
Why does his writing seem to drag on? Why does it feel so impersonal?
Polishing his writing style feels tricky.
Where should he start?
I recently came across a handy tip—a good starting point for adding pace, authority, and intimacy to your writing.
Sound good?
Let me explain …
In whose shoes are readers walking?
Readers walk in someone else's shoes to experience a story.
For instance, if a text uses the first point of view, they're experiencing the story as if walking in the shoes of the writer:
At 3 AM, I'm tossing and turning.

I try to push A.'s hurtful message out of my mind, so I can fall asleep again.

But it doesn't work. My body tenses up, and I'm getting fed up with myself.

Why can't I let go?
Stories often use the third point of view, allowing readers to get to know a person who is not the narrator of the story:
Uh oh.

Hannah feels stuck.

She has picked a good topic for her next blog post. She's sure her readers will find it helpful.

But she's soooo afraid her post will be boring that she can't start writing.
And here's the most interesting thing writers …
You can switch the point of view, and that switching adds pace to your writing and helps engage even hurried readers in the 21st century.
How to switch the point of view
As Chuck Palahniuk suggests in his book Consider This: Moments in My Writing Life after Which Everything Was Different, switching the point of view makes your voice more natural.
In conversation, we switch the point of view all the time:
First point of view: I've written this blog post.
Second point of view: Have you written a new blog post lately?
Third point of view: Henrietta feels stuck and hasn't updated her blog for several weeks.
Using all three points of view in fiction can be tricky. You can only do it if you tell the story in the first person. And as James N. Frey suggests in his book How to Write a Damn Good Novel, the third-person viewpoint is most common for most genres. Frey writes, "It's what readers expect and what editors want."
But blog writing is different.
Switching between the 3 points of views is easy in a blog—like in any non-fiction writing. And switching viewpoints adds pace, intimacy and authority.
Here's how …
The third point of view
Palahniuk suggests that switching to the third person adds pace to writing.
Here's the beginning of a story Palahniuk includes in his book:
To snag a Stephen King event, Kim said she'd had to agree to his standard terms. She'd had to hire bodyguards and find a venue that would hold five thousand people. Each person could bring three items to have autographed by Mr. King. The event would last some eight hours, and someone would have to stand beside the signing table and hold an ice pack to the author's shoulder for the duration. The day arrived, and Kim held the ice pack to the shoulder in question. The venue, Town Hall, a deconsecrated church on Capitol Hill, has a jaw-dropping view of downtown Seattle. It was filled with the five thousand mostly young people, all ready to wait hours for their three signatures.
Are you experiencing the story through Kim's eyes? Can you imagine standing there holding an ice pack to King's shoulder as he signs fifteen thousand (15,000!!!!) books?
Switching to different people, different stories, different view points instantly adds pace to your writing. Just keep your stories short so readers stay hungry for the next story.
You can even switch to the third person for a couple of sentences only—like this snippet from my post about David Ogilvy's most famous advert:
Ogilvy did not write that headline. When he won the Rolls-Royce account, Ogilvy spent 3 weeks reading about the car, and the headline is a quote from the Technical Editor of The Motor magazine.
And:
Before Ogilvy became an advertising man, he worked as a salesman for a British cooker company. He wrote a manual on selling cookers for his colleagues, and a large part of that manual is devoted to overcoming people's objections to buying his cooker. In advertising, he takes a similar approach.
So, to add pace and interest to your writing, include miniature stories in the third point of view.
Which miniature stories can you share?
The first point of view adds authority
As a reader, I feel Palahniuk's presence in his book because he shares personal experiences. That's how I get to know him a little.
Here's how his book Consider This: Moments in My Writing Life after Which Everything Was Different starts:
For most of my life I haven't balanced my checkbook. The result was too depressing, to find out how little money I'd saved. What little the years of my life had amounted to. So long as my checks cleared, I'd no interest in figuring down to the penny how poor I always was. For the same reason, I've put off writing a book on writing. I didn't want to be faced with how little I could offer on the subject. How stupid I remained after all this time and practice.
By telling stories in the first person, the author becomes part of the conversation. Readers feel like they get to know the author. That's how you build authority.
I try to include a couple of first-person sentences in every blog post I write. For instance, in my post with sentence examples, I gave my personal reasons for including a specific sentence:
I felt like I couldn't write a post about my favorite sentences without including Raymond Chandler. Chandler is not one of my favorite writers, not by a long stretch. But I do admire his writing style, and how he uses surprising imagery. I like his sentences better than his books.
When there's no first point of view, readers may feel like an author is hiding. So, try to include a few first-person sentences in each blog post.
Which personal experiences or opinions can you share?
The second point of view adds intimacy
Addressing your reader with the word you instantly makes your writing feel more intimate as you're inviting the reader to join the conversation.
A monologue turns into a dialogue.
Palahniuk addresses his readers at the end of a chapter:
If you were my student, I'd tell you to shift as needed between the three POVs. Not constantly, but as appropriate to control authority, intimacy, and pace.
I like using questions to address readers. Sometimes, I open a blog post with a question:
Do you ever wonder whether writing is easier for others?
Or at the end of a section, I remind readers to apply a tip to their own writing:
When editing your post, look for opportunities to address your reader with a quick question.
We often think of our readers as a group of people. But each reader reads on his or her own. So, write as if you're addressing just one reader. How can you pull that reader into your conversation? Can you ask them a question or give an instruction?
Online readers are impatient
As a writer, switching the point of view gives you a better chance of keeping the attention of such impatient readers.
So, when you next edit a blog post, check whether you've used all 3 points of view:
Can you add a personal comment or personal story so you're present in the conversation?
Can you add a miniature story about someone else to add pace?
Can you address your reader with a you-question or instruction so readers feel part of the conversation, too?
We're used to switching the point of view in conversation.
So, following the same principle will make your writing feel more natural, too.
Happy writing, my friend.