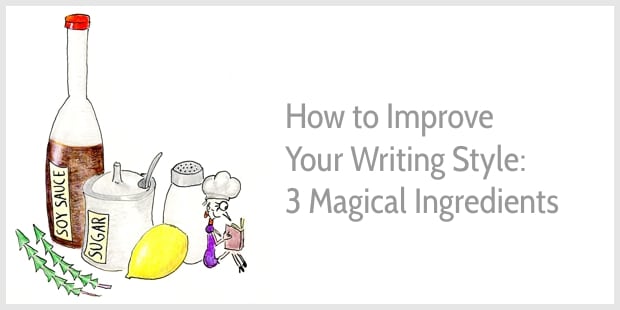 Have you heard of umami?
It's the 5th taste.
But umami is more difficult to define than sourness, sweetness, bitterness, and saltiness. It is often translated as a savory taste; and soy sauce, steak, mushrooms, broth, and even some cheese all have umami.
I used to think it was a weird idea. How can mushrooms be similar in taste as a sizzling steak?
But once you learn to detect umami, you start to appreciate its tantalizing power.
A good writing style has umami, too
But what is it?
Writing coaches often tell us to read more to improve our writing. But it's a rather vague suggestion. What do you look for when you read? How can you taste and learn to appreciate different writing styles?
I recently read a few of Raymond Chandler's books. Chandler is known as a great stylist but I was surprised I didn't really connect with his stories—they seemed a little slow. Or perhaps I was too distracted? Despite that, I still appreciated his writing style.
Would you like to know what makes his style such a pleasure to read?
Want to make your own writing—even business writing—more enjoyable for readers, too?
1. Write with meaning
Chandler's The Long Goodbye starts with an intriguing image:
The first time I laid eyes on Terry Lennox he was drunk in a Rolls-Royce Silver Wraith outside the terrace of The Dancers.
That one sentence not only sketches a clear picture of a drunk person in a Rolls-Royce outside a nightclub, it also makes us want to read on. Who is this person? Why is he drunk in such an expensive car? What's the connection with the narrator? And what happens at the second time he sees Lennox?
Business writing is full of meaningless drab, and opening sentences often are yawn-inducing because they're so obvious. Imagine this as an opening for a post about a Google algorithm change:
SEO experts love to talk about Google ranking factors.
(Oh realllllly? What a surprise! But seriously, isn't that their job?)
And websites are full of gobbledygook headlines, such as:
Business Solution Providers

We have worked with small businesses like yours for 30 years to hone our solutions and meet your needs.
(Uhm … soooooo … what exactly do you do?)
Good writing is meaningful and it sketches clear imagery. Like this from Chandler's The Big Sleep:
She slammed her glass down so hard that it slopped over on an ivory cushion. She swung her legs to the floor and stood up with her eyes sparking fire and her nostrils wide. Her mouth was open and her bright teeth glared at me. Her knuckles were white.
And please don't tell me business writers can't do this. Our topics may be different but we can also sketch vivid imagery, like Apple does here (text bolded by me):
We put the brains of iPhone 11 Pro in the body of iPhone SE. A13 Bionic is the fastest chip in a smartphone. So everything feels fluid, whether you're launching apps, playing the latest games, or exploring new ways to work and play with augmented reality.
Whether you're writing fiction, a memoir, or a business book or blog post, a good writing style starts with meaningful writing and vivid imagery.
2. Write with rhythm
Writing can hop, skip, and dance.
Or it can stutter and stumble.
Writing can flow softly like the ripples in a lake dappled with sunshine, or writing can speed ahead like the rapids in a river, roaring, rolling, splashing, foaming, crushing, and thundering breathlessly, seemingly for ever without pause.
Punctuation, a variation in sentence length, and sound or word repetition all contribute to the rhythm in writing. For instance, this paragraph in Chandler's The Long Goodbye describes a sluggish, lazy morning with long sentences:
It was the kind of morning that seems to go on for ever. I was flat and tired and dull and the passing minutes seemed to fall into a void, with a soft whirring sound, like spent rockets. Birds chirped in the shrubbery outside and the cars went up and down Laurel Canyon Boulevard endlessly. Usually I wouldn't even hear them. But I was brooding and irritable and mean and over-sensitive. I decided to kill the hangover.
After the long, languid sentences, Chandler changes the pace. The last sentence (I decided to kill the hangover) is shorter to convey a sense of decisive action.
Chandler also creates rhythm by repeating the word and multiple times in one sentence. Did you notice that in the example above? Here's one more example from The Big Sleep:
She laughed suddenly and sharply and went half-way through the door, then turned her head to say coolly: 'You're as cold-blooded a beast as I ever met, Marlowe. Or can I call you Phil?'
A high-school teacher might tell us off for using the word and so often. But Chandler doesn't care about his high-school teacher. He cares about rhythm; he listens to the drum beat of his writing.
3. Play with words
Good stylists are word watchers, collectors, and hoarders.
They care about the words in their sentences and choose their words with piercing precision. Here's how Chandler describes high pile carpet in Farewell, My Lovely:
The carpet almost tickled my ankles.
And this is how he describes a stuffy office in The Big Sleep:
His office had the musty smell of years of routine.
When you read Chandler's writing, you sense he's having fun choosing his words and creating vivid, sometimes crazy similes. This is from Farewell, My Lovely:
Even on Central Avenue, not the quietest dressed street in the world, he looked about as inconspicuous as a tarantula on a slice of angel food.
And from The Long Good-bye:
He was a guy who talked with commas, like a heavy novel.
And:
An hour crawled by like a sick cockroach.
Good writers love words, and you can sense that in their writing. While they choose their words with care and precision, they also nurture a playfulness. It's this playfulness and their love of language that help shape their writing style.
How to improve your writing style
I occasionally get told off for sharing examples from memoirs and fiction writing.
Shouldn't a blog about business writing use only business examples?
But fiction writers are the master stylists.
Of course, some business writers are excellent stylists, too. I've often sung the praises of my favorites Chip and Dan Heath, of Apple's copywriters, and several more.
But to improve your style, look at a wider circle of input. Find the writers that enchant you, and note the meaning and imagery in their writing. Read their books aloud to appreciate their rhythm, and nurture your own love of words.
Find your own favorite writers, and learn from them. That's how you fine-tune your style and find your own voice.
Add umami to your writing
Umami comes from the Japanese word umai—deliciousness.
Kazu Katoh, a Japanese chef, said about umami: "It's something that's kind to the body. (…) It's about feeling good after eating."
Isn't that what we strive for as writers, too?
To write something not just nutritious but also delicious to read … something that lingers in our readers' minds—like the taste of a mature cheese or a mushroom risotto or a stir-fried beef with ginger, broccoli, and fish sauce.
Happy writing, my friend.