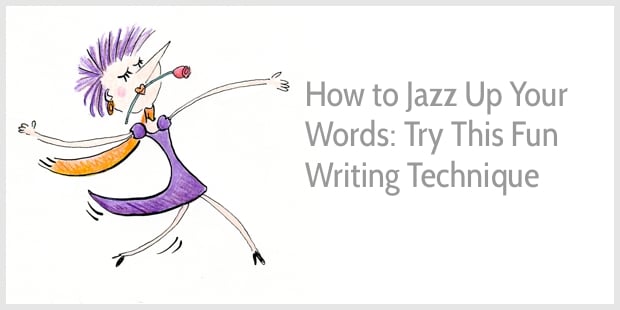 Sigh.
Harvey is reading his draft blog post.
He knows his tips are useful but why is his writing as dull as dishwater?
He tried so hard.
He varied the rhythm of his sentences to make readers feel like they're tangoing through his words. He sprinkled a few power words to make a stronger impression, just like upping the volume of the music to create a better atmosphere on the dance floor.
But his writing is not quite buzzing yet …
Suddenly, Harvey remembers what his writing teacher used to say:
"Metaphors and similes are the spices of writing, adding color and personality to your words."
Ha, thinks Harvey, to stay with the dancing metaphor, metaphoric writing is like being the most flamboyant dancer on the floor—the dancer who attracts all attention with his glittery suit, his swinging hips, and his natural smile.
Want to know more?
Examples of similes
Recently, I reread The Bell Jar by Sylvia Plath. I had forgotten how vivid her writing is, especially in the beginning of the book.
With just a few details, she's able to set a scene or characterize a person. For instance:
This poet ate his salad with his fingers, leaf by leaf, while talking to me about the antithesis of nature and art. I couldn't take my eyes off the pale, stubby white fingers travelling back and forth from the poet's salad bowl to the poet's mouth with one dripping lettuce leaf after another.
Plath uses a lot of imagery (leaf by leaf; pale, stubby white fingers; travelling back and forth from bowl to mouth; dripping lettuce leaf) to help us imagine the scene.
Similes can provide a shortcut to painting such vivid imagery:
His arms chopped the air like khaki windmills.
Similes compare two different things (such as the movement of arms and windmills) by using like or as. The only difference with metaphors is that metaphors make comparisons without using like or as. Here's another simile example from Plath:
I slid into the self-service elevator and pushed the button for my floor. The doors folded shut like a noiseless accordion.
Similes not only add vividness, they can also help illustrate emotions with concrete imagery. In the following example, Plath illustrates how the narrator of the story feels disconnected from the vibrant city life:
The silence depressed me. It wasn't the silence of silence. It was my own silence.

I knew perfectly well the cars were making a noise, and the people in them and behind the lit windows of the buildings were making a noise, and the river was making a noise, but I couldn't hear a thing. The city hung in my window, flat as a poster, glittering and blinking, but it might just as well not have been there at all, for all the good it did me.
I used to think we have to be careful not to use too many similes or metaphors as we may confuse our readers with a roller coaster of imagery. But Plath makes me re-think this. In parts of her book, she uses similes almost every other paragraph, and she stuffs three (3!!!) similes in one sentence to describe the narrator's feelings of inadequacy:
I felt like a racehorse in a world without race-tracks or a champion college footballer suddenly confronted by Wall Street and a business suit, his days of glory shrunk to a little gold cup on his mantel with a date engraved on it like the date on a tombstone.
Confusing readers with a roller coaster of imagery is still a risk, so if you're in doubt, I'd turn the volume down rather than up, and delete a simile rather than add more.
Similes don't always need to be original
Similes can be used in any type of writing, whether you're a business blogger, a newspaper columnist, or a crime writer.
Raymond Chandler is another master of similes. He uses a wide variety in his books. Sometimes, his similes are simple and short, almost cliché. This is from his book The Long Good-Bye:
Bald as an egg
And:
(…) dead as a Pharaoh
Other similes are more unusual and vivid:
his eyes were like holes poked in a snow bank
And:
'Alcohol is like love,' he said. 'The first kiss is magic, the second is intimate, the third is routine. After that you take the girl's clothes off.'
Using similes or metaphors carries some risk because we don't always know how our readers will react. Jack Hart warns us in his book A Writer's Coach, that similes "fall flat as often as they surprise and delight."
But does it matter when a simile occasionally falls flat?
Probably not. So, don't be afraid, and experiment with similes or metaphors because they add a splash of color to your words.
Similes help shape your voice
Grace Dent is a columnist and restaurant critic. She also uses similes in her writing, often to comic effect.
She describes her mother during lockdown:
My mother, in her 80s, is being guarded like a rare Fabergé egg, albeit a furious egg that finds this enforcement ridiculous.
How could a precious Faberge egg be furious? By making her similes slightly ridiculous, Dent adds a touch of fun to her writing.
Dent, who's vegan, describes a Zoom chat with her meat-eating boyfriend:
On last night's Zoom chat, an anniversary, he was sitting in his pants after work, eating some godforsaken cut of an animal he'd found in his freezer, drinking a beer and listening to the awful, trumpet-heavy jazz that he likes and that I loathe because it makes me feel as if I'm being chased by bees.
The cascade of contrasting imagery—the Zoom chat, the cut of animal, the trumpet-heavy jazz, and then the chasing bees—make the writing fun.
As Plath, Chandler, and Dent show us, it's good to experiment and play with similes. It'll help you find your voice.
Similes vs metaphors: What's best?
Unlike similes, metaphors compare two things without using like or as. Here's an example of a metaphor from Dent:
Each time I try to amend the grocery order, the website falls over, punch-drunk and exhausted. For a few terrifying minutes, it flounders. Then it stands up again and refreshes.
Dent compares the website's behavior with a punch-drunk boxer without making the direct comparison using like or as. That's why it's a metaphor rather than a simile. But the difference doesn't matter a lot. She could have used a simile instead:
Each time I try to amend the grocery order, the website behaves like a punch-drunk boxer, falling over and floundering for a few minutes, before refreshing itself.
Generally, a metaphor sounds stronger than a simile. So, if possible skip like or as but don't worry too much about it. Instead, have fun coming up with your own vivid imagery.
Your writing is like a dance with your reader
So, put on your dancing shoes.
Switch on the music, hold a rose between your teeth, and make your hips writing swing.
See you on the dance floor, my friend.

More simile examples
The following simile is from Elif Shafak's book The Island of Missing Trees:
Just as hope could spring from the depths of despair, or peace germinate among the ruins of war, a tree could grow out of disease and decay.
And she writes about the capital of Cyprus, split between a Turkish and Greek side:
The capital was split by a partition which sliced right through it like a slash to the heart.
Books mentioned in this post:
The links below are Amazon affiliate links. If possible, please support your local bookstore.