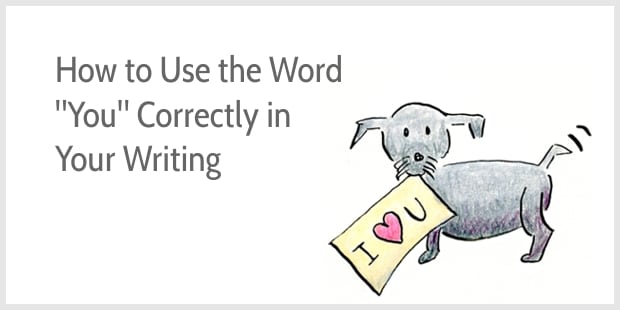 Writing is so weird, thinks Hannah.
She'd like to engage her readers.
But her writing feels stilted … as if she's talking into a vast empty space.
Hannah's readers feel distanced and blurry to her. What's their reaction to her writing? Do they feel inspired? Or confused? Do they feel empowered? Or belittled?
Hannah struggles to connect.
How can she feel closer to her readers?
The word you is often promoted as a power word …
A magic word that makes all writing better, more engaging, more powerful, more persuasive.
D Bnonn Tennant even argued that you is hypnotic because it's a placeholder for your name.
But is the word you really so magical?
As far as I know there isn't any proof that the word you is hypnotic, and Gregory Ciotti argues that using people's name is actually far more powerful than using the word you.
We also know from A/B tests that button copy like Get my free report often outperforms Get your free report (e.g., this test by Michael Aagaard). So, for button copy, the first person (me or my) is more powerful than the second person (you or your).
So, when do you use you, and when do you skip it?
Use the second person ("you") to engage from the start
In blog posts, the word you can help strike a conversational tone so you don't sound like a lecturer nor like a pushy salesman.
Here's an example opening paragraph of a blog post about word repetition:
Remember the red pen of your high school teacher?

Whenever you repeated a word in a sentence, there it was: the angry red mark. Ouch.

Over time, like most writers, you probably learned to avoid word repetition, and you diligently replaced duplicated words with synonyms or pronouns.

But did you know word repetition can add rhythm to your writing? That it can strengthen your message, and make it more memorable? And that repetition can shape your voice?
I'm a fan of the word you. It turns a monologue into a dialogue, and that's how I'd like my writing to be.
But like with everything in writing, no strict rule exists. For instance, the opening of this blog post you're reading right now uses the third person (she, her) to describe Hannah's predicament of struggling to connect with her readers.
The main rule is this:
As long as readers recognize the problem you sketch in your opening, they'll feel like you're addressing them.
That's more important than whether you use the first, second, or third person in your writing.
When not to use the third person ("they")
Sales copy becomes stilted when we refer to our readers, prospects, and clients using the word they.
For instance, compare these two options:
At the start of each project, I interview clients so I can write copy in their voice.
And:
At the start of our project, I'll interview you so I can write copy in your voice.
The latter version using you feels more personal, right? You can start picturing yourself as the client.
In sales copy, the word you is also useful because it forces us to translate features into benefits.
For instance, these are 3 things you'll learn in my Enchanting Headline Writing course:
6 tricks to write "How to's" with flair so you can captivate more readers
3 Golden Rules to help you adopt the right mindset to engage your audience
5 ways to get unstuck and reignite your creativity
But the word you doesn't need to be limited to bullet points. A sales page is a conversation with readers, too, and you can use the word you to engage your readers throughout your copy—like here at the start of the sales page for the Enchanting Copywriting course:
Do you ever find yourself staring at a blank sheet?

Struggling to find the right words to sell without feeling sleazy?

You're not alone.
The word you addresses a reader directly, making them feel understood. And when readers feel you understand their problems, they're more likely to believe you can help solve that problem, too.
That's why a good copywriter understands what's going on in their readers' minds.
But the word "you" isn't always better
The word you can stress your readers' shortcomings too strongly, and make them feel inept and insecure.
That's not the kind of feeling to instill.
So, sometimes, the inclusive we is a better alternative to you.
The inclusive we indicates that the writer and her readers are in it together. For instance, the copy for the Enchanting Copywriting course switches to we to indicate it's okay if you find writing persuasively hard:
Persuasive writing is probably one of the most precious skills anyone in business can possess.

But at school, we've not learned the art of persuasion. We've not learned how to write compelling content. We've not learned how to sell without feeling pushy.

And that's exactly what this course helps you to do—you learn how to engage and attract your ideal customers, and how to win more business.
As writers, we don't want our readers to feel silly. We don't want to make them feel like they're the only ones getting it wrong. That's when switching to the first person plural (we, us, our) can be useful. It tells each reader: We're all human. We all make mistakes. We're all flawed. Don't feel alone.
"We" vs "you": A style choice
I use the word you a lot because it makes me feel closer to each reader, and it makes my writing feel more like a personal conversation. That's how I like my writing to be. It's my choice of writing style.
The School of Life makes another choice. Their writers consistently use the inclusive we in their blog posts rather than the word you. Their writing tone is warm and compassionate but still a little distanced. As readers, we never get to know the author—there is no I in the writing.
This is from a post on how to go to bed earlier :
There's a pattern that goes like this: it's late, given when we've got to wake in the morning, but instead of going to bed, we stay up. The next day, of course, we feel sluggish and weary and we promise ourselves an early night. Then it happens again: it's already midnight and we've got a normal start the next day but we don't turn in.
And:
It's one of the weirdest features of being human: a completely clear sense that how we're behaving is bad and counter-productive doesn't get us to stop. Harsh criticism is the utterly entrenched human tactic for getting people to change—just as self-condemnation is our instinctive strategy for self-improvement—yet it doesn't actually work. It induces panic, shame and despair but doesn't bring about the desired alteration.
But what if not all readers feel the same? The School of Life writers sometimes refer to most of us or a few of us—like in this post about coping with one's parents:
A few lucky ones among us get on easily with their parents, but for most of us, mothers and fathers are the source of continually complicated and emotionally-draining trials.
So, you can use the first person plural (we, us, our) or the second person singular (you, your) to address your readers.
Both options work. The first person plural (we, us, our) makes us feel like we're all in it together but the author can remain hidden.
The most conversational option is using you (and I).
But both options work to create an engaging tone, and it's okay to switch from the one to the other.
The key to connecting with your readers
The choice of pronoun influences the tone of your writing.
But the real key to engaging your readers is sneaking into their minds.
What are they struggling with? How does that struggle make them feel? What questions are bothering them? What goals do they want to achieve?
When editing a draft, step into the shoes of one reader, and try to imagine how your writing sounds to him or her.
Don't think about your readers as a crowd.
Instead, think of just one reader.
And edit your writing to engage, empower, persuade, or inspire her.