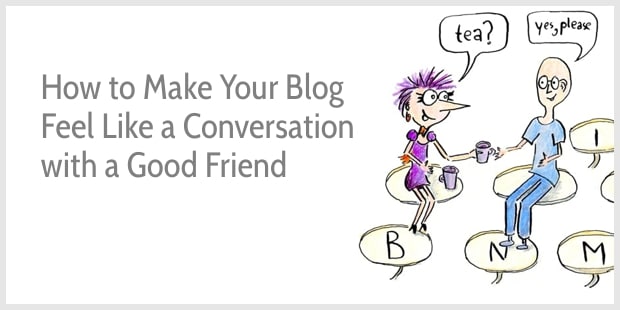 "I'd like to reach through the screen, shove the clutter aside, and wipe a tear from my reader's eye," P. wrote to me.
Do you ever feel like that, too?
In recent weeks, I started a blog post about how you can write for SEO without killing your creativity. I even drew a diagram already. I was quite proud of it.
But somehow, my rebellious brain resisted. I wanted to write something different. Something warmer, and kinder.
I promise to finish and publish that post another time if you think it'd be useful. (Yes?)
But today, I'd also like to shove the clutter aside, and I'd like to show you how to reach through the screen …
A conversation with a compassionate, wise friend
In September 2018, singer and songwriter Nick Cave started his blog The Red Hand Files to answer questions from fans:
When I started the Files I had a small idea that people were in need of more thoughtful discourse. I felt a similar need. I felt that social media was by its nature undermining both nuance and connectivity. I thought that, for my fans at least, The Red Hand Files could go some way to remedy that.
Within two years, Nick Cave has received over 30,000 questions from his fans, and he's written more than 200 answers. Some questions are more typical fan questions such as what are his favorite books, songs, musicians, or poems.
But other questions are deeply philosophical, like when Pablo asks, What is love for you? This is a part of Cave's answer:
Love has something to do with the notion of being seen—the opposite of invisibility. (…) To truly see someone—anyone—is an act that acknowledges and forgives our common and imperfect humanity. Love enacts a kind of vigilant perception—whether it is to a partner, a child, a co-worker, a neighbour, a fellow citizen, or any other person one may encounter in this life. Love says softly—I see you. I recognise you. You are human, as am I.
This is very much how Cave's writing feels. He tells his readers: I hear you. I see you.
His writing isn't a monologue. It feels like he's here with us, listening to us and sharing his wisdom. No matter how many people are reading his content, it feels like he's having a conversation as one human being with one other human being.
Making a true connection
Cave's answers don't sound like the average self-help book. His answers are based on his own lived experience. For instance, Marko asks what to do when the lyrics aren't coming:
In my experience, lyrics are almost always seemingly just not coming. This is the tearful ground zero of song writing—at least for some of us. This lack of motion, this sense of suspended powerlessness, can feel extraordinarily desperate for a songwriter. But the thing you must hold on to through these difficult periods, as hard as it may be, is this—when something's not coming, it's coming. It took me many years to learn this, and to this day I have trouble remembering it.

The idea of lyrics 'not coming' is basically a category error. What we are talking about is not a period of 'not coming' but a period of 'not arriving'.
As an accomplished songwriter, it's no surprise that Cave knows how to write well. He chooses his words carefully, he writes concisely, he uses visual language, and of course his writing has rhythm.
But there's a rawness to his writing, too. He polishes his words but not his life. He writes about being creatively blocked, dealing with his inner critic, about despair and grieving for his son.
Cave shows up with his flaws, and I like how he suggests sharing his vulnerabilities online has made him stronger:
The Red Hand Files have played a significant part in this feeling of resilience to the capricious and indifferent nature of the world, they have made me stronger. Each answer I write seems to be an act of surrender, but at the same time a kind of armouring up—vulnerability as a form of protection.
Showing our vulnerability makes us real and less afraid, and it's at the heart of real human connections and friendship. Instead of polishing our rough edges, we can share our struggles and even celebrate being imperfect.
That's how we connect. It's how we feel seen and let others feel seen.
Care for your readers
What I also like about Cave is that he seems truly grateful to his readers. He even apologizes when he has taken a long time to answer Liii who asks, How long will I be alone:
I am sorry I have taken so long to answer this question. You sent it to The Red Hand Files almost nine months ago and I have carried it with me all this time, wanting to answer, but never quite knowing how. I think this little question has stayed with me, not just because of the lovely beat of pathos in it, but also because of its extraordinary existential reach. It seemed that it spoke to all of us, yet it felt simply beyond me to answer.
No matter how tough the question is, Cave always finds a spark of hope. Here's how he finishes his letter to Liii on being alone:
As I sat on the plane travelling to Reykjavik for the last show of my 'In Conversation' tour, I felt suddenly that there was something I could say to you. Having spent much time travelling on this tour alone, it struck me that your question didn't have to be answered, but simply acknowledged; that to reach out to you, as you reached out to me, could in itself be the answer and, perhaps, a remedy—to say to you, you are not alone, we are here, and that we, a multitude, are thinking of you.
The Red Hand Files covers a wide range of topics, and you probably write about different matters. But no matter what we write about, we can all learn from Cave on how to show up for our readers.
3 Lessons for content marketers
1. To write like a human, write as if writing to one real person
Cave addresses his fans at the start of each answer with Dear Pablo or Dear Tim, and he ends all his letters with a variation of Love, Nick. As a reader, even if you've not raised the question, even if your name is not at the top of the letter, it still feels like the letter is written for you, too.
This is the magic of writing about a common human problem to one person. You do not have to write Dear so-and-so at the top of each article, but do write as if you're having a conversation with only one reader. Brew a cup of tea, and invite your reader for a chat.
2. To make genuine connections, be whole-hearted
Wholehearted human beings show up as they are, imperfectly.
Even if you write about less philosophical and less emotional topics, you can find ways to show up in your writing and be yourself. Don't be afraid to show your vulnerabilities, to share your stories. Nobody is perfect, and our vulnerabilities allow us to connect.
3. Care deeply
Cave cares about his fans and it shows in his writing. He takes time to compose and edit his answers. His words express his wisdom clearly, vividly, and succinctly. That's not a rush job.
When Brett asks how long it takes him to answer questions, Cave replies: It takes fucking ages. It shows.
There is no shortcut to caring for your readers. If you care, you put the quality of your writing above quantity, and you put meaningful connections above optimizing productivity.
How to engage readers in an intimate conversation
As small businesses, freelancers, and solopreneurs, it can sometimes feel like we're drowned out by all the online noise.
We are not able to produce the amount of content that big marketing teams can.
But we have a big advantage.
Like Nick Cave, we can be more human in our writing. We can connect truly with our readers. We can share our wisdom, our stories, our real-life lessons.
We can make the online world more real.
And perhaps we can all spread a little kindness, too.

The Enchanting Blog Writing course (rated 4.9 out of 5.0) teaches you how to captivate, educate, and inspire your readers.

"I write for the charitable sector, and now when I sign off on an article it feels completely different. I am confident that I have written something helpful for my reader in a way that will engage them from start to the finish. The process of writing is easier, and I'm really enjoying it."
~ Jennifer Chapman