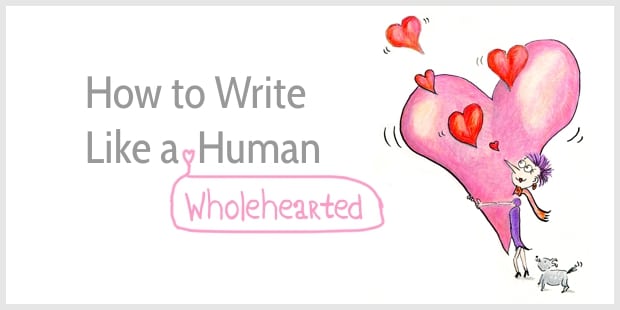 H. is sitting at her desk, staring at her laptop.
For the umpteenth day, she's been reading advice on writing and content marketing.
She desperately wants to start a blog but she feels stuck, overwhelmed, and anxious.
Everyone seems to know what they're doing. Share amazing tips. Build a brand. Grow an audience. Be social on social media.
But what do you do when you start at zero?
Is there anyone out there who understands her? Someone who can reach out through the screen, and tell her it'll be alright? Someone who's human?
Online, we're often watching people's shiny show reel
I get tired of people's perfect pictures. I notice how "experts" make readers feel stupid because of their mistakes. I might have done it in the past myself, just to hide my own insecurity.
And that's before we get to the haters and the trolls.
Sometimes, I want to run away and become an old-fashioned hermit.
Fortunately, there are still places online where compassion lives, where people are real, where we can make connections and build friendships, where people share both their successes and failures, both their flaws and strengths.
But I wish there were more "realness" online. Less shiny perfection. More flaws. Less lecturing. More compassion.
More human imperfection.
How to write like a human
I recently re-read Brené Brown's book Daring Greatly, which inspired this blog post.
Here's what she writes about wholehearted living:
Wholehearted living is about engaging in our lives from a place of worthiness. It means cultivating the courage, compassion, and connection to wake up in the morning and think, No matter what gets done and how much is left undone, I am enough.
Writing like a human seems so similar and it goes way beyond writing conversationally. Writing like a human also requires cultivating courage, compassion, and connection:
We practice the courage to show up, be ourselves, and be vulnerable.
We foster compassion in our writing—compassion both for ourselves and our readers.
We write to sell, to market, or to teach, but the human connection comes first.
But how?
Let go of the shiny mask of perfection
Wholehearted writers don't write to impress, to big themselves up, to show off as more expert than someone else.
Brené Brown has spent two decades studying courage, vulnerability, shame, and empathy. She's a research professor at the University of Houston. She has a PhD. Her books are bestsellers. She's delivered not one but two viral TED talks—the most popular one has been viewed 45 million times. (Wow!)
You'd think she knows how to live, right?
Here's what she writes about discovering the importance of self-love in the research data:
Personally, I fought the data with everything I have. Over and over, I heard the idea of self-love as a prerequisite to loving others, and I hated it. Sometimes it's so much easier to love Steve and the kids than it is to love myself.
And:
I'll confess that I was motivated by my own struggle to learn how to keep daring.
I used to think that sharing our flaws, weaknesses, and struggles would damage our professional image, but the opposite might be true.
We get to know Brené Brown and appreciate her work even more because she shares her personal stories, her own struggles to live more wholeheartedly, and her attempts to dare greatly.
See your readers as equals
Wholehearted writers don't write to impress nor to lecture.
Instead, they're compassionate and connect from one human being to one other human being—as equals.
Brené Brown stresses how much she has learned from the participants in her research. For instance:
One of the questions I'm most often asked is "Don't you get really depressed talking to people about vulnerability and hearing about people's darkest struggles?" My answer is no, never. That's because I've learned more about worthiness, resilience, and joy from those people who courageously shared their struggles with me than from any other part of my work.
As content marketers and bloggers, we're often told to build our authority so people become eager to listen to and learn from us. But being an authority doesn't mean we have to climb on a pedestal to lecture or preach.
We can be human and compassionate in our writing, and inspire our readers even more.
Foster your self-worth
One of our challenges is that our writing can always be better.
It's like with any skill. A tennis player can improve her serve, her backhand, and her mental game. A violinist can improve his spiccato, vibrato, and the clarity of his tones.
But acknowledging room for improvement doesn't mean we're not good enough right now. Even Wimbledon champions can still improve their tennis game. Even world-class violinists still want to get better.
Brené Brown is a bestselling author, who's written several books including The Gifts of Imperfection, Daring Greatly, and Rising Strong. Yet, she admits, how hard writing can be:
I was recently struggling to finish an article. I called a good friend to tell her about my writer's block, and she immediately responded by asking, "What are the gremlins saying?" This is a very effective way of asking about the shame tapes—the messages of self-doubt and self-criticism that we carry around in our heads. My answer was "There are a few of them. One's saying that my writing sucks and that no one cares about these topics. Another one's telling me that I'm going to get criticized and I'll deserve it. And the big one keeps saying, 'Real writers don't struggle like this. Real writers don't dangle their modifiers.' "
Struggling to write is human.
You are not your work
Don't tie your self-worth to the work you produce.
Don't use the number of shares, likes, and comments as a yardstick for your worthiness.
You are already good enough.
If your inner critic tells you that you've messed up and that you're a bad writer, be sure to correct her. No one is a bad writer. All of us are learning to write better. And all of us mess up sometimes. It's okay to feel disappointed by a lack of response or hurt by criticism but it doesn't make you less worthy.
You belong here—like all of us, and your voice deserves to be heard.
Keep writing, my friend.
More on Brené Brown's work:
I highly recommend Brené Brown's book
Daring Greatly
. (That's an Amazon affiliate link. If possible, please support your local bookstore.)
You may also want to check out: