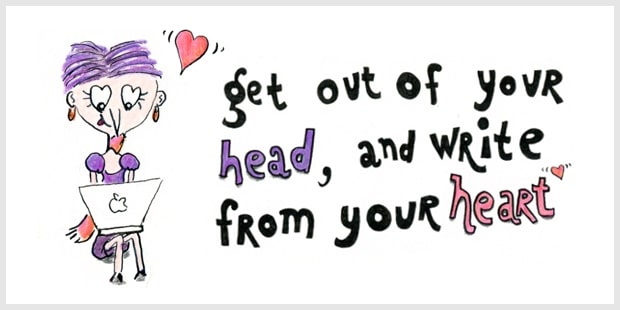 The idea of writing from the heart used to feel alien to me.
Isn't it a little woo-woo?
I write a business blog, not a memoir nor a love letter, so why would I write from my heart?
As a marketer, I've learned to set my business goals, and then decide how to achieve those goals.
When I started this blog, my goal was to become a minor authority in business writing, so I shared my best tips about blog writing and copywriting.
But something was missing …
I imagine my blog posts were wearing a business suit, not my favorite faded jeans.
My soul was missing.
As I learned more about writing, I realized that the best writing is personal.
Personal writing can mean sharing your own experiences. When you tell the stories only you can tell, your unique voice shines through. When you show your vulnerability, your humanness lights up your writing, and readers will bond with you.
But personal writing doesn't have to be about your life. Writing about what fascinates you is also a form of personal writing as you let your enthusiasm add sparkle to your words. And that sparkle is contagious.
So, get out of your head and write from the heart
Over time, I learned to worry less about my professional image.
I let go of the shiny mask of the perfect pro (not that I ever was a perfect pro).
And, now and then, I allowed myself to be vulnerable in my writing. I shared my doubts and some of my mistakes. I'm pretty sure that's when I started to engage readers like you more strongly.
Below follow the four lessons I've learned …
1. Dare to be different
Different is better than better ~ Sally Hogshead
As small business owners and solo-flyers, we face enormous competition from our fellow entrepreneurs. Even just thinking about competition scares me.
As Sally Hogshead writes in her book "How the World Sees You," it's almost impossible to be better than the competition, so we have to focus on how we can differentiate ourselves instead.
In writing, that means letting our own personality shine through:
Follow your curiosity to create your own unique mix of ideas
Share your experiences and personal stories
Find your own voice
Writing is a conversation with your readers, so don't just focus on yourself. When you share your ideas and experiences, also think about your readers: What's in it for them?
2. Take off the shiny mask of perfect professional
Ring the bells that still can ring
Forget your perfect offering
There is a crack, a crack in everything
That's how the light gets in.

~ Leonard Cohen
Perfect professionals are kind of boring, just like robots lack a sparkling personality.
Our quirks, flaws and eccentricities make us human, and more interesting. So, why hide our imperfections?
When you embrace your quirks, you stand out and become more visible. And when you admit your flaws, readers will recognize themselves, and feel touched and comforted.
It's no surprise that my posts with the most comments are articles where I've shared my self-doubts, my fights with my inner critic, and my health struggles.
And do you think that makes me a lesser writing coach?
The opposite might be true. For instance, Cynthia Marinakos joined my copywriting course last year, and this is what she said:
Reading [Henneke's] blog, I've felt like she understood my self-doubts and where I struggle in my writing.
By showing myself as a real human being, I attract my favorite clients.
3. Be generous
Recently, someone emailed me: How can you run a business when you give so many tips away for free?
The crazy thing is this: the more tips I give away for free, the easier it becomes to fill up my courses. For the fourth year in a row, I've sold out my Enchanting Business Blogging course. My copywriting course has sold out every single time. My Kindle books keep selling, every single day.
Generosity is part of successful content marketing, and you need a mindset of abundance to succeed.
A mindset of abundance means that:
You're not in competition with anyone—because everyone is different
You can never give too much information away for free
When you focus solely on selling, you quickly tire people. However, when you focus on helping people, you may sell even more.
As online business veteran Chris Garrett says:
I have yet to find someone who has given away too much.

I don't believe it is possible to be too helpful or too generous … provided you manage your time and energy, and that people know you are in business.
4. Write with the door closed
Write with the door closed, rewrite with the door open ~ Stephen King
Closing the door doesn't need to be a physical act. It's a mental state, a choice to focus on your writing and forget the world around you.
If you allow your inner critic to take over, she'll kill your voice and suck the energy out of your writing.
So, write your first draft for your own eyes only. Don't worry about comments, social shares, and criticism. Send your inner critic out for a walk, and pour your soul into your writing. You can edit out the things that are too personal later.
Unleash your unique power to engage and inspire
In a world of information load, boring corporations, fake news, and content shock, readers are looking for a real human connection.
And our best way to establish that connection is to write from the heart. That's how readers get to know and like us. That's why they'll eagerly anticipate our next blog post.
As small business owners, we don't have big budgets to advertise. But we have a huge advantage: We can excel in being more human.
We can write about what really matters to us. We can pour our souls into our writing. We can stand out with our natural, beautiful, passionate voices. We believe in our ideas.
So, write from your heart.
Dare to be different. Dare to be YOU.
PS Thank you to Pierrette of Smart Productivity Solutions for inspiring this post.