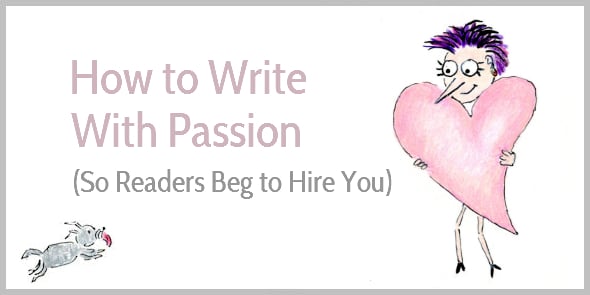 Have you ever listened to a passionate speaker?
And?
Was their enthusiasm contagious?
Passionate speakers use emotion to engage us as listeners. We notice their excitement in their body language. We hear their eagerness, their spirit, their fire in their voice.
Passionate communicators are fascinating. They create an intense focus on their words.
Wouldn't it be wonderful if we could do the same with our written content? If we could get our readers hanging onto our words because they feel our passion? If we could inspire our readers with our enthusiasm so they become eager to hire us?
But how?
How can we let our passion shine through without resorting to platitudes like "I'm a passionate professional?"
How to let your passion shimmer and shine
During the Easter weekend, I read the book H for Hawk by Helen Macdonald. The author writes about grieving for her father, while training a goshawk. The book was so fascinating I couldn't put it down; and I re-read it as soon as I had finished it.
Why did the stories about the hawk fascinate me?
I love watching the birds in our small garden. The robins, the blue tits, the thrushes, the sparrows. I love their tweeting and fluttering around. But I'm not really into bird-watching. I don't know the difference between a sparrow hawk and a goshawk; and I definitely am not planning to buy a hawk and start training it.
But still … the descriptions of the hawk were utterly fascinating. For instance:
The first few days with a wild new hawk are a delicate reflexive dance of manners. To judge when to scratch your nose without offence, when to walk and when to sit, when to retreat and when to come close, you must read your hawk's state of mind. You do this by watching her posture and her features, the workings of which turn the bird's shape into an exquisitely controlled barometer of mood.

A hawk's simpler emotions are easily perceived. Feathers held tight to the body mean I am afraid. Held loosely they mean I am at ease. But the longer you watch a hawk the more subtleties you see; and soon, in my hypervigilant state, I was responding to the tiniest of cues. A frowning contraction of the crines around her beak and an almost imperceptible narrowing of her eyes meant something like happy; a particular, fugitive expression on her face, oddly distant and reserved, meant sleepy.
The writing is precise, vivid and full of sensory words. You can picture the bird, feel its presence, experience the tension between human and hawk. Here's is how she describes when the hawk first arrives at her house, and the training begins:
The hawk had filled the house with wildness as a bowl of lilies fills a house with scent. It was about to begin. In the half-light through the drawn curtains she sits on her perch, relaxed, hooded, extraordinary. Formidable talons, wicked, curved black beak, sleek, café-au-lait front streaked thickly with cocoa-coloured teardrops, looking for all the world like some cappuccino samurai. 'Hello hawk,' I whisper, and at the sound she draws her features tight in alarm.
The writing is also educational, full of interesting facts about hawks:
What is she seeing? I wonder, and my brain does backflips trying to imagine it, because I can't. I have three different receptor-sensitivities in my eyes: red, green and blue. Hawks, like other birds, have four. This hawk can see colours I cannot, right into the ultraviolet spectrum. She can see polarised light, too, watch thermals of warm air rise, roil, and spill into clouds, and trace, too, the magnetic lines of force that stretch across the earth. The light falling into her deep black pupils is registered with such frightening precision that she can see with fierce clarity things I can't possibly resolve from the generalised blur. The claws on the toes of the house martins overhead. The veins on the wings of the white butterfly hunting its wavering course over the mustards at the end of the garden.
If you'd want to hire someone to train your hawk, would you hire the writer?
Why business content lacks passion
In sales copy and blog posts, statements often remain generic:
We'll take care of your project from start to finish.
I'm passionate about your results.
These generic statements are devoid of passion. They lack enthusiasm.
To infuse your writing with passion and get readers inspired and fascinated by your business content, you must dive deeper and share the details of what you do. How you onboard new clients. How you work together. What you expect from clients. What clients can expect from you. How exactly you ensure good results.
Your whole process.
Details make your copy sing, and when your copy sings your readers feel your passion. Here's copy I wrote for Cotswold Kitchens:
Once you've agreed your bespoke kitchen design, you can leave the work to us. We arrange a skip to get rid of your old kitchen. We sort out the plumbing and electrics. We arrange the flooring, tiling and painting. And we clean your kitchen to deliver it to you in top-notch condition.

We manage your whole project, so you don't need to worry about fitters arguing with plasterers about delays or other issues. We take full responsibility for your kitchen. That's why we're happy to offer you a 10-year guarantee.
Here's how they measure your kitchen:
Using a laser measuring tool and diagonal assessments, we create an accurate plan of your space. We note down the location of services, measure the walls that aren't straight and notice whether the floor is uneven. We craft a bespoke kitchen that fits perfectly.

To assess the natural light in your kitchen, we measure your windows and use a compass to check directions. If your kitchen is north facing, for instance, consider a granite worktop in an autumnal colour to make your kitchen feel warmer. If your windows are small, think about a glass back panel to reflect the light flowing into your kitchen – it makes your interior brighter.
Details add sparkle and passion to your content, and details also boosts your credibility. They make you sound like an expert.
But do people want to read long content full of fascinating details?
You might have heard the scary facts …
… that on the average web page, users read "at most 28% of the words" (source)
… and that "79 percent of our test users always scanned any new page they came across" (source).
Why would you expand your content to include details if hardly anyone reads them?
Because the people who read rather than scan your content are often your warmest leads—they're most interested in what you offer.
In their research about ecommerce shoppers, the Nielsen group found different types of shoppers. Some people get to a site, and they already know exactly what they want. They've already done their research. Others are bargain hunters and they're looking for the best price. These types of shoppers most probably won't read the details of your product or service descriptions. They won't check out your blog posts or browse for further information.
However, other people are looking for what's new or they're simply killing time and go to their favorite websites. Another type of shopper is in the early stages of research; they're not ready to buy yet, but they want to find out what's available and how products and services compare. These are the people who'll read detailed information on your website. They'll devour your latest blog post. They want to know more about you. They want to read the finer details.
Some people scan. Some people read. Your content needs to be suitable for both.
Passion is your advantage
Big businesses struggle with showing their passion. Because most of their employees don't care. They sit out their time.
But you have an unfair advantage as small or solo biz.
You know what you love doing. You know your process inside out. You've learned which clients energize you and help you do your best work.
You're not working simply because it pays the bills. You're passionate about your work.
And that enthusiasm, my dear, is contagious.
So let your passion fire up your words.