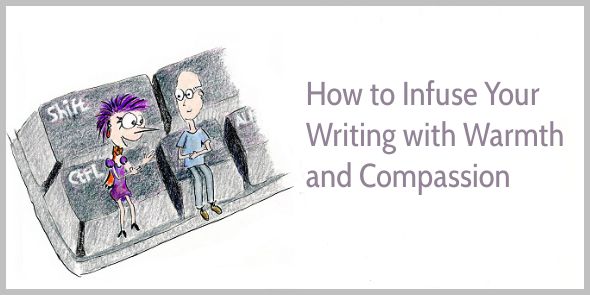 *Sigh*
Sometimes, blogging feels futile.
When you started writing, it was easy to be enthusiastic.
But now?
You'd like to speak up and get heard. But you feel like you're whispering in a world that's too noisy, too crowded, too busy.
You'd like to reach out to people, warm their hearts, and guide them in this crazy world.
But somehow, along the way, your writing lost its soul.
Want to put your soul back into your writing? And reach out through your screen to touch your readers?
Start with yourself
If we want to write with kindness, we have to start with being friendly and helpful to ourselves.
In her book How to Communicate Like a Buddhist, Cynthia Kane recommends we start with listening to our self-talk:
1. Pay attention to your words and speech
2. Pay attention to your feelings
3. See yourself with friendly eyes
When I started to pay more attention to my self-talk, I noticed recurring themes. One narrative is that I'm not good enough to run my own business because I don't possess an entrepreneurial gene. Another theme is that I'm incapable of taking care of my damaged body.
Once you recognize patterns in your self-criticism and sense the insecurity or fear behind it, you can change your narrative and view yourself with friendlier eyes. What would you tell a friend if she had the same thoughts and feelings as you? For instance …
"You might think you're doing a bad job taking care of your body, but I know it's not easy when you feel exhausted. You take breaks. You go for walks. You've cut your working hours and work virtually stress-free. You're doing a lot of things right, and you keep getting better at practicing extreme self-care."
When we stop criticizing ourselves, we can stop covering up our insecurities. We don't have to pretend anymore we know more than we do. That's the first step in becoming less judgmental and more compassionate to others, too.
How friendly are you to yourself?
(Note: If you struggle with negative self-talk, I highly recommend Kane's book—it's far more practical and down to earth than the title suggests.)
The 'secret' of getting into a positive mood
Writing online is tricky.
Because, let's be honest, not all readers are nice.
No matter how generous you are, no matter how much you care, no matter how hard you try, you'll always get critical emails or comments.
And if those comments stick in your mind and poison your thoughts, it's hard to write with compassion.
So, before you start writing, avoid negative distractions—don't read your email and don't watch the news.
Then sit down and imagine one of your favorite readers: the reader who's supportive and writes lovely comments, the reader who always tweets your posts, the reader who asks questions or who inspires you to keep writing. The reader you know you want to help.
Your favorite reader might not even exist. Can you imagine what he'd be like? Can you imagine he's looking forward to reading your blog post? Can you imagine how grateful he is to receive your advice? Can you feel good about helping him?
Start writing with a generous mindset, and your kindness will shine through your voice.
Forget about authority
The standard advice for bloggers is to position yourself as an authority.
And it's true that readers come to you for your expertise. But when we try too hard to be the expert, we create a distance with our readers. We put ourselves on a pedestal and risk talking down to our readers.
So, don't write as an authority, but as a fellow human being with your own human flaws. Be honest. Don't brag. Don't exaggerate. And don't belittle your readers.
Cynthia Kane starts her book with sharing her own story:
For many years I relied on others as a communication style. What I mean is I rarely expressed any of my needs or wants, thinking that others would just be able to pick up on them. I would pretend everything was fine, say yes when I really wanted to say no, or go along with what I knew others wanted to hear. Never expressing myself meant I was bubbling with passive-aggressive quips, all the time frustrated and reacting because my needs weren't being met.
Kane doesn't undermine, but strengthens her authority; and her compassion shines through. By showing her own vulnerability, she makes us feel comfortable with our own mistakes so we can learn.
In contrast, when we focus too much on authority, we risk making our readers feel inept or even scared to admit their mistakes. That might block their ability to learn.
Here's an example paragraph from Flow by Mihaly Csikszentmihalyi:
Everything the body can do is potentially enjoyable. Yet many people ignore this capacity, and use their physical equipment as little as possible, leaving its ability to provide flow unexploited. When left undeveloped, the senses give us chaotic information: an untrained body moves in random and clumsy ways, an insensitive eye presents ugly or uninteresting sights, the unmusical ear mainly hears jarring noises, the coarse palate knows only insipid tastes.
The writer doesn't address me, as the reader, directly because he writes about "many people." But still … he makes me feel inept because I'm not always mindful and I haven't fully developed my sensory capabilities. The writer sounds as an authority, but negativity and judgment seep through.
For a more compassionate tone, consider the inclusive "we"—the type of "we" showing we're all in it together. Here's an example from the book The Compassionate Mind by Paul Gilbert:
When we get depressed, worried, or pre-occupied, we can withdraw from the world of the senses and from being fully 'in the moment' and instead become focused on our thoughts about tomorrow or yesterday or our feelings of heaviness or the butterflies and anxiety or dread.
Gilbert doesn't judge us; he shows he understands why we're not always mindful, so we don't need to feel bad about it. He then addresses us directly, using the word "you," to encourage us to be more mindful:
So while you're out walking, direct your attention and notice the sky – keep your focus there. Notice its changing colour from the horizon to overhead, or the rushing of the clouds or their shapes or how the light catches different aspects of them.
Writing is tricky because we can't see whom we're writing for, we can't see disappointment, anger or confusion on our reader's face.
But we can try stepping into the shoes of our favorite reader—a real or imaginary reader. When you read content through their eyes, can you sense what they might think? Can you think of ways to make them feel less insecure and more positive?
Writing with compassion matters
Sometimes, it may feel easier to view the world in terms of experts and amateurs, good and bad, pro and anti, insiders and outsiders.
But when we view the world in binary choices, we miss the kaleidoscope of colors, shades, and differences. We miss the fascinating diversity and beauty of humankind. We might even forget each person is a fellow human being with their own fears and frustrations, their own dreams and wishes.
Instead of judging other's opinions, let's listen to where they're coming from. Appreciate we all have different experiences coloring our views.
We might not think we can change the world.
But we can make tiny ripples.
So, let compassion guide your writing. Allow hope to shine through your content.
And offer a glimmer of light and love.
PS Thank you to Ray Khan for inspiring this post.