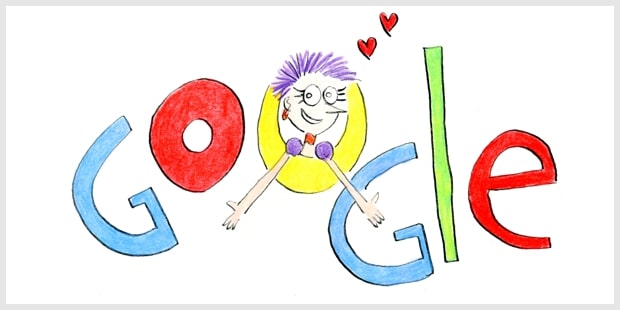 Can I just write?, asked A.
All the SEO stuff bores me, and it kills my writing voice.
Sound familiar?
Often it may feel like writing for SEO means we can't write well—as if writing for SEO doesn't leave space for creativity, as if we have to choose between writing for readers (and for ourselves) vs. writing for Google.
But that is not true.
Here's why …
A concise history of SEO writing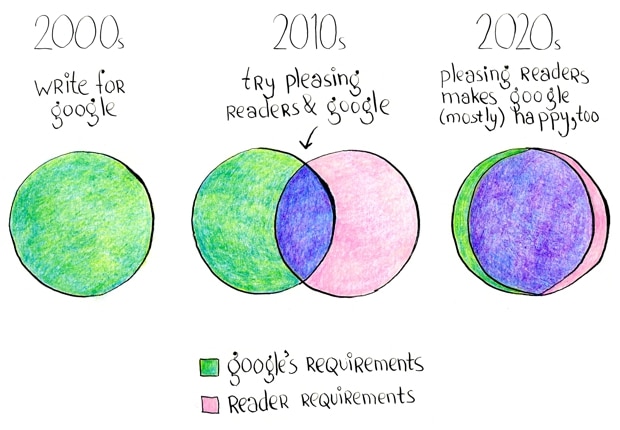 When writing for SEO came into existence around 2000, it meant writing purely for Google; and that meant stuffing your text with keywords.
The result was that online writing became almost unfit for human consumption.
But times have changed.
Google becomes smarter every year.
Google doesn't want you to try to beat its algorithm. Google wants you to share your expertise, to create trustworthy, authoritative, helpful content—content that delivers what visitors are looking for.
Here's how Andy Crestodina explains it:
To write for SEO, write the best page on the internet on your topic. If you make the best page on the web for your topic, there are 2000 math PhD's at Google trying to help you rank and get more traffic. If you don't do that but try to take shortcuts, there are 2000 math PhD's at Google trying to stop you.
These days, when your blog strategy is clear and reader-focused, you'll fulfil the basic requirements for SEO, too.
So, here's what you'll need to do to write for SEO:
Have a clear blog purpose
Use your audience as primary keyword research tool
Focus on tiny topics
Write about each topic just once
Write for your reader, optimize (a little) for SEO
Shall I explain?
1. Have a clear blog purpose
A clear blog purpose helps you write for your readers and stay on topic so you get recognized for your expertise by both Google and readers.
What's more, a good blog purpose energizes you and your audience. Your audience recognizes you're writing to help, and that's why they'll come back for more. Plus your blog purpose kindles your creativity and keeps you wanting to write more.
You don't require a grand blog purpose. You can start small. A few examples:
Help students to manage their finances so they can graduate with lower debts
Help 1,000 single mothers to start their own online business
Get rid of gobbledygook on small business websites
To discover your blog purpose, follow your own curiosity.
When your blog purpose fires you up, you'll share your expertise with more enthusiasm. You'll know the most interesting stories, you'll dig out the most useful examples, you'll share more in-depth advice, and write truly helpful content. That's the foundation of writing for SEO.
2. Use your audience as your primary keyword research tool
Most SEO experts will tell you to do keyword research before deciding on what to write about.
But I don't like keyword research and I've never based my topic choice on keyword research.
Keyword tools can make you forget who you're writing for. You're not writing for a robot or algorithm but for real readers—for impatient readers who like to get their questions answered.
So, what's the best way to decide what to write about?
Listen to your readers. Pay attention to:
Your audience is your best keyword research tool. If you sneak into their minds, you'll understand their struggles, goals, and questions, and you'll know how your blog can help them and what they'll google to find you.
This doesn't mean that keyword research is not useful. I use keyword research to fine-tune my blog topic selection.
For instance, for this blog post, I checked whether more people searched for SEO copywriting or SEO writing; and the latter was more popular (and less competitive) according to the MOZ Keyword Explorer: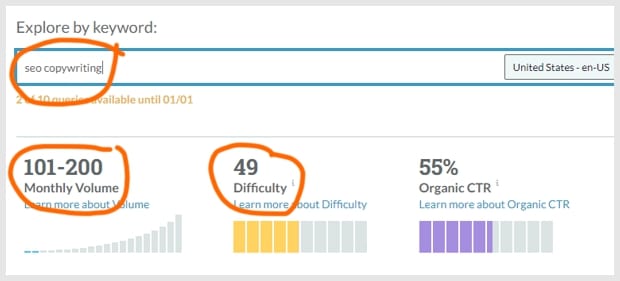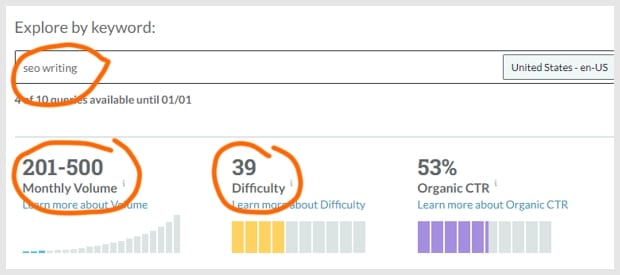 I used to think I was an outlier in my focus on readers rather than keyword research. But it's becoming a more common approach.
For instance, content marketing ageny Animalz has worked with companies like ZenDesk, Amazon, and Wistia, and they propose a mixed approach. For bottom-of-the-funnel blog posts (i.e. posts written for people who are close to buying) they suggest answering customer questions; for top-of-the-funnel posts, they suggest keyword research.
Content marketing agency Grow & Convert has worked with companies like Patreon and CrazyEgg. When designing a content strategy, they start with defining customer pain points before doing keyword research. They call their approach pain point SEO.
The better Google becomes, the more important it becomes to focus on your readers and to deliver what they're looking for.
So, use keyword research as a complement to not a replacement of understanding your audience and knowing how you want to help them.
3. Focus on tiny topics
One of the biggest mistakes I see bloggers make is that they focus solely on big questions.
The advantage of big topics is that they may get more search traffic but it's also harder to get your content to rank on page 1 of Google. Plus blog posts about big topics often end up either vague and superficial, or unwieldy and boring.
To show off your expertise, narrow down your topics so each blog post can deliver truly helpful content. For instance, a big aim of my readers is to improve their writing skills, and you can break this down into much smaller aims, such as:
A valuable blog has a mix—a couple of articles about big topics and a lot of articles about tiny topics.
A blog post about a big topic presents an overview; it gives readers an introduction and guides them to more actionable, detailed blog posts.
While big topic posts provide an overview, posts about tiny topics provide truly helpful, actionable guidance.
Tiny topics are called long-tail keywords in SEO. Such keywords may have less potential for search traffic—few people search for them. However, it's often easier to rank for tiny topics and generate traffic.
What's more, the long-tail traffic can be more relevant than the search traffic generated by big topics. Plus posts about tiny topics show off your expertise best, and they'll help you get ranked for the bigger topics, too.
A good blog post about a tiny topic gives people detailed instructions so they feel inspired to implement your advice after they've finished reading.
To write a valuable post about a tiny topic, ask yourself: What do I expect readers to do after reading this post? What guidance do they need to take that action?
4. Write about each topic just once
Blog posts about the same topic compete with each other. It's called cannibalization. Google won't know which one to send traffic to, so you get less traffic. And readers browsing your blog might get confused, too.
So, again, Google's wishes are aligned with your readers' wishes: Write a single post about each topic.
That's why tiny topics are so useful. The number of tiny topics you can write about is almost endless. You can dive deeper and deeper into your material, and share more useful advice. For instance, if you've written a list post with a number of tips, you can most probably write a single post about each of those tips.
5. Write for readers, optimize (a little) for Google
You can do a lot of research on secondary keywords and check out what others are writing about your chosen blog topics.
But such an approach mostly creates content that is similar to everything that's available on the web already. It becomes almost like a cut-and-paste, and for me that's sure to kill my creativity and strangle my voice. I'd quickly lose the will to write.
So, my approach simply starts with the reader.
Remember, a good blog post topic helps a reader in a specific way. It helps them achieve a tiny aim, solve a tiny problem, answer a tiny question, or it presents an inspirational collection of assets such as diagrams, examples, or quotes.
So, to write the best blog post on a topic, define the specific purpose of that blog post and focus on helping your reader achieve that purpose. If you do that, your blog post mostly gets optimized for Google, too:
In your headline, mention which tiny purpose your blog post fulfills—this is the keyphrase (such as improve writing skills or make words more powerful) that your audience might google to find information.
In your opening paragraph, empathize with your reader and promise what your post will deliver—use the target keyphrase to show both readers and Google what your post is about.
In the main body of your post, answer your reader's question or explain step by step how your reader can achieve their goal or solve their problem; it helps if you mention the keyphrase in at least one subhead.
In the final paragraph, inspire your reader to implement your advice—be sure to take away any objections to implementing your advice.
When you write an engaging, well-structured, and helpful post for your reader, you mostly make Google happy, too. There are a couple of other things to take care of:
Mention the keyphrase in the URL of your blog post
Include at least one image
Use the keyphrase in the file name and alt tag of that image
We've been saying since 2006 (…) that the most sound SEO strategy in the world is to operate as though there were no search engines at all, that Google didn't exist. That strategy is more true now than ever. How would you market if search didn't exist at all? How would you stay in front of customers, remind them that you exist in ways that still provide them value? Whatever that strategy is, do it.
~ Christopher Penn (7 May 2022)
How to write for SEO without killing your creativity
Remember A. who hated the idea of writing for SEO?
If you're a solo-blogger like her, your priority is to make blogging fun and rewarding.
So, follow your curiosity and write valuable content. Sneak into your own mind to discover what'll make you jump out of bed in the morning to write your next blog post.
And sneak into the minds of your readers to understand what they're struggling with, so you know how you can help them.
If you provide genuinely valuable content, there are 2,000 math PhDs at Google working hard to send more traffic to your blog.
Happy blogging!