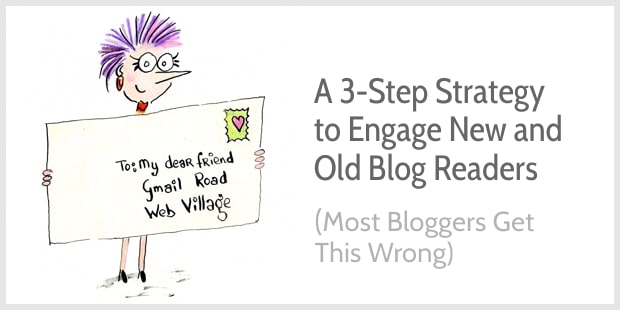 When I started blogging, I was taught to view a blog as an online publication …
You write a new blog regularly—weekly, fortnightly, or monthly.
And each time you publish a new post, you invite email subscribers and social media followers to read your shiny new blog post.
Sounds good, right?
Yet, it's a blinkered view on blogging.
What happens with those blog posts you slaved over last year, two years ago, or even early this year?
Some of your most valuable writing might be languishing in cobwebbed archives, buried and forgotten.
Your blog has two basic engagement aims
And these two aims are slightly uneasy bed fellows, wriggling and stealing the duvet from each other:
One aim is to get ranked in Google so new people can find your blog.
To fulfill this objective your blog has to act like a library, and in the perfect library, readers can start reading any book. Moreover, each book in the library discusses a different topic, creating the maximum number of opportunities to attract new readers.
The second aim is to nurture long-term relationships with subscribers.
This helps you turn casual readers into loyal fans, and create opportunities to sell. To fulfill this objective, your blog is like a magazine, serving fresh content to readers regularly.
* *
I first came across the idea of a blog as a library or publication in an article at Animalz.co by Jimmy Daly. I found these metaphors useful to understand blog strategy, but I disagree with Daly's view that your content strategy should focus on being a good library only. Why not be both?
When your blog acts as both a library and a publication, you can create opportunities to gain new subscribers, and also entertain and educate long-term readers.
Shall I show how?
1. Your content creation strategy:
Stick to a single post about each topic
When you think of your blog as a regular publication, you could discuss the same topic at regular intervals. For instance, a monthly magazine about mindfulness could discuss how to get started with meditation a couple of times a year.
But for a blog, such an approach is a problem because blog posts about the same topic compete with each other. It's called cannibalization. Google won't know which one to send traffic to, so you get less traffic. And readers browsing your blog might get confused, too.
So, from a Google-perspective and for people browsing your site, the library-approach takes priority: Write a single post about each topic.
But how does that allow you to keep blogging month in month out, year in year out?
Follow these three tactics:
A. Dive deeper to write more in-depth posts about tiny topics
For instance, I've written about word choice which is a relatively wide topic. I went a little more in-depth by writing about power words, and dove even deeper by writing about sensory words and strong verbs.
Each post has a clear focus and targets a different key phrase.
B. Write posts about closely related concepts
My posts about vivid language and abstract vs concrete language discuss closely related topics, but from a different perspective and they target different key phrases.
When you google these two phrases, the search results are different, so Google treats them as separate concepts.
C. Update old blog posts with new insights
My mind resists updating old blog posts. It doesn't feel creative enough. I prefer creating something new.
But I've learned that focusing on content creation is a foolish strategy as Google prefers fresh content. Even for a topic like writing, where not much changes from year to year, newer or more recently updated content has a bigger chance to rank.
So, if you have a fresh perspective or additional tips on a topic you've written about already, try updating that old post.
Your content creation strategy focuses on creating fresh content and updating content. You ensure each blog post covers a different topic.
But how can you get your best articles seen by people browsing your site?
2. Your content display strategy:
Ditch category pages, create pillar pages
Standard WordPress category pages show all your posts in chronological order, with the most recent first.
So, people browsing your blog have to wade through quite a few archive pages before finding that fab post you wrote three years ago.
A better option is to create a pillar page. A pillar page is a manually created category page showing your best posts about a topic, arranged in a logical order. For instance, my pillar pages for writing sales copy and blog writing show my best content on my two most popular topics.
Pillar pages are also called content hubs or hub pages. As you create them manually, you can make the pages more useful than standard category pages. You can:
Provide context and guidance with brief introductions
Make the page more meaningful by grouping posts and adding subheads
Choose which images to show
Promote relevant products
Easily update and re-order so you always show your best posts
To help people find my best blog posts, I promote my pillar pages at the top of my blog archive (which remains chronological):

And in the footer of each blog post and web page: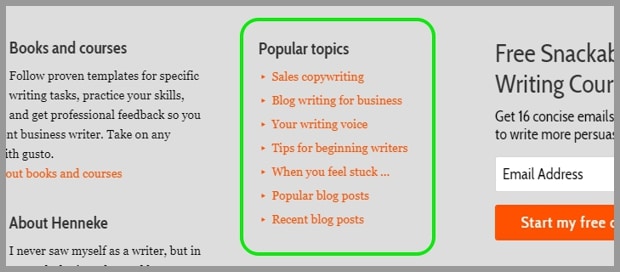 Pillar pages guide web visitors to your most valuable posts. Moreover, they help you rank on higher traffic key phrases because Google loves pillar pages.
Further reading on pillar pages:
3. Your email strategy on steroids:
Send your best old posts to new email subscribers
This almost effortless strategy not only encourages more people to read old content, it also tripled (!) my email click through rate.
Moreover, as readers engage with old content more regularly, they leave comments on older posts and they see "adverts" for self-study courses, so I get more sales. I don't have a lot of self-study courses yet, so this part of my email strategy is still in development.
Want to know how email on steroids works?
Early last year, I created 4 "best of" email series for the most common goals why people join my list: to improve their blogging or copywriting skills, to fine-tune their writing style or to write faster. Recently, I added a 5th series on storytelling.
For each of these series, I selected between 9 and 13 of my most valuable posts, reviewing:
Which posts got the highest click rates in the past?
Which other posts would be valuable and might have had high click rates if I had written a better email?
This is the result: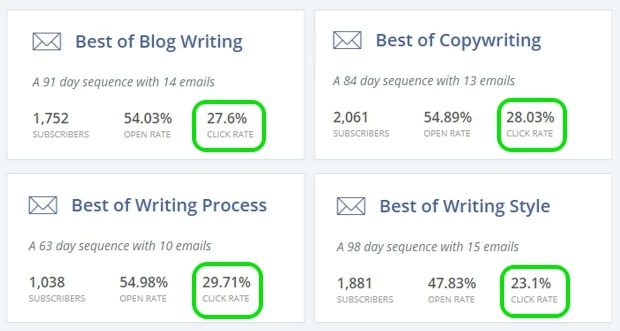 And, as comparison, these are click through rates for recent blog newsletters: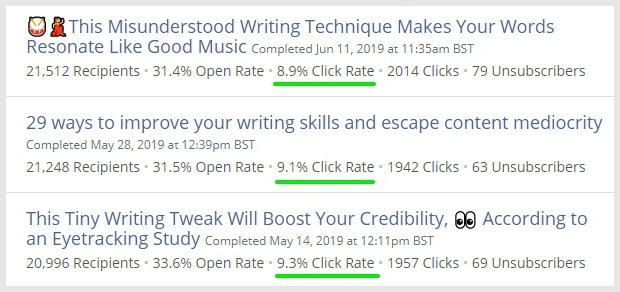 How people join these "best of" series?
New mail subscribers receive an email to select a goal when they join my blog update list or at the end of my snackable writing course: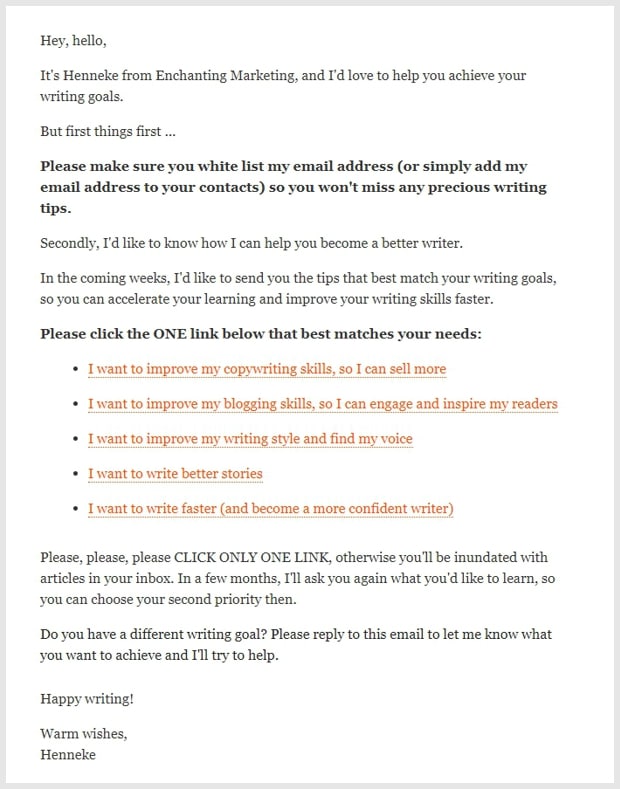 Moreover, occasionally I send a broadcast email to subscribers who haven't joined an autoresponder series yet (if that's you, you can join here, too).
And when I hosted a webinar on copywriting with ProCopywriters last month, I invited people to download the slides and join the "best of copywriting" series: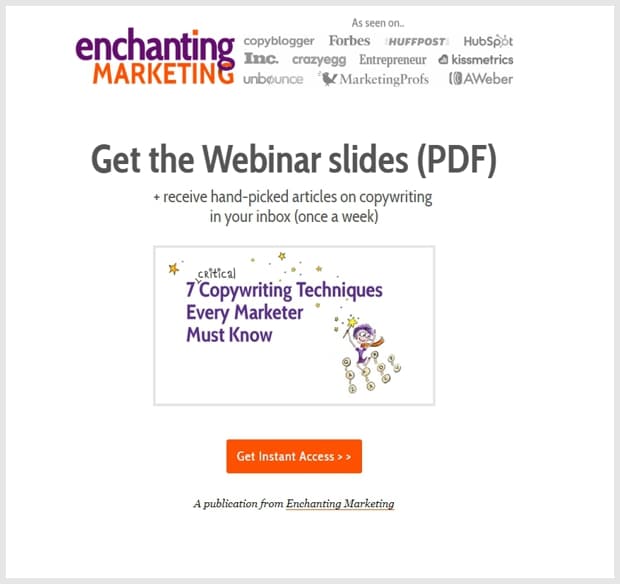 A "best of" series showcases your most valuable blog posts, engages new and old subscribers, builds your authority, and increases opportunities to sell without becoming pushy.
Bonus tip: How I schedule "best of" emails
As soon as you sign up to a "best of" series, you receive the first article in your inbox. The next articles are sent at 7-day intervals. However, as my new blog newsletters go out on Tuesdays and to avoid sending multiple emails in quick succession (or even on the same day), "best of" emails are not sent on Mondays, Tuesdays nor Wednesdays.
Your blog is a fount of knowledge
Over time, you accumulate a useful source of how-to's, wisdom, and inspiration.
So, think like a librarian and like a publisher.
Showcase your most valuable writing. And encourage followers and readers to engage with both old and new blog posts.
Happy blogging!