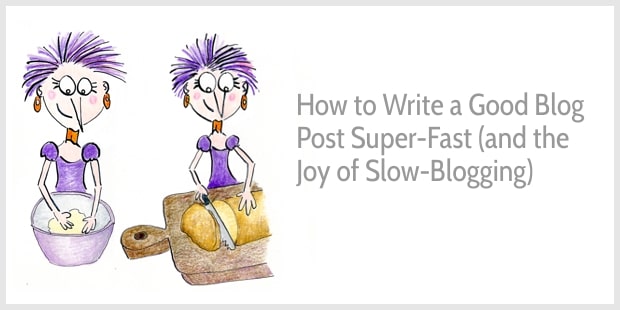 I have a confession to make.
I'm a little jealous.
I have a friend and he writes super-fast.
He can write a report of 10,000 words in 1 day. That's ten thousand words in one day.
It took me about a day to write this blog post.
My friend is also looking to write and launch 10 Kindle books this year; and I'm delighted with writing my first.
I know part of my problem is allowing one day for writing a blog post. I write, and re-write, and edit to fill the whole day. It's Parkinson's law:
Work expands so as to fill the time available for its completion.
Sometimes, however, I can write super-fast.
When I was regularly blogging about cooker hoods and ovens, I could race through writing 4 or 5 short posts in a day.
The breadmaker technique allows you to blog fast
Baking bread in a breadmaker is super-easy.
Add the following ingredients to the bread pan in the order listed:
¾ teaspoon yeast
250g granary flour and 150g strong white flour
One teaspoon each of sugar and salt
15g butter
270ml water
Next, add sunflower and pumpkin seeds in the nut dispenser. Press a few buttons. And voilà: 5 hours later your bread is ready.
Ever tasted bread from a breadmaker?
It's good. Tasty. Yummy.
It's free from enhancers and additives. And if you use the timer, the lovely smell of fresh bread wafts up to your bedroom early in the morning, welcoming the new day, and teasing you to get up.
Writing blog posts super-fast is like baking bread in a breadmaker. You follow an automatic process with known ingredients:
Use a simple structure like a list post.
Hack a headline formula such as 12 Easy Ways to Do Something or 7 Simple Tips to Achieve Something or 5 Warning Signs that Your Whatever Sucks.
Include a benefit in your headline so your readers know they'll be rewarded for reading your post.
Compile a list of tips. Select the tips you want to use and write down your sub headlines. Explain each tip or warning sign in a few sentences or paragraphs.
Inspire with your conclusion. Never let your blog post fizzle out with a boring summary. Instead, save your most surprising or best tip for your conclusion. Get your audience to take action or change their beliefs.
Write your introduction. You can start with writing your introduction, but writing it last works better for me.
A how-to post follows the same routine as listed above, but instead of a list of tips you explain the steps your readers should take to achieve a certain result.
Once you get into the swing of writing how-to's and list posts, you can write them fast. The key is to brainstorm ideas first and outline your posts before writing them. Plus it helps to set yourself a reasonable time limit for outlining, writing, and editing your posts.
The quality of your blog post doesn't depend on your speed of writing. A high-quality blog post is easy to read and valuable for your readers:
Provide easy-to-implement tips
Surprise your reader with something new; make your reader think
Explode one or two myths
Inspire
Back to baking bread
Artisan bread is as much about quality ingredients as it is about the process of breadmaking: kneading by hand, shaping your bread, and using a long fermentation process. It's not something I've done, but I imagine it to be quite therapeutic.
Slow-blogging is probably like baking artisan bread: It's about the joy of creation as well as about the result.
Slow-blogging often starts with an idea. You begin somewhere without being sure where you're going to. You work with only a vague outline or no outline at all.
You order your thoughts while writing. You explore new ideas and unknown structures. You surprise yourself with your conclusion.
You cut half of your text, or more. You re-arrange paragraphs. You add a miniature story or a new metaphor.
Like with baking artisan bread it's easier to fail with slow-blogging. You're never quite sure whether you got the formula right.
Hitting publish can be exciting. Or nerve-racking.
The truth about blogging
You might expect me to say slow-blogging is better than fast-blogging.
But I'm not sure.
Just like my breadmaker makes tasty bread, fast-blogging produces good blog posts. Write about a topic you know well, use a proven blog post structure, and you can create good, useful blog posts fast.
Fast-blogging is work. Slow-blogging is a creative luxury. You allow chaos in your day. You find unexpected inspiration. You explore and learn.
Sometimes it feels you're wasting your time, and maybe you are.
But a day of creative messing-around can set you up for a productive week.
P.S.
Want to write blog posts that get read from the first until your last word, too?
Check out the Enchanting Blog Writing course (rated 4.9 out of 5.0) and learn how to captivate, educate, and inspire your readers.
Now is a good time to jump in because there's a bonus workshop on Thursday 16 November 2023. In the workshop, I'll give feedback on blog posts.